News
05 Nov 2019
UM students take part in national structure design contest
澳大學生參加全國大學生結構設計賽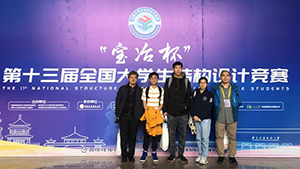 UM students take part in national structure design contest
澳大學生參加全國大學生結構設計賽
Three students from the Department of Civil and Environmental Engineering, Faculty of Science and Technology, University of Macau (UM), recently participated in the 13th National Structure Design Contest for College Students held in Xi'an.
The three students are Iong Weng Chi, Ren Weinan, and Lam Kuok Fan. They competed with 110 teams from different universities in China, including Tsinghua University, Tongji University, the Harbin Institute of Technology, Zhejiang University, and Wuhan University, which are all very strong in the field of civil engineering.
The theme of this year's competition is 'Power Cable Tower'. Each team was required to design and fabricate a bamboo structure to support cables with weights in three different direction. The model submitted by the UM team was a combination of truss structure with a series of column assembly, which weighed 327 grams.
Iong said that the competition allowed them to put their knowledge into practice, broadened their horizons, and improved their civil engineering skills. The supervisors of the UM team are FST Associate Professors Kou Kun Pang and Lam Chi Chiu. Tou Ka Man, a technician in the Structures Laboratory of the Department of Civil and Environmental Engineering, provided assistance with the team's model testing at UM.
Co-organised by the professional advisory committee for civil engineering programmes at higher education institutions and the educational affairs committee of China Civil Engineering Society, the annual competition is one of the nine highest-ranked inter-varsity competitions in science and engineering in China. It is also the most important competition in the field of civil engineering. The event aims to provide a platform for civil engineering students to exchange ideas, build friendships, improve civil engineering skills, apply their creativity, and learn how to work with others. It also hopes to strengthen ties among civil engineering departments at different universities.
澳門大學科技學院土木及環境工程系學生容穎姿、任偉楠及林國勳赴西安參與"第13屆全國大學生結構設計競賽",與來自全國各省市共110支隊伍師生同台較量,隊伍包括清華大學、同濟大學、哈爾濱工業大學、浙江大學、及武漢大學。
該競賽由高等學校土木工程學科專業指導委員會、中國土木工程學會教育工作委員會合辦。今屆比賽主題為電纜塔。每隊需要利用竹枝設計及製作能夠承受三個方向重量的電纜。澳大隊伍的模型結合桁架結構以及一系列的柱組合,模型重量達327克。
容穎姿表示,參與全國性賽事不但把課堂上所學的專業知識加以應用,而且從與不同高校的優秀隊伍切磋,加強自己在土木工程的技能,是一次擴寬眼界的機會。澳大隊伍指導老師為科技學院副教授高冠鵬及林智超,結構實驗室技術員杜家文協助模型測試工作。
每年一次的"全國大學生結構設計競賽"為全國理工科九大大學生學科競賽之一,是全國土木工程專業大學生的最高賽事。競賽旨為透過設計和製作結構模型,讓來自全國不同高校的學生互相交流、建立友誼、切磋技能、發揮學生創新和合作能力,也讓參賽高校土木工程系保持更緊密的聯繫。