News
11 Feb 2019
EME students visit MGM COTAI and WYNN MACAU
澳大機電工程系學生參觀美獅美高梅及永利澳門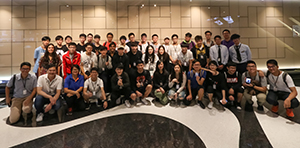 Group Photo taken in MGM COTAI with the staff of Facilities Management Department
機電工程系師生與美獅美高梅設施管理部職員合照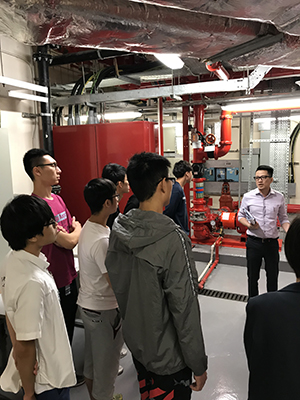 The Facilities Department engineer of WYNN MACAU guided the students to tour the large-scale electromechanical facilities
永利澳門的設施部工程師帶領學生到各大型機電設施參觀
On the 6th and 10th November 2018, the sophomores and seniors majoring in Electromechanical Engineering (EME) in the University of Macau (UM) visited the WYNN MACAU and MGM COTAI. The purpose of the activities is to cultivate the future professional electromechanical engineers. The Department of Electromechanical Engineering revised the undergraduate curriculum in 2016 based on the feedbacks from the engineering society. Apart from the theoretical classes, students can learn in industrial visits.
On November 6, the instructors led 36 senior students to visit at the WYNN MACAU. The Director – Mechanical Services of the Facilities Department, Mr. Simon Yung, first presented the structure of the Facilities Department and the department routinely maintained the building services facilities according to the regular procedures. After the presentation, the departmental engineers guided the students to tour the large-scale electromechanical facilities and explained the operation of those facilities patiently. Those facilities included the HVAC systems, fire sprinkler system, and the automatic control system of "Tree of Prosperity", etc. In the "Tree of Prosperity", our engineering students deeply understood the importance of the accurate control of the practical electromechanical system in order to providing the smooth running of the daily shows.
On November 10, about 40 students visited the MGM COTAI. The students were warmly welcomed by the Director of Facilities Management – Mechanical Services, Ms. Joanna Chan. She first introduced the HVAC facilities and the energy saving measures used in the buildings to the students. Then, the Facilities Manager – MEP, Mr. Scofield Lei, introduced the life safety and fire protection facilities to the students. After that, the Ms. Chan, Mr. Lei, and two engineer trainees, who were also the EME Alumni, guided the students to tour the large-scale HVAC facilities and fire protection systems installed in the podium and the high-rise hotel. The tour can enhance students' knowledge of the practical HVAC system and fire protection system designed with the local and International Building Codes after learning the theoretical knowledge from the classroom.
EME greatly appreciate the help given by the Facilities Department and Employment - Human Resources of WYNN MACAU, and the Facility Management Department of MGM COTAI for providing the venues for the undergraduate students studying at the two courses, "Manufacturing Technology" and "Fire Protection Engineering". The two courses instructors are Prof. Kwok Chi Tat, Prof. Tam Lap Mou, Dr. Lao Seng Kin, and Dr. Tam Hou Kuan.
澳門大學科技學院機電工程系大二及大四學生於二零一八年十一月六日及十日分別參觀了永利澳門及美獅美高梅綜合渡假酒店的機電及消防設施。活動目的是致力培養未來專業機電工程人才。為配合本地工程界對專業人才的需求,機電工程系於二零一六年在學士學位課程的設置上作出了調整。除理論課外,亦會安排學生參觀不同類型的機電設施,讓專業課程更能切合社會的需要。
本系導師於十一月六日帶領三十六名大四學生參觀永利澳門酒店的機電設施,榮幸地獲得設施部機械設備總監容世明先生的耐心講解,讓學生瞭解設施部之架構,以及該部門對酒店機電設施之日常維護工作。講解完畢後,設施部工程師亦帶領學生到各大型機電設施參觀,並耐心地講解它們的實際運作,除了樓宇設施,在「吉祥樹」的自動運作中,機電系學生亦體會到實務的機電設施必須能達到準確的控制,保證每天多場精彩表現的有效運作。
在十一月十日,約四十名的大二學生參觀了新落成的美獅美高梅綜合渡假酒店,美獅美高梅首先安排設施管理部機械設備總監陳美琼女士向學生詳細地介紹了酒店的空調設施及節能措施,然後由機電設備經理李比發先生向學生介紹了酒店的消防及生命安全系統。及後陳總監、李經理及兩位助理工程師(澳大機電工程系校友)帶領學生參觀了樓宇內的大型空調系統及消防安全設施,加深了學生對依據本地及國際建築規範所設計的大型樓宇機電設施的實務知識。
澳大機電系非常感謝永利澳門綜合渡假酒店的設施部及人事招聘部、美獅美高梅綜合渡假酒店設施管理部的幫忙,為本系兩門學科(工業技術及消防工程)提供參觀的機會。該兩門學科的導師為郭志達教授、譚立武教授、劉承堅博士及譚浩崑博士。