22 Oct 2008
PhD Student of UM Awarded Third Prize at the EASIAM Student Paper Competition
澳大數學系博士生論文獲獎
Yingying Zhang, a PhD candidate in mathematics from the Faculty of Science and Technology (FST) of the University of Macau (UM), won the third prize at the Fourth East Asia Society for Industrial and Applied Mathematics (EASIAM) Conference. He was the only Chinese student among the winners.
The EASIAM Conference was held from 10-12 October 2008 in National Institute for Mathematical Sciences, Daejeon, Korea. The participants were from the United States and nine other countries or regions in the East Asia. The judge committee for the competition was comprised by five internationally renowned mathematicians, including Prof. Tao Tang from Hong Kong Baptist University, Prof. Raymond H. Chan from the Chinese University of Hong Kong, Prof. Zuowei Shen from the National University of Singapore, Prof. Dongwoo Sheen from Seoul National University, and Prof. Hisashi Okamoto from Kyoto University. Six outstanding students awarded the prizes after a rigid assessment of the papers.
Under the supervision of Prof. Xiaoqing Jin, Yingying Zhang began his PhD study in Mathematics at UM last year. In his awarded paper, entitled "A Family of Generating Functions with Its Application in Pricing Options", he proposed a family of generating functions (FGF) from the classical single generating function, which provides a rigorous theoretical basis for the convergence analysis of the conjugate gradient method to more general Toeplitz systems. The FGF was successfully employed to solve the problem from option pricing with jumps-diffusion model.
EASIAM, founded in 1998, is the East Asia section of SIAM. It promotes the application of mathematics to science, engineering and technology in the East Asia; improves the basic research and education of mathematics that support application in science and technology in this region; pushes the multidisciplinary research in science and engineering related with mathematics. The EASIAM Conference is held annually to provide academic exchanges among scientists in the East Asia regions.
Yingying Zhang belongs to the Research Group on Computational Mathematics (RGOCM), Department of Mathematics, FST, UM. Under the direction of Prof. Xiaoqing Jin, RGOCM forms a stronger research team and has made great achievements in recent years. A book of the proceedings on Recent Advances in Computational Mathematics, edited by Prof. Xiaoqing Jin, Prof. Deng Ding and Dr. Haiwei Sun, was lately published by the International Press in Boston.
在剛剛結束的第4屆EASIAM(東亞工業與應用數學學會)國際學術會議的優秀學生論文評選中,澳門大學科技學院數學系博士生張應應同學榮獲三等獎。他也是本屆大會獲獎的唯一中國學生。
本屆EASIAM會議由韓國國家數學科學研究所承辦,於2008年10月10日至12日在韓國大田市的裏維耶拉酒店舉行,與會學者來自美國和東亞等10個國家和地區。本屆優秀學生論文評審委員會由國際著名數學家組成,包括香港浸會大學湯濤教授,香港中文大學陳漢夫教授,國立新加坡大學沈佐偉教授,韓國國立首爾大學申東雨教授及日本京都大學岡本久志教授等5名專家。評獎過程非常嚴格,寧缺毋濫,獲獎學生僅6人,實屬個中之翹楚。
張應應師從澳門大學數學系金小慶教授攻讀博士學位一年有餘。金教授治學嚴謹,張同學刻苦鑽研,努力耕耘,終獲所得。本次他獲獎的論文題目是"生成函數簇及其在期權定價中的應用",該論文在一般的單個生成函數的基礎上,提出了生成函數簇的新概念,從而為更廣泛的特普利茨系統的共軛梯度法的收斂性分析提供了有力的理論工具,並成功地應用於解決帶有隨機跳躍的期權定價問題。
EASIAM成立於1998年,是國際上最權威的SIAM(工業與應用數學學會)在東亞地區的分會。該學會致力於促進東亞地區數學學科在科學、工程和技術中的應用,致力於提升該區域內應用數學的基礎研究和教育,致力於促進數學與科學、工程形成的交叉學科的研究。EASIAM國際會議每年舉辦一次,為來自東亞不同國家和地區的學者提供寶貴的學術交流平臺。
張應應同學所屬之澳門大學數學系計算數學研究小組在金小慶教授的帶領下,形成合理的研究梯隊,近年來取得豐碩成果。最近,美國著名出版社IP(International Press)出版了由該小組成員金小慶教授,丁燈副教授和孫海衛博士等主編的論文集"計算數學的最新進展"。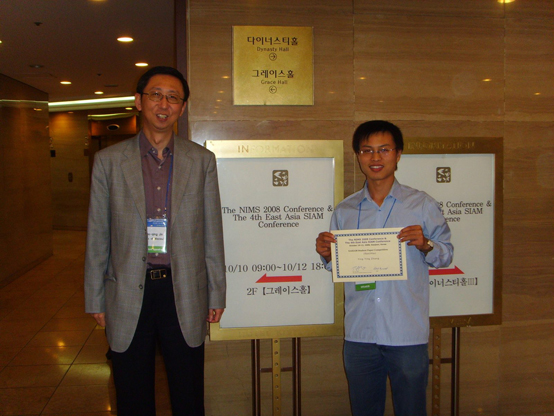 Caption: Yingying Zhang (right) and his supervisor Prof. Xiaoqing Jin
獲獎者張應應同學(右)與導師金小慶教授(左)的合照