23 Oct 2008
Students of the Department of Computer and Information Science Won a Second Prize at the Macau ICT Awards Contest 2008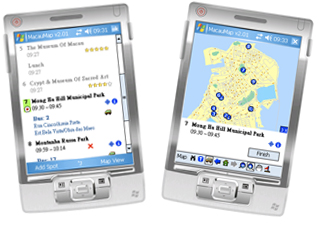 A student team from the Department of Computer and Information Science of the Faculty of Science and Technology won a second prize at the 'Macau ICT Awards Contest 2008 (MICTA)', organized by the Macau Computer Association (MCA) and held on 11 October 2008. The team of students, Chan Wai Man (Witman), Fong Kin Fong (Peter), and Wong Kai Hong (Nick), supervised by Dr. Robert P. Biuk-Aghai won the prize with their project 'Tourism Recommender System'
This project has developed a recommender system which is an extension of the Macau Map system. It provides a suggested travel itinerary to a tourist based on input about the tourist's preferences, official rating of each tourist spot, and all user feedback for each spot. Tourists use their mobile device such as mobile phone or PDA to indicate their preferences for different types of tourist spots (temples, churches, museums, entertainment, nature, etc.), as well as their desired begin and end time and place. These requirements are transmitted as a call to a web service on a recommendation server which generates a suitable travel itinerary. A genetic algorithm is used for determining the itinerary. Then a fuzzy logic module calculates the suitable stay time for each spot based on the user's preferences. A schedule is completed for the itinerary including travel times by bus or on foot which are calculated for each pair of spots in the itinerary. The itinerary is sent back to the mobile device. The tourist may also modify an itinerary by reordering spots or removing spots, which recalculates schedule and travel times and is performed locally on the device without requiring another server access.
Macau ICT Awards is the local trial for entering into the Asia Pacific ICT Awards (APICTA). This is an international Awards Program initiated by the Multimedia Development Corporation of Malaysia to increase ICT awareness in the community and assist in bridging the Digital Divide. By providing networking and product benchmarking opportunities to ICT innovators and entrepreneurs in the region, the program is designed to stimulate ICT innovation and creativity, promote economic and trade relations, facilitate technology transfer, and offer business matching opportunities via exposure to venture capitalists and investors.
This year there were a total of 6 projects in MICTA, out of which 3 were from UM-FST, and 3 commercial projects (2 of which from FST former students). After winning this award our team will also be a member of the delegation to represent Macau at APICTA in Jakarta, Indonesia in November.