23 Oct 2008
Technical Symposium on Profiled Steel Deckings in Steel and Composite Structures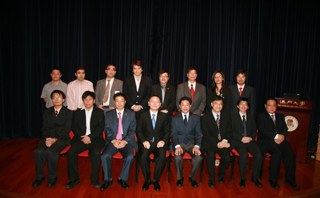 'Technical Symposium on Profiled Steel Deckings in Steel and Composite Structures', jointly organized by the Department of Civil and Environmental Engineering of University of Macau and the Macau Society of Metal Structures, took place at University of Macau on 17 October 2008. This symposium was also supported by The Macau Laboratory of Civil Engineering, Architects Association of Macau, Macau Institute of Engineers, Macau Construction Association, Macau Welding Association and the Institute of Cold-formed Metal Structures.
Dr. Sai-Peng Chui, President of the Macau Society of Metal Structures, was invited to give the opening speech for the symposium and a brief introduction about the recent trend of application of metal and composite construction locally. Besides, there were eight prominent academics, researchers and engineers in this field who come from mainland, Hong Kong and Macao as invited speakers to share their experiences with practicing engineers. It includes Professor Y. J. Shi from Tsinghua University, Professor Kwok-Fai Chung from Hong Kong Polytechnic University, Dr. Wai-Meng Quach from University of Macau, Ir. Esther Choy, Eng. José Santos, Eng. Fernando BOTELHO, Mr. Danny Cheung, and Mr. Gary Lee. The other guests includes Professor K.M. Mok, Dean of Faculty of Science and Technology; Professor K.V. Yuen, Department Head of Civil and Environmental Engineering; Dr. Peng-Kong Ao, Mr. Kai-Jone Lo, Mr. Scott Ma, Eng. Felix Fong, Eng. Rui Jorge da Silva CERNADAS, and Mr. Y.K. Pang.
This symposium aimed at providing a technical forum for dissemination of recent advances and technological developments in the field of steel and composite structures, especially in the design and construction of steel decking and composite slabs.
The symposium attracted more than 130 participants from Macau, Hong Kong, and Mainland. During the symposium, audiences were active in raising questions and discussions about the technical issues presented and the speakers also responded to audiences' questions with useful comments and suggestions.
| | | |
| --- | --- | --- |
| Dr. Sai-Peng Chui | | Professor Y. J. Shi |
| Professor Kwok-Fai Chung | | Mr. Danny Cheung |
| Ir. Esther Choy | | Dr. Wai-Meng Quach |
| Eng. Gary Lee | | Eng. José Santos |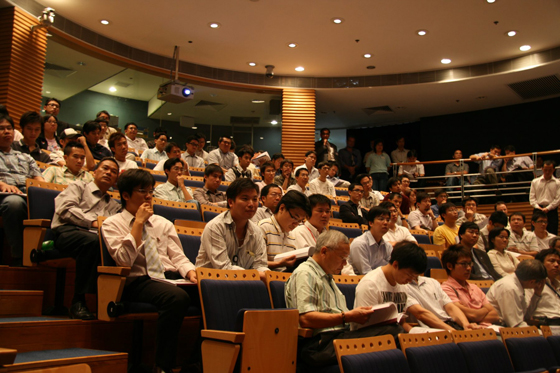 Engineers, from various government departments, consultant firms and construction companies, attending the symposium