29 Jun 2016
UM students win 2nd prize at Joint Institutions Anti-Earthquake Model Design Cup 2016
澳大土木系學生奪聯校抗震盃亞軍
Students from the Department of Civil and Environmental Engineering win the second prize at the Joint Institutions Anti-Earthquake Model Design Cup 2016
澳大土木工程系學生赴港參加"聯校抗震杯比賽"奪亞軍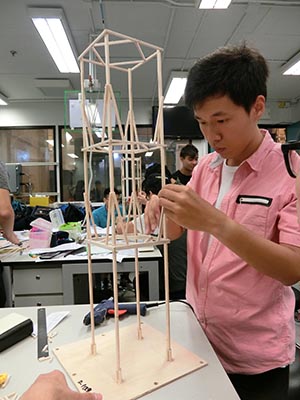 The model building designed by UM students
澳大參賽學生設計及製作的建築模型
A team of students from the University of Macau (UM) Department of Civil and Environmental Engineering (CEE) recently won the second prize at the Joint Institutions Anti-Earthquake Model Design Cup 2016.
Organised by the Civil Division of the Hong Kong Institution of Engineers, this year's competition was held at the Hong Kong University of Science and Technology (HKUST) and attracted teams from the University of Hong Kong, HKUST, the City University of Hong Kong, the Hong Kong Institute of Vocational Education, the Technological and Higher Education Institute of Hong Kong, the Chu Hai College of Higher Education, and UM.
The theme of this year's contest was earthquake-resistant structures. Each participating team was required to design a model building. The models were then loaded and tested at various earthquake frequencies and amplitude levels. The championship of the contest went to the team whose model demonstrated the highest efficiency ratio.
The event aimed to increase students' knowledge about the design of earthquake-resistant structures and to provide an opportunity for them to apply their skills and expertise.
澳門大學科技學院土木及環境工程系學生首次組隊參加"聯校抗震盃競賽"表現優異,奪得全場亞軍。
"聯校抗震盃競賽"由香港工程師學會土木分部主辦,今年於香港科技大學舉行,吸引香港大學、香港科技大學、香港城市大學、香港專業教育學院、香港高等科技教育學院、珠海學院及澳門大學組隊參賽。
該比賽以"抗震結構"為主題,參賽隊伍需即席設計及在指定時間製作一件建築模型。據規定,模型須於各層樓上加上自訂荷載,並通過不同的地震頻率及振幅測試而屹立不倒,能通過最大荷載而結構最輕則為冠軍。大賽不僅提高學生對抗震結構設計的認識,還藉動手設計製作模型,加強學生活學活用的能力。
是次澳大參賽學生包括陳聰、甘子浩、李韻潔及盧子君,指導老師為科技學院副教授鄂國康及高級講師溫日明。