25 Oct 2016
UM students win second prize at Tenth National Structure Design Contest for College Students
澳大獲全國大學生結構設計賽二等獎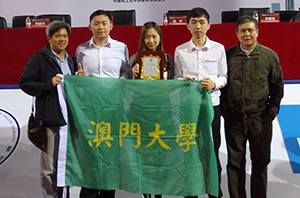 UM students receive the second prize at the Tenth National Structure Design Contest for College Students
澳大學生於全國大學生結構設計賽獲二等獎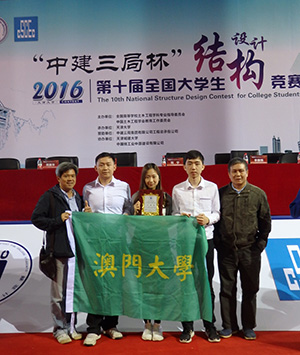 UM students receive the second prize at the Tenth National Structure Design Contest for College Students
澳大學生於全國大學生結構設計賽獲二等獎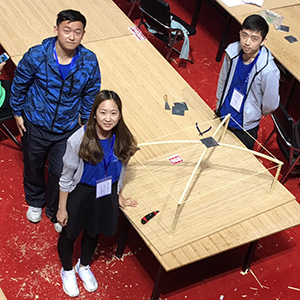 The UM team and their model structure
澳大隊伍及其製作之模型
Three students from the Department of Civil and Environmental Engineering, Faculty of Science and Technology, University of Macau (UM), recently won the second prize at the Tenth National Structure Design Contest for College Students held in Tianjin.
The three students are Fan Yawang, Chan Sio Man, and Sio Wai Lam. They competed with more than 125 teams from 124 universities in China, including Tsinghua University, Tongji University, the Harbin Institute of Technology, Zhejiang University, and Tianjin University, which are all very strong in the field of civil engineering and have all passed the Ministry of Education's recent evaluation of civil engineering programmes.
The theme of this year's competition is 'Long-span Roof Structure'. Each team was required to design and fabricate a long-span bamboo roof structure with a plan area of 900 x 600 mm2 and a height of 425 mm. The model submitted by the UM is a combination of arches and columns. The model weighed 93 grams and demonstrated a load-bearing capacity of 41 kilograms.
Fan says that the competition allowed him to put knowledge into practice, broadened his horizons, and improved his civil engineering skills. The supervisors of the UM team are FST Associate Professor Er Guokang and Assistant Professor Lam Chi Chiu. Tou Ka Man, a technician from the Structures Laboratory of the Department of Civil and Environmental Engineering, provided assistance with the team's model testing at UM.
Co-organised by the professional advisory committee for civil engineering programmes at higher education institutions and the educational affairs committee of China Civil Engineering Society, the annual competition is one of the nine highest-ranked inter-varsity competitions in science and engineering in China. It is also the most important competition in the field of civil engineering. The event aims to provide a platform for civil engineering students to exchange ideas, build friendships, improve civil engineering skills, apply their creativity, and learn how to work with others. It also hopes to strengthen ties among civil engineering departments at various universities.
澳門大學科技學院土木及環境工程系學生范亞望、陳兆文及蕭惠琳赴天津參與"第十屆全國大學生結構設計競賽",與來自全國各省市124所大學共125支隊伍500多名師生同台較量,並脫穎而出,獲二等獎的優異成績。
該競賽由高等學校土木工程學科專業指導委員會、中國土木工程學會教育工作委員會合辦,於天津大學舉行。參賽高校均通過了內地教育部土木工程學科評估,包括北京清華大學、上海同濟大學、哈爾濱工業大學、浙江大學、天津大學等在土木工程領域久負盛名的著名高校。
澳大隊伍設計、製作和測試十多款不同結構模型,並優化出拱柱組合中最優方案參與現場製作和加載比賽。澳大隊的結構模型以奇妙的設計、精美的製作、輕盈的造型、足夠的強度和合理的結構剛度,以93克的模型總重承受住了41公斤的豎向載荷,並滿足豎向位移要求,贏得在場師生一片掌聲,並獲評審團一致好評,最終奪得二等奬。
范亞望表示,參與全國性賽事不但把課堂上所學的專業知識加以應用,而且從與不同高校的優秀隊伍切磋,加強自己在土木工程的技能,是一次擴寬眼界的機會。澳大隊伍指導老師為科技學院副教授鄂國康及助理教授林智超,結構實驗室技術員杜家文協助模型測試工作。
每年一次的"全國大學生結構設計競賽"為全國理工科九大大學生學科競賽之一,是全國土木工程專業大學生的最高賽事。競賽旨為透過設計和製作結構模型,讓來自全國不同高校的學生互相交流、建立友誼、切磋技能、發揮學生創新和合作能力,也讓參賽高校土木工程系保持更緊密的聯繫。