14 Aug 2017
UM research team receives Best Paper Award at radio wireless conference
澳大研究團隊獲無線電技術論文獎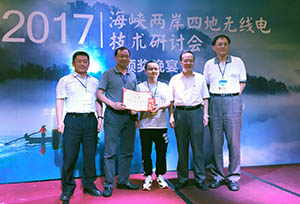 The UM research team receives a Best Paper Award at a radio wireless conference
澳大研究團隊獲無線電技術論文獎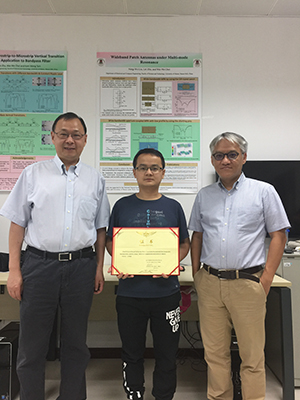 (From left) Prof Zhu Lei, Liu Nengwu, and Prof Choi Wai Wa.
祝雷(左起)、劉能武和蔡偉華
A paper jointly written by Liu Nengwu, a student from the Department of Electrical and Computer Engineering, Faculty of Science and Technology, University of Macau (UM); Zhu Lei, head of the department; and Choi Wai Wa, an associate professor from the department, recently received the Best Paper Award at the Cross-Strait Quad-Regional Radio Wireless Conference (CSQRWC) 2017. Titled 'Low-Profile Wide-Bandwidth Patch Antenna under Operation of TM0,1/2 and TM2,1/2 Modes', the paper proposes a novel design concept to enhance the bandwidth of microstrip patch antennas (MPA).
Using the multi-mode theory, this design can help to achieve the goal of producing MPAs with low profile, wide impedance bandwidth, and stable normal radiation pattern. The paper received attention from experts, scholars, and industrial practitioners at the conference. This year's conference was held in Chenzhou, Hunan province. Many experts and scholars from mainland China, Hong Kong, Macao, and Taiwan, including Zhu Lei from UM, Weng Jinlu from Sun Yat-sen University in Taiwan, and Luk Kwai Man from the City University of Hong Kong, attended the conference and delivered keynote speeches. Over 74 technical papers were presented, and only four received the Best Paper Award.
First held in 1998, the CSQRWC is an important annual academic conference in the field of wireless communications technology in the Chinese-speaking community. Hosts of the conference rotate every year among mainland China, Taiwan, Hong Kong, and Macao. The event provides a platform for participants to discuss the various theories, technologies, and applications of wireless mobile communication, wireless network, satellite communication, microwave remote sensing, and electromagnetic compatibility.
澳門大學科技學院電機及電腦工程系學生劉能武、系主任祝雷、副教授蔡偉華發表論文"基於TM0,1/2模和TM2,1/2模的低剖面寬頻帶貼片天線",提出一種新穎的展寬微帶天線工作頻寬的設計方法,於"2017海峽兩岸四地無線電技術研討會"備受專家學者矚目,獲頒優秀論文獎。
該論文提出的展寬微帶天線工作頻寬的設計方法,是通過利用多模輻射理論,實現貼片天線的低剖面、寬頻帶、穩定的法向輻射方向圖等具有挑戰性的指標,獲與會專家學者、工業界代表廣泛關注。此研討會於湖南郴州舉行,邀請了海峽兩岸暨港澳地區眾多專家參與,如祝雷、台灣中山大學教授翁金輅、香港城市大學教授陸貴文作主題演講;且發表超過74篇論文,當中僅4篇獲評為優秀論文。
"海峽兩岸四地無線電技術研討會"首辦於1998年,是目前世界華人在無線通訊科技領域重要的年度學術會議之一。每屆輪流在中國內地、台灣、香港或澳門地區舉行,圍繞無線移動通信、無線網路、衛星通信、微波遙感和電磁等相關理論、技術與應用作深入探討和交流。