12 Oct 2018
UM co-organises IEEE International Conference on Radio Frequency Identification Technology and Applications
澳大合辦IEEE射頻識別國際會議促大灣區智慧城市建設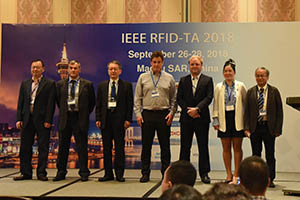 UM co-organises the IEEE International Conference on Radio Frequency Identification Technology and Applications
澳大合辦IEEE射頻識別國際會議
The 2018 IEEE (Institute of Electrical and Electronics Engineers) International Conference on Radio Frequency Identification Technology and Applications (IEEE RFID-TA 2018) was recently held in Macao. Co-organised by the University of Macau (UM) Faculty of Science and Technology (FST), the IEEE Council on Radio Frequency Identification (RFID), and IEEE Macau AP/MTT Joint Chapter, the event attracted over 80 experts, scholars, researchers, and industry practitioners in the field of RFID from the United States, Europe, Singapore, Japan, India, mainland China, Hong Kong, and Macao. Participants discussed the latest developments and research findings in RFID and its applications in the Internet of Things, and explored opportunities for further collaboration and joint development in the field.
Keynote speakers in the conference included Prof Koichi Ito from Chiba University, Japan; Dr Lau Pui Yi from Laxcen Technology Ltd, Hong Kong; Nick Pugh from Rohde & Schwarz Hong Kong Limited; Prof Chen Zhi Ning from the National University of Singapore; and Dr Jukka Voutilainen from Voyantic Ltd Finland. Several internationally renowned companies showcased their products at the exhibition and shared their latest research results with conference participants. Prof Tam Kam Weng, general chair of IEEE RFID-TA 2018 and associate dean of the FST, says that the conference aimed to enhance collaboration among research institutes in the Greater Bay Area and promote the application of this technology in smart city development and the Internet of Things.
The IEEE Council on RFID dedicates itself to promoting radio frequency identification and its development and applications in the Internet of Things. The conference is an annual event held alternately in Europe and Asia. This year's event received support from the Macao Trade and Investment Promotion Institute, Macao Post and Telecommunications Bureau, and the Science and Technology Development Fund.
澳門大學科技學院、電機電子工程師學會(IEEE)射頻識別委員會、IEEE天線及微波澳門分會合辦"2018電機電子工程師學會射頻識別技術(RFID)及其應用國際會議",吸引超過80多名來自美國、歐洲、新加坡、日本、印度、內地、香港、澳門等地的專家學者、研究人員、業界人士參與,共商RFID研究合作與發展,以推動相關技術在物聯網中的應用,為澳門及大灣區建設智慧城市助力。
是次國際會議於澳門舉辦。會上,日本千葉大學教授伊藤公一、香港立芯科技有限公司 Dr. Pui Yi LAU、羅德與施瓦茨香港分部Nick PUGH、新加坡國立大學Prof. Zhi Ning CHEN、芬蘭Voyantic公司Dr. Jukka VOUTILAINEN等專家學者,分別作主題演講。另外,還有多間國際知名RFID企業參加產品技術展覽,向與會者分享射頻識別領域最前沿的研究成果。是次國際會議大會主席、澳大科技學院教授譚錦榮表示,會議將促進大灣區內的學術合作聯繫,推動相關技術在智慧城市物聯網中的應用,為澳門及大灣區建設智慧城市助力。
IEEE射頻識別委員會一直致力推動最新射頻識別技術及其在物聯網(IoT)中的開發與應用,並每年在歐洲和亞洲輪流舉辦國際會議。是次會議獲澳門貿易投資促進局、郵電局和科學技術發展基金支持。