21 Jun 2019
UM's FST celebrates 30th anniversary
澳大科技學院成立30周年 培養澳門科技精英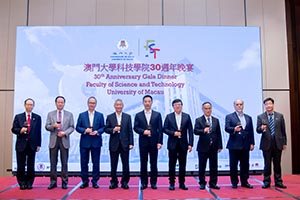 UM's FST celebrates its 30th anniversary
澳大科技學院成立30周年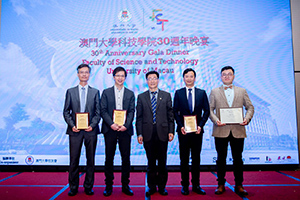 Xu Chengzhong awards honorary certificates to outstanding alumni and students
須成忠頒榮譽狀予傑出校友及學生
The University of Macau (UM) Faculty of Science and Technology (FST) recently held an event to celebrate its 30th anniversary. Over the past three decades, the FST has nurtured many professionals for the science and technology sector in Macao. UM is currently ranked among the top 125 and 200 internationally, in engineering and computer sciences, respectively. The university is also ranked No 8 in the Guangdong-Hong Kong-Macao Greater Bay Area and among the top 1 per cent in Essential Sciences Indicators (ESI) rankings in both disciplines.
According to Rector Yonghua Song, since its establishment in 1989, the FST has been dedicated to producing outstanding professionals for the science and technology sector in Macao. The faculty's effort in teaching and research is reflected in UM's rising international rankings in the field. Song encouraged FST faculty members and students to align their personal and institutional development with the development of UM and Macao, to support the Macao SAR government's effort to create a smart city, and to promote the advancement of science and technology in Macao and China. Xu Chengzhong, dean of the FST, says that the faculty will continue to keep up with the pace of change and improve its undergraduate, master's and PhD programmes, in order to nurture high-calibre professionals with a global mindset.
During the event, the FST presented honorary certificates to its alumni and current students for their outstanding achievements. The recipients include Prof Mak Pui In from the FST, advisor for the Secretariat for Transport and Public Works Wong Man Kit, Sou Kun Tou from MECOM Power and Construction Limited, and FST student Huber Hu.
澳門大學科技學院春風化雨30年,為澳門科技界培養了不少人才。在泰晤士高等教育世界大學學科排名中,澳大的"工程學"和"計算機科學"分別位列全球前125名和前200名,粵港澳大灣區排名第8;兩學科也進入美國頂尖學術指標"基本科學指標資料庫"(ESI)前1%。藉創院30周年之際,澳大科技學院辦慶祝活動,與社會各界共同見證發展。
澳大校長宋永華致辭時表示,科技學院自1989年成立以來,一直致力為澳門科技界輸送優秀人才,30年來貢獻良多;同時,澳大科技學院的教學和研究成果近年在國際排名中備受肯定,反映大學科研的實力。宋永華勉勵科技學院教員師生繼續努力,密切配合澳大和澳門智慧城市的發展,並進一步立足澳門、融入灣區、面向全國、走向世界,為澳門和國家的科技發展事業作出更多貢獻。
澳大科技學院院長須成忠介紹學院30年來的發展和取得的成果。他表示,學院在學科建設上不斷與時並進,為學士、碩士及博士課程建立完整培養體系,持續為澳門科技界培育具全球視野的明日之星,畢業生在澳門不同領域均有卓越表現。同時,學院的各領域交叉融合平台讓科研人員能突破自我,在所屬舞台上一展所長。須成忠還介紹人工智能未來十年的發展,以及學院如何做相應部署,迎接人工智能帶來的科技革命。
同場,學院向多位校友和學生頒授榮譽狀,表揚其領域的傑出成就,包括澳大科技學院教授麥沛然、運輸工務司司長辦公室顧問黃文傑、澳能建設控股有限公司蘇冠濤和澳大科技學院學生胡致遠;他們先後與在場嘉賓分享其學習的心路歷程,並感謝教師當年的循循善誘。
出席活動的嘉賓有:中央人民政府駐澳門特別行政區聯絡辦公室秘書長王新東,澳大校董會主席林金城,澳門科學技術發展基金行政委員會主席馬志毅,高等教育局局長蘇朝暉,澳大副校長馬許願、葛偉、蘇基朗,眾多海內外社會賢達和澳大師生。