15 May 2009
Agreement Signing Between Asian Gemmological Institute and Laboratory Limited and Faculty of Science and Technology University of Macau
澳大與亞洲寶石學院簽署合作協議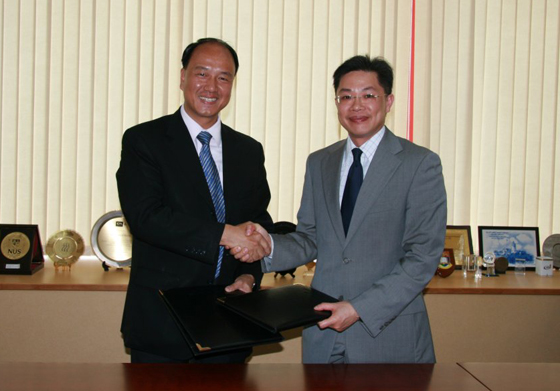 In order to foster cooperation relationship and enhance technology development, an agreement between the Faculty of Science and Technology, University of Macau (FST, UM) and Asian Gemmological Institute and Laboratory Limited (AGIL) was signed on 14 May 2009 at UM in the area of gemstone identification technology. The agreement was signed by Professor Mok Kai Meng, Dean of FST of UM, and Mr. Mok Wai Kei, Dominic, Principal of Asian Gemological Institute and Laboratory Limited respectively, in the witness of Dr. Ho Sut Kam of the Physics Supporting Groups of FST, UM.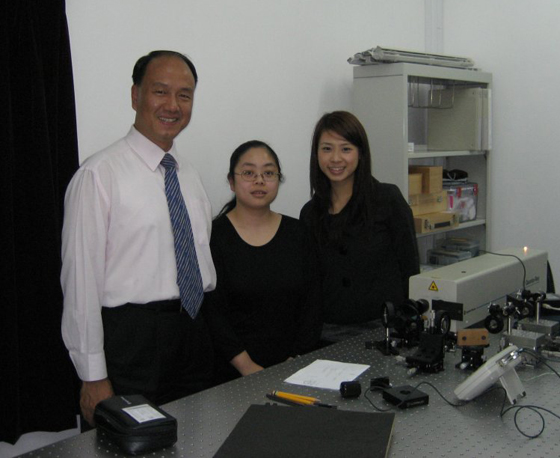 Considering the significant commercial value of Sapphire, AGIL and UM have come into a cooperation relationship in the area of gemstone analysis. Laser spectroscopy is an advanced technology that can be applied in gemstone analysis; in recent years, identifying Beryllium-treated natural Sapphire using optical technology is gaining momentum. To this end, the agreement is aimed at strengthening the cooperation and academic exchange in the area of physics, as well as the collaboration in gemstone analysis using laser spectroscopy.
AGIL was established in 1983, providing advanced gem testing service to jewellery traders and the general public. AGIL is the first gemstone testing laboratory in Hong Kong being accredited with ISO 17025 by the Hong Kong Accreditation Service of the Hong Kong SAR Government in January, 2005. On the other hand, a research platform for laser spectroscopy was established in FST of UM in 2008, enabling a wide range of applications for elemental analysis. The research project is jointly supported by the Research Committee of UM and the Science and Technology Development Fund.
澳門大學(澳大)科技學院日前與亞洲寶石學院及鑑定所有限公司簽署合作協議,冀望加强雙方的合作與交流,並促進寶石鑑定技術的發展。有關協議的簽訂由澳大科技學院院長莫啓明教授及亞洲寶石學院及鑑定所院長莫偉基先生共同主持,並由澳大科技學院物理組何雪琴博士見證。
為切合市場對藍寶石鑑定的需求,澳大與亞洲寶石學院及鑑定所決定攜手合作,共同研究寶石成份的鑑定技術。目前,鐳射光譜學是一項被應用於寶石鑑定領域中的尖端技術,而近年來,利用光學技術來分析經過被鈹處理的藍寶石成為重要課題,因此,該合作協議的簽訂不僅能夠加强雙方在物理學範疇裡的合作與學術交流,同時亦推動鐳射光譜應用於寶石鑑定技術上的研究和發展。
亞洲寶石學院及鑑定所自一九八三年成立,為業界及公眾人士提供高科技全科寶石鑑定服務。在二○○五年,亞洲寶石學院及鑑定所獲得香港特別行政區政府香港認可處頒發ISO 17025證書,成為香港首家取得專業認可的寶石鑑定所資格。另一方面,澳大科技學院亦於二○○八年為鐳射光譜學建立研究的平台,使此技術在成份分析上得到更廣泛的應用。該研究項目由澳門科學技術發展基金及澳大研究委員會聯合資助。