17 Dec 2010
Paper by UM member ranks among the most downloaded article by Journal of Materials Science & Engineering R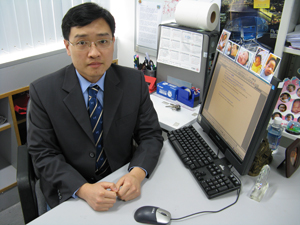 Recent developments in stainless steels, a paper co-authored by UM professor Dr. Kin Ho Lo, and Dr. C.H. Shek and Prof. J.K.L. Lai from City University of Hong Kong, was ranked by the journal Materials Science & Engineering: R: Reports among the "Hottest 25 Papers" most downloaded articles for more than 18 months since its publication in May 2009. The paper has never fallen outside the most-downloaded list of the journal since its publication and the overall ranking is the fourth in the Hottest 25 Papers computed by Elsevier for the Academic Year Oct 2009 to Oct 2010, reflecting the international recognition of UM's research excellence and also the significant impact of the paper.
Materials Science & Engineering: R: Reports publishes invited review papers covering the full spectrum of materials science and engineering. The reviews, both experimental and theoretical, provide general background information as well as a critical assessment on topics in a state of flux. It is one of the most prestigious journals in Materials Science with an impact factor of 14.4 in 2009 and 12.2 in 2010 respectively.
This paper was co-authored by Dr. Kin Ho Lo from the Department of Electromechanical Engineering of the Faculty of Science and Technology of the University of Macau (UM), and Dr. C.H. Shek and Prof. J.K.L. Lai from City University of Hong Kong. The paper gives an overview on the developments in stainless steels in the past decade. Topics covered include the latest findings on the various precipitate phases, surface engineering, grain-boundary engineering etc. Although the paper is mainly a review, Dr. Lo also included his original research findings, obtained in collaboration with the co-authors of the paper, on the cryogenic magnetic behavior of duplex stainless steels and their potential application in temperature measurement in the paper. These findings were highlighted in the journal cover.
Dr. Lo has been working on metallic materials, especially stainless steels and their magnetic characterization. He has generated over 15 papers and 1 encyclopedia chapter on steels and stainless steels in recent years. Lately, Dr. Lo has also diversified his research to engineering failure analysis, laser materials processing, and the mechanical characterization of metallic materials.