28 Jan 2011
A Seminar on "An Overview on Route to Membership" presented the Chairman of The Institution of Mechanical Engineers (Hong Kong Branch) (IMechE Hong Kong Branch)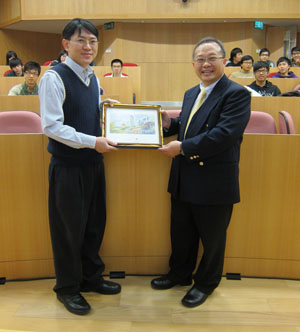 Prof. Pak Kin Wong (left hand side), Department head of Electromechanical Engineering, presented souvenir to EurIng. Wai Keung Chow (right hand side)
A seminar on "An Overview on Route to Membership" presented the Chairman of IMechE Hong Kong Branch, EurIng Wai Keung Chow, RPE(Mech) CEng EurIng FIMechE, FHKIE FASME SMCMES was organized by the Department of Electromechanical Engineering (EME) of Faculty of Science and Technology (FST) at UM on 27 January 2011. The main target audience is experienced engineers who are interested to be Corporate Member of IMechE and registered as Chartered Engineer. Current engineering students are also welcome to join as the seminar can give them an understanding of professional progression path.
EurIng. Wai Keung Chow firstly gave a brief introduction of IMechE, and IMechE Hong Kong Branch as well as the membership classes and figures of Hong Kong Membership. The seminar gave information on the benefits of getting registered with the ECUK, criteria for Corporate Membership, Corporate application process, professional review report, and interview skills and assessment. The seminar also discussed on the unsuccessful cases and provided recommendations. The initial professional development and continuing professional development (for corporate members) are also highlighted for students.
The talk was concluded by a Q&A session in which the students actively participated and most of them showed interests in becoming a Corporate Member of IMechE and registered as a Chartered Engineer. The participants of this seminar were over 60, including students and teachers from FST.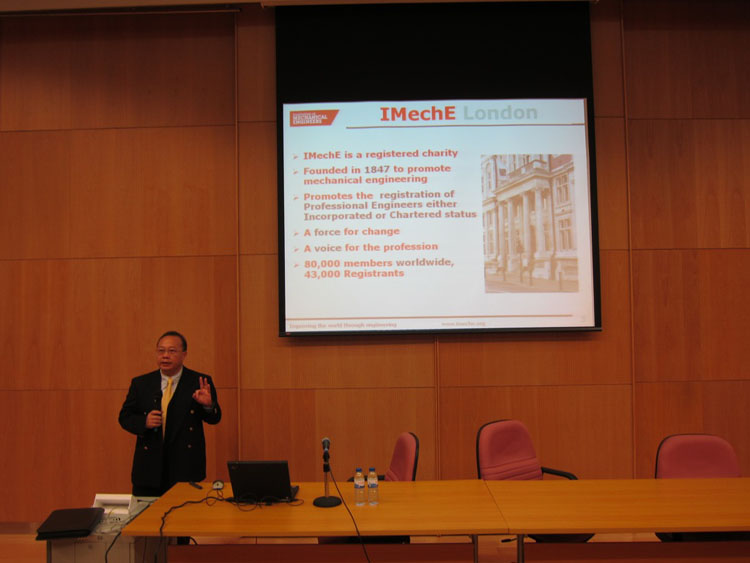 EurIng Wai Keung Chow, IMechE Hong Kong Branch
The seminar was attended by engineers as well as UM staff and students