27 Apr 2011
UM holds Career Fair 2011
澳門大學舉辦2011就業展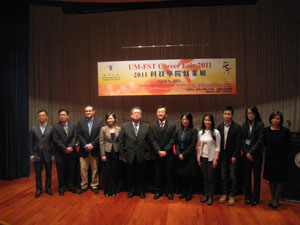 Organization representatives and FST dean Prof. Philip Chen at the opening ceremony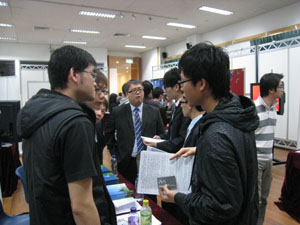 Students actively participate in the booth session
The Career Fair 2011, organized by the Training and Placement Network of the Faculty of Science and Technology (FST), University of Macau (UM), was held on 9 April at the University of Macau Library.
The annual career fair is a platform for UM alumni and current students to seek full-time jobs in the field of engineering. The fair is open to all year-4 students and UM alumni. It offers a great chance for students and alumni to explore career opportunities, obtain information about companies they are interested in, and network with potential organizations for future opportunities.
During the talk session at this year's fair, representatives from participating organizations briefly introduced their organizations and disclosed potential job vacancies and career advancement opportunities in their organizations. Some representatives shared their experiences and offered useful interview tips in order to help the students make the most out of the career fair.
Some organizations also participated in the booth session, during which students talked with the organization representatives in detail and submitted resumes to organizations they were interested in. Some participants also arranged on-spot interviews for some students.
There was also an afternoon session arranged by the Macau Institute of Engineers. The session aimed to recruit Chinese students and provide part-time jobs for students with software-related background.
This year's fair attracted 16 government organizations and companies, which are partners of the Training and Placement Network and mostly from the industry of engineering and consultancy. More than 80 students participated in the event and they appreciated the valuable information and opportunities obtained from the fair.