08 Jul 2011
MOU Signing Ceremony between the Faculty of Science and Technology, University of Macau and the College of Engineering, National Chiao Tung University
澳門大學科技學院與台灣國立交通大學工學院簽署合作備忘錄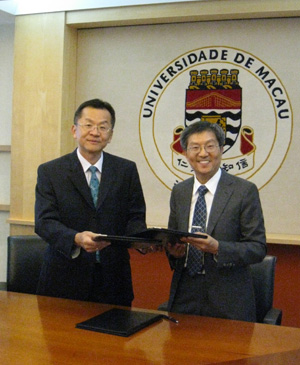 In order to strengthen exchange cooperation and enhance technology development of students for fostering outstanding research personnel, a Memorandum of Understanding (MOU) between the Faculty of Science and Technology (FST), University of Macau (UM) and the College of Engineering, National Chiao Tung Universiy (NCTU) was signed on 7 July 2011 at UM..
The following aspects are covered in this MOU: exchange of faculty and administrative staff; exchange of students; academic and research cooperation; organization of joint symposia and exchange of library resources and related educational information.
The MOU was signed by Prof. C. L. Philip CHEN, Dean of FST of UM and Prof. Chiun-Hsun CHEN, Dean of the College of Engineering of NCTU, in the witness of Prof. Enhua WU, Associate Dean of FST of UM; Prof. Pak Kin WONG, Department Head of Electromechanical Engineering of FST; Prof. Lap Mou TAM, Professor of EME; Dr. Seng Fat WONG, Assistant Professor of EME; Dr. Zhengchao XIE, Assistant Professor of EME; Mr. Seng Kin LAO, Senior Instructor of EME; Prof. Kun Pang KOU, Interim Department Head of Civil and Environmental Engineering and Coordinator of Exchange Programme; Mr. Chin-Lien TSENG, College of Engineering of NCTU.
The College of Engineering of NCTU consists of three departments, two institutes, 11 degree programmes of engineering, a machine shop and four research centers. The research centers collaborate with each other in conducting integrated research projects. The college has highly qualified faculty members. They are active in both teaching and research and also have close tie with the local industry. In the mean time, the College is striving to expend its size and initiate larger collaborated research projects with the industry.
澳門大學科技學院與台灣國立交通大學工學院於二零一一年七月七日簽署合作備忘錄,冀促進雙方合作交流,進一步提升學生的科研水平,以培育更多優秀的科研人才。
是次簽署的合作備忘錄包括以下項目:教師與職員之交流、學生之交流、學術科研項目合作、共同舉辦學術研討會、圖書文獻資料和相關學術訊息交流等。
簽署儀式由澳大科技學院院長陳俊龍教授及國立交通大學工學院院長陳俊勳教授主持。澳大科技學院副院長吳恩華教授、機電工程系系主任王百鍵教授、譚立武教授、黃承發博士、謝正超博士、劉承堅高級講師、土木及環境工程系代系主任及交換生計劃協調員高冠鵬教授、國立交通大學工學院曾錦鍊先生等均出席簽署儀式。
國立交通大學工學院現有三個學系、兩個中心、十一個工程課程、一個機械工埸及四個研究中心。各研究中心積極推動產學合作及大型整合型研究計劃。該院亦禮聘科學園區及附近研發單位之專家兼課,傳承他們豐富的實務經驗。且重視學術與實務兩方面的研究,與產業界及國防研發單位有密切的建教合作關係。此外,國立交通大學工學院亦向產業界及社會大眾提供培訓、工業調查、檢測、鑑定、咨詢及專利審查等服務,成果顯著。目前該院正積極推動城鄉規劃、環境保護相關研究所及中心之成立,將研究成果貢獻予社會。