28 Mar 2012
Director of International Relations Office of École Polytechnique de Montréal in Canada visited UM-FST
加拿大蒙特利爾工程學院國際關係辦公室總監訪澳大科技學院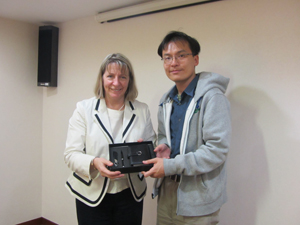 On 28 March 2012, Ms. Line Dube, Director of International Relations Office of École Polytechnique de Montréal (ÉPM) in Canada visited Faculty of Science and Technology (FST) of the University of Macau (UM) and met Prof. Yuen Ka Veng, Associate Dean of FST and Prof. Tam Kam Weng, Director of Government Relations and Industry Liaison of FST.
An academic cooperation agreement between ÉPM and FST was signed on March 2012. During the meeting, both parties exchanged the opinions on future development, research projects, faculties and students training, etc. and in depth discussion on the further student exchange agreement.
After the meeting, Ms. Dube visited UM campus and laboratories of FST.
加拿大蒙特利爾工程學院國際關係辦公室總監Ms. Line Dube於2012年3月28日到訪澳門大學科技學院,並會見了副院長阮家榮教授和學院政府關係及工業聯絡主任譚錦榮教授。
會晤期間,雙方就科技學院及蒙特利爾工程學院的未來發展、科研項目及師生培訓等方面交流,並為於今年三月簽署的學術合作協議書及即將簽署的交換生計劃協議書進行深入的探討。
會議結束後,Ms. Line Dube更參觀了澳大校園及科技學院實驗室。