21 Apr 2012
FST holds career fair
工程人才需求激增 澳大科技學院辦就業展助學生了解市場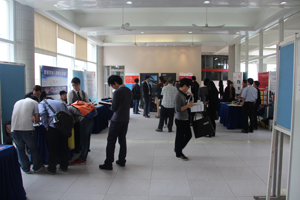 UM's Faculty of Science and Technology holds a career fair
澳大科技學院辦就業展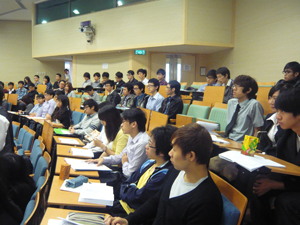 Students attend the talk for more details
學生參加講座了解詳情
The University of Macau's (UM) Faculty of Science and Technology (FST) recently held an annual career fair, in order to provide a platform for students and alumni to understand the job market in Macao and overseas. This year, twenty-seven high-tech companies, public organizations and government departments attended the fair.
Career talks and career booths were organized to enable interaction between participating organizations and students, as well as to provide students with more information about the job market. In the twenty-six talk sessions, representatives of participating organizations discussed job vacancies, organizational structures, on-the-job training opportunities, and economic climate in Macao's neighboring regions. Fourteen organizations participated in the booth sessions, where students discussed more details with the representatives and submitted resumes.
Prof. Philip Chen, who officiated at the opening ceremony, noted that with the rapid development of Macao, especially with the start of many large-scale construction projects, there has emerged a high demand for engineering graduates.
Participating organizations included Airport Information Management Solutions, Arup, Chubb (Macau) Limited, Civil Engineering Laboratory of Macau, Companhia de Electricidade de Macau-CEM, S.A., Companhia de Telecomunicações de Macau SARL (C.T.M.), Consultoria e Projectos Internacionais, Lda, Control Automation Limited, Davis Langdon & Seah Macau Limited, Education and Youth Affairs Bureau, Galaxy Macau Hotel Management Limited, GL-Project Design & Consultant Company Limited, Honeywell (Macau) Limited, Huawei Technologies Co. Ltd, Jardine Schindler Lifts (Macao) Limited, Johnson Controls Hong Kong Ltd, Keen Project Development & Engineering Consultants Ltd, Labour Affairs Bureau, Melco Crown Entertainment, MGM MACAU, Otis Elevator Company (H.K.) Limited, Parsons Brinkerhoff Engineering Management Co. Ltd., Public Administration and Civil Service Bureau, Sands China Limited, Top Builders Group Ltd., Transportation Infrastructure Office, and Wynn Macau.
FST uses English as the main medium of instruction, and provides comprehensive engineering education as well as opportunities for students to apply their knowledge. Last year, more than ninety percent of the graduates received job offers, with the rest choosing to continue to pursue a master degree.
本澳經濟一片榮景,各大企業求才若渴。澳門大學科技學院院長陳俊龍講座教授表示,本澳發展急速,許多大型工程建設相繼動工及落成,對本澳工程畢業學生需求激增。澳大科技學院課程採用英語教學、為學生提供全面的工程教育以及多方面的實踐機會,向社會不斷提供相關人才,畢業生的就業率高達百分之九十,其他學生則選擇繼續升學深造。
為加強業界與應屆畢業生的互動,讓學生得到更多就業資訊及機會,澳大科技學院日前舉行一年一度的就業展,陳俊龍講座教授及各參展機構代表主持開幕禮。二十七間來自國內外的高新科技公司、公營機構及政府部門為即將投身社會的應屆畢業生提供了相當的職位空缺。就業講座期間,參與機構介紹現時工程界的就業狀況、周邊經濟環境、在職培訓及公司架構,讓學生對求職市場有預先的認識及作好職前心理準備。出席學生對就業展反應熱烈,表現積極。
參加就業展的機構包括機場信息管理技術有限公司、奧雅納工程顧問、集寶澳門有限公司、澳門土木工程實驗室、澳門電力股份有限公司、澳門電訊有限公司、國際工程顧問有限公司、卓程儀控有限公司、威寧謝澳門有限公司、教育暨青年局、澳門銀河酒店管理有限公司、盧梁建築工程設計顧問有限公司、霍尼韋爾(澳門)有限公司、華為技術有限公司、怡和迅達升降機(澳門)有限公司、江森自控香港有限公司、建研項目發展暨工程顧問有限公司、勞工事務局、新濠博亞娛樂、澳門美高梅、奧的斯電梯(香港)有限公司、栢誠工程管理有限公司、行政公職局、金沙中國有限公司、得寶建築集團有限公司、運輸基建辦公室及永利渡假村(澳門)有限公司。