10 Nov 2012
Annual EME Day was held by EME, FST, UM
澳大機電工程系舉行周年晚會
The annual EME Day 2012-2013 which was organized by the Year Two students of the Department of Electromechanical Engineering (EME) of the Faculty of Science and Technology (FST), University of Macau (UM), co-organized by the Institution of Mechanical Engineers Student Chapter, University of Macau Students' Union (IMechE-UMSU), was successfully held at the Cultural Centre of UM on 9 November 2012. The EME Day aimed at welcoming the freshman and strengthening the relationship between the EME students, alumni and professors in this joyful party. There were around 250 participants including professors, sponsors, students and alumni.
Apart from the professors and students, alumni of the past 17 years and the representatives of sponsors, including Mr. Addy Chan, Council Member of Macau Institution of Engineers, Mr. Chris Chong, representative of Institution of Mechanical Engineers Macau Branch, Miss Fan Tong I and Mr. Hoi Chi Chong, representatives of Gammon Construction Limited (Macau) also attended this event, which means significant support to the department and brings all into harmony.
Talent shows were performed after the gala dinner. All the talent shows were performed excellent and followed by a burst of applause. Besides, lucky draw and guest performance including Latin dance from Dance Association and Magic show from Magic Club, cyclic performance and singing performance were found in the event. A year two student expressed that it was a wonderful experience in his university life and he learnt a lot from organizing the EME Day.
EME Day was sponsored by Faculty of Science and Technology of University of Macau, University of Macau Students' Union, Institute for the Development and Quality Macau (IDQ), Macau Institution of Engineers (AEM), the Macau Institution of Electrical and Mechanical Engineers (AEEMM), Gammon Construction Limited (Macau), Hongway Engineering Limited, Coneer Engineering Limited and the Coca-Cola Company (Macau).
澳門大學科技學院機電工程系二○一二至二○一三年周年晚會於十一月九日假澳門大學文化中心圓滿舉行。是次活動由機電工程系二年級生負責統籌,並由澳門大學學生會英國機械工程師學會澳門大學學生分部協辦,目的是歡迎機電工程系一年級新生,並藉此機會讓機電工程系的校友歡聚一堂。當晚參與活動的教授、贊助商、校友及學生近二百五十人。
除了機電工程系各級學生及全體老師參與周年晚會外,過往十七年畢業於機電工程系的舊生及贊助機構代表亦應邀出席,當中包括澳門工程師學會理事及青年部部長陳桂舜工程師、英國機械工程師學會英國機械工程師學會澳門分部代表莊偉良工程師、金門建築(澳門)有限公司代表范東兒小姐及許智聰先生等。可見各界對澳大機電工程系的支持及認同,同時亦反映出機電工程系的團結及深厚情誼。
周年晚會以聚餐及才藝表演的形式進行,同學們演出非常落力,出色的表演贏得觀眾不少掌聲和喝彩。此外,活動當晚亦安排了嘉賓表演及幸運大抽獎環節。嘉賓表演包括由澳門大學舞蹈學會演出的街舞及拉丁舞、魔術學會的魔術表演、花式單車表演,以及歌唱表演等都十分精彩,令觀眾眼前一亮。有負責統籌的大二學生表示,透過參與活動不但能加強組織能力,而且讓大學生活更為充實璀璨。
是次活動的贊助機構包括澳門大學科技學院、澳門高等教育輔助辦公室、澳門大學學生會、澳門發展及質量研究所(IDQ)、澳門工程師學會(AEM)、澳門機電工程師學會(AEEMM)、金門建築(澳門)有限公司、鴻偉工程有限公司、建利工程有限公司、澳門可口可樂飲品有限公司。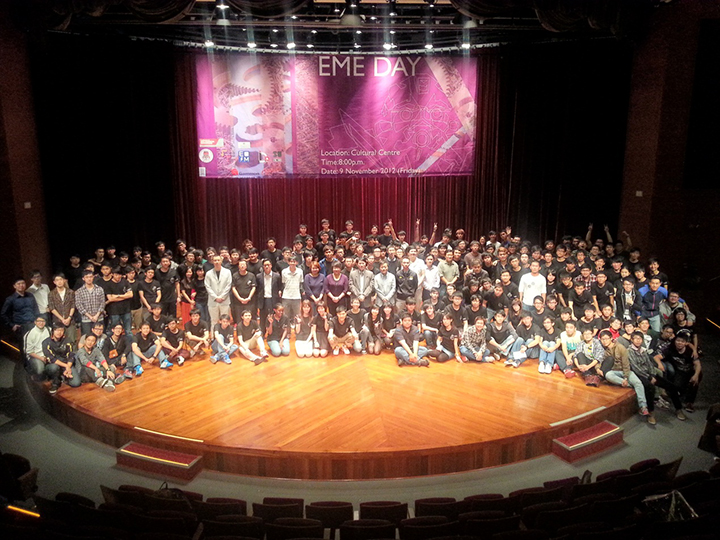 Group Photo of Professors, Students, Alumni and Sponsors taken in EME Day 2012
澳大機電工程系周年晚會全體師生合照