06 Dec 2013
UM students win fruitful prizes in paper airplane competition in Macau
澳大科技學院學生在澳門紙飛機比賽奪得多個獎項
Two teams of undergraduate students of the Department of Electromechanical Engineering in Faculty of Science and Technology participated in the Macau Paper Airplane Competition 2013 and won five prizes on 1st December.
The competition was organized by Macao Innovation and Invention Association (MIIA) and held in Macau Polytechnic Institute Multisport Pavilion. Twenty-nine universities, colleges and high schools with more than 200 students participated in the competition. Mr. Lai Pak Keong, President of MIIA, expressed in his speech that students can learn the principle of airplane flight and develop interest in science through a paper airplane. He expected students to broaden their horizons and earn practical experience in research and science throughout this activity.
In the university/college-level competitions, Ieong Kuong Io (John) let his paper airplane fly in the air for 11.1 seconds and won the First Prize (individual) in the longest airtime competition. Lei Kin Tat (Kinder) won the First Prize (individual) in the longest distance competition with a flying distance of 29 meters. The team SUPR-EME, which includes John, Kinder and Kuong Weng Seng (Wilson), won the Second Runner-up Prize (group) in the longest distance competition. Moreover, another team Aero II, with Xu Yuxiang, Yu Gan, and Luo Zichong, won the First Runner-up prizes in both longest airtime and longest distance competitions. Both teams were led and supervised by Mr. Lao Seng Kin.
Being a champion, John mentioned that students can gain science knowledge as well as be interested in science innovation in this meaningful event. He expressed that the knowledge of fluid mechanics he gained during the study in UM and aerodynamics specifically taught by Mr. Lao are important to make them for success in the competition.
澳門大學科技學院學生在"二○一三第三屆慶回歸•衝上雲霄-全澳學生紙飛機大賽"中囊括了五個獎項。
比賽由澳門創新發明協會舉辦,於十二月一日假理工學院體育館舉行,吸引了二十九間大專院校和中學逾二百人參加。會長黎栢強致詞中表示,希望學生透過摺紙飛機來了解飛機飛行原理及培養科普興趣,擴闊設計視野,實踐"科研及科普飛行"的目標。
在大專組賽事中,澳大科技學院機電工程系學生楊廣耀憑著11.1秒飛行時間奪得"飛行時間最長"個人冠軍,隊友李健達則以29米的飛行距離力壓其他對手,奪得"飛行距離最遠"個人冠軍。他們所組成包括鄺永盛在內的SUPR-EME隊亦取得了"飛行距離最遠"團體季軍。另一支由許宇翔、余甘和羅子翀組成的Aero II隊則取得"飛行時間最長"和"飛行距離最遠"的團體亞軍。兩隊學生由劉承堅先生帶領和指導。
"飛行時間最長"個人冠軍楊廣耀表示,活動有助學生增加科普知識,培養科學創新的興趣。他感謝澳門大學科技學院的支持,同時透露在大學學習過程中得到的流體力學知識和劉先生特別傳授的空氣動力學知識,是他們在比賽中取得佳績的關鍵。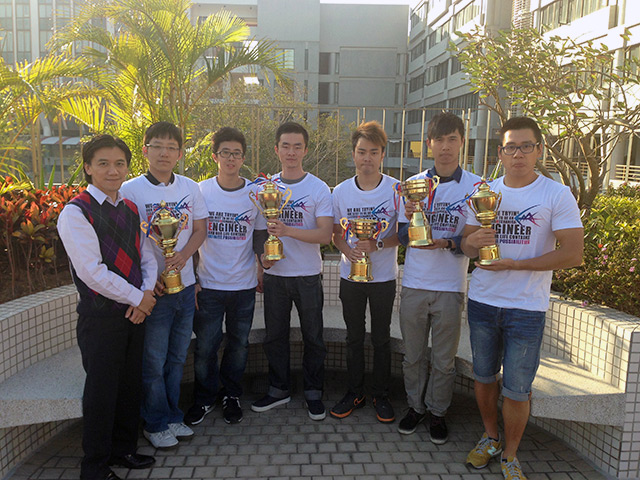 From left to right: Mr. Lao Seng Kin, Luo Zichong, Xu Yuxiang, Yu Gan, Kuong Weng Seng, Lei Kin Tat, Ieong Kuong Io.
由左至右:劉承堅先生、羅子翀、許宇翔、余甘、鄺永盛、李健達、楊廣耀。