20 Jan 2015
UM students win second prize at national mathematical modelling contest
澳大學生獲全國大學生數學建模賽二等獎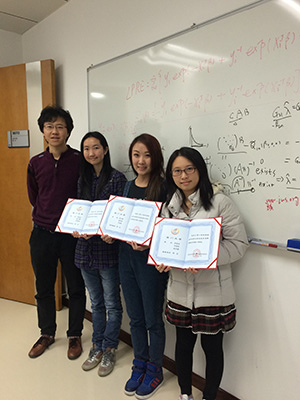 Three winning students with their professor
三位得獎學生與指導老師合照
Three undergraduate students from the Department of Mathematics, Faculty of Science and Technology, University of Macau (UM), namely Lo Ka In, Lei Sin Ian, and Lam Ut Ngo, received a second prize at the Contemporary Undergraduate Mathematical Contest in Modeling of China (CUMCM). More than 25,000 teams participated in this year's contest, and only 6 per cent of them received first or second prizes. It was the first time UM participated in the contest. The three winning students were led by Dr Liu Zhi, assistant professor from the Department of Mathematics.
The CUMCM is a national contest in mathematical modelling. It is also the largest mathematical modelling contest in the world. In 2014, it attracted more than 25,347 teams consisting of 70,000 students from 33 provinces and cities in China (including Hong Kong and Macao), Singapore, and the United States.
The UM team won the prize with their design of a "creative folding table". By labelling the coordinates of some discrete points on the edges of the table using a 3-dimensional coordinate system and then creating an auto-run Matlab programme, the design enables the features of the table to display based on the parameters input by the customers according to their preferences.
The Department of Mathematics attaches great importance to improving students' modelling abilities. Prior to this contest, some students from the department also won prizes at the Mathematical Contest in Modeling (MCM) in the US and a national contest for postgraduate students in China.
澳門大學科技學院數學系三位學生羅嘉彥、李倩欣和林月娥在數學系助理教授劉志帶領下,首次參與由中國工業與應用數學學會舉辦的"全國大學生數學建模競賽",因表現出色而榮獲全國二等獎。今屆競賽共吸引了逾兩萬二支隊伍參與,其中僅有大約百分之六的隊伍獲得一等或二等獎。對首次參賽的澳大學生而言,成績令人鼓舞。
"全國大學生數學建模競賽"爲全國高校規模最大的基礎性學科競賽,也是世界上規模最大的數學建模競賽。2014年,有來自全國33個省市包括港澳,以及新加坡、美國共25347隊、逾7萬多名學生參賽。
澳大參賽隊伍選擇了「創意平板折叠桌」的設計問題,通過將折叠桌邊沿上的一些離散點序列對應地標注於一個三維的空間坐標軸上,考慮了加工方便以及桌子的穩定性,然後用數學軟件Matlab編制出了一套自動運行的程序,客戶只需要將自己的偏好對應的參數輸入程序,創意折叠桌的外形就會自動呈現出來。
澳大數學系向來重視學生數學建模能力的培養,之前亦有學生參與美國大學生數學建模競賽以及研究生參加全國研究生建模競賽並獲得獎項。