25 Jul 2008
2008 Wireless Technology Study Summer Camp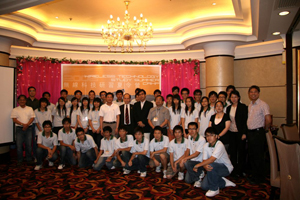 The first summer camp titled '2008 Wireless Technology Study Summer Camp' organized by the Department of Electrical and Electronics Engineering in the Faculty of Science and Technology took place at the University Campus from 22nd -25th July 2008 with the great support from the Science and Technology Development Fund (FDCT).
This summer cap targeted on high school students in Macao and finally attracted application of more than 30 high school students from 22 Macao high schools. It aimed for science promotion by putting the Wireless Technology as the main theme, making the high school students in Macao to realize the close relationship between technology and our daily lives, and also recognize the fun of scientific research through visiting laboratories and joining different workshops.
Besides, the camp has explained the wireless technology in simple language for the high school students on how to apply these types of technology; it stimulated their learning interest and also deepened their knowledge towards the University Environment and Facilities during these four consecutive days?activities.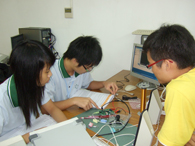 This camp was coordinated by Professor Tam Kam Weng from Department of Electrical and Electronics Engineering, the students were first arranged to visit the laboratories of different experimental functions, including the Smart Antenna, RFIC and the High Quality Digital TV broadcasting technology. Moreover, students have also conducted some experiments supervised by the graduate students and researchers of university, such as some basic experiments of electromagnetisms, wireless music transmission using electromagnetic theory, building of wideband monopole antenna for mobile phone signal measurement, wireless chat room game and also learnt about the GPS system and played a related tracking game in the university campus by giving them a GPS receiver to go around the campus for finding the points of different locations, and to calculate the most accurate outcomes. This game reinforced students?knowledge of geometry and also made them to realize the fun of science and engineering through conducting all these activities.