12 Aug 2015
UM hosts 10th congress of the International Society for Analysis, its Applications and Computation
世界數學專家雲集澳大 探討數學分析前沿成果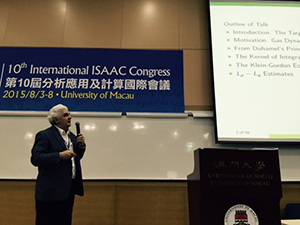 Experts and scholars have an in-depth discussion on mathematical analysis.
專家學者在研討會上就數學分析進行演講與討論
The tenth congress of the International Society for Analysis, its Applications and Computation (ISAAC) was recently held at the University of Macau (UM). The theme of this year's congress is the theory and application of mathematical analysis. Organised by UM's Department of Mathematics, the event attracted more than 350 experts and scholars from 30 countries and regions.
13 mathematicians delivered plenary speeches at this year's conference. They are members of national science academies in China, the United States, Germany, and Australia. Among the plenary speakers are Prof Siu Yum Tong from Harvard University and Prof Alan McIntosh from Australian National University. Apart from plenary speeches, 23 parallel thematic meetings were held and more than 300 reports were presented at the conference.
The ISAAC's congress is an international biennial event in the field of mathematics, providing a platform for professors, scholars, experts, and industry practitioners from around the world to discuss their latest research findings. The previous ISAAC conferences were held in the United States, Germany, Canada, Italy, Turkey, the United Kingdom, Russia, and Poland, respectively.
由澳門大學科技學院數學系主辦的"第10屆分析應用及計算國際會議"於澳大圓滿舉行。是次超過350位來自世界各地的專家學者聚首一堂,分別圍繞會議主題"數學分析的理論、應用及計算"進行演講與討論。此次會議在澳門舉行標誌著國際科研組織對中國科學、經濟發展及澳大數學分析前沿研究成果的認同。
研討會邀請到13位數學大師擔任主講嘉賓,主要是來自中國、美國、德國及澳大利亞等國的科學院院士,如哈佛大學數學教授蕭蔭堂院士及澳洲國立大學教授阿蘭麥肯托士院士,成為了這次研討會的亮點。與會者則分別來自兩岸四地、北美、中東、歐洲、亞洲、澳洲、南美等30個國家或地區。除了大會報告外,研討會更設有23個專題會場,報告總數超過300場。
"分析應用及計算國際會議"是兩年一次的世界數學界盛會,曾在美國、日本、德國、加拿大、意大利、土耳其、英國、俄羅斯及波蘭舉行,為世界各地分析應用及計算領域的教授、專家學者和業界人士提供一個高水準平台,就有關的科研成果進行交流探討。