04 Nov 2015
UM signs MOU with Rohde & Schwarz Hong Kong Ltd
澳大與德國全球高科技電子企業簽備忘錄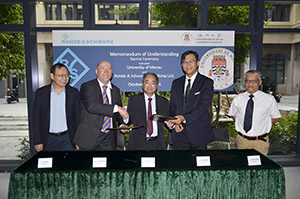 UM signs MOU with Rohde & Schwarz Hong Kong Ltd
澳大和羅德與施瓦茨香港有限公司簽署諒解備忘錄
The Wireless Communication Laboratory under the University of Macau's (UM) Department of Electrical and Computer Engineering recently signed a Memorandum of Understanding (MOU) with Rohde & Schwarz Hong Kong Ltd (RSHK). Both parties agree to increase collaboration in the training of wireless communication professionals in Macao and in the development of innovative wireless communication systems.
Several collaborative initiatives are included under the MOU, including the intention to establish a joint laboratory and the donation of advanced equipment in the field of wireless technology, with the aim of providing professional training, creating an R&D platform, enhancing the quality of education and research in wireless communication, and promoting the development of related technologies in Macao. The collaboration will allow UM students from the Department of Electrical and Computer Engineering to put their knowledge into practice and will create more overseas internship opportunities for students majoring in the related areas.
Heino Gregorek, vice president for sales and marketing, Asia Middle, Rohde & Schwarz Ltd, and Prof Tam Kam Weng, associate dean of the FST, officiated at the MOU signing ceremony. After the ceremony, representatives of RSHK demonstrated various features of its products, including EMI debugging, interference hunting, network coverage measurement, and network benchmarking.
澳門大學科技學院電子及電腦工程系無線通訊實驗室與總部設於德國慕尼黑的全球高科技電子企業羅德與施瓦茨香港有限公司簽署諒解備忘錄,冀促進雙方的合作與交流,培訓澳門無線通訊相關人員以至研發各種創新無線通訊系統,以進一步提升培育科技人才的質素,服務市民。
備忘錄中提及多個合作計劃,當中包括擬成立聯合實驗室及捐贈無線測量儀器,藉以提供專業培訓和對外開發研發平台,並提升無線通訊領域之學術及科研水平,推動澳門地區相關技術的發展。多項合作均有利於澳大電子及電腦工程系學生實踐所學的理論與知識,並為相關專業的學生帶來海外實習機會。
簽署儀式由羅德與施瓦茨公司高級副總裁Heino GREGOREK及澳大科技學院副院長譚錦榮教授主持。儀式後羅德與施瓦茨香港有限公司提供產品演示,內容包括電磁干擾檢測、搜尋干擾信號源、網絡覆蓋測試及網絡質素評核等。