05 Nov 2015
UM holds seminar on smart grid technology
澳大積極探討智能電網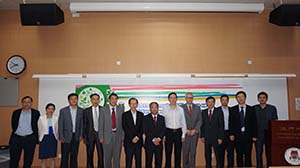 A group photo of Prof Tam Kam Weng, Prof Zhu Lei, representatives of CEM, and other participants in the seminar
與會專家與譚錦榮、祝雷和澳門電力公司代表合照
Local students, engineers, and scholars at the seminar
澳門學生、工程師、學者參與研討會
The University of Macau's (UM) Department of Electrical and Computer Engineering and the Companhia de Electricidade de Macau (CEM) recently co-organised a seminar on the future development of power systems and emerging technologies.
UM Faculty of Science and Technology (FST) Associate Dean Tam Kam Weng said in his opening speech that the economic growth in Macao has led to a sharp increase in power consumption, and local universities, companies, and government departments have been discussing the use of renewable energy and smart grid technology in Macao as a solution to this issue.
The seminar attracted experts and scholars from Europe, Australia, Canada, Hong Kong, Macao, and mainland China. Participants discussed the applications of smart grid technology in their countries and regions, including a new type of EV motors in mainland China, a wireless EV charging technology in Europe, the use of alternative energy in Denmark, and the latest developments of micro grid technology around the world.
由澳門大學科技學院電機及電腦工程系主辦、澳門電力股份有限公司協辦的"未來電力系統發展與新技術"研討會於澳大劉少榮大豐演講廳舉行,吸引來自中國、歐洲、澳大利亞、加拿大、香港和澳門多位專家學者參與,共同探討電動汽車、新能源利用、以及智能電網相關領域的最新技術發展。
澳大科技學院副院長譚錦榮教授致詞時表示,隨着澳門經濟發展,澳門本地用電量迅速增長,近期本澳高校、企業及政府部門等都在積極探討太陽能光伏發電等智能電網技術,尋找適合澳門的智能電網發展道路。譚錦榮指出,智能電網在國內外多個地區已經得到廣泛發展,此研討會邀請了來自世界多個地區的專家介紹各自地區的發展情況,機會十分難得,相信對澳門智能電網領域的研究與應用起積極的推動作用。
研討會分上下午一連兩場進行,吸引了70多位澳門學者、工程師和學生參加。多位不同地區的專家學者分別介紹了相關地區智能電網的發展狀況,如中國的新型電動車用發電機、歐洲的電動汽車充電技術、丹麥的新能源利用以及世界多個地區的微電網技術發展等,與會專家與在場人士一同探討智能電網中的應用和研究,氣氛熱烈。