18 Sep 2008
Seminar on "Algorithms for Modeling and Simulation of Electronic Circuits"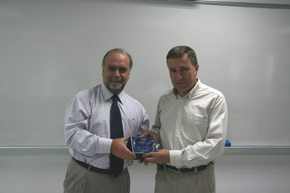 A seminar titled 'Algorithms for Modeling and Simulation of Electronic Circuits', organized by the Department of Electrical and Electronics Engineering of Faculty of Science and Technology, took place at Analog and Mixed-Signal VLSO Laboratory in UM on 16th September 2008 with the support from the Institute of Electrical an Electronics Engineers (IEEE) of Macau and Chipidea MIPS Technologies Analog Business Group.
The seminar is delivered by Prof. Luis Miguel Silveira from Technical University of Lisbon. He received the Engineer's and Master's degrees in Electrical and Computer Engineering from IST at the Technical University of Lisbon, and the M.S., E.E. and Ph.D. degrees from the Massachusetts Institute of Technology, Cambridge, MA, U.S.A. He is currently a Full Professor of ECE at IST - TU Lisbon, Portugal, a senior researcher at INESC ID, Systems and Computer Engineering Institute R&D, and a founding member of the Lisbon Center of the Cadence Research Laboratories. His research interests are in various aspects of computer-aided design of integrated circuits with emphasis on interconnect modeling and simulation, parallel computer algorithms and the theoretical and practical issues concerning numerical simulation methods for circuit design problems.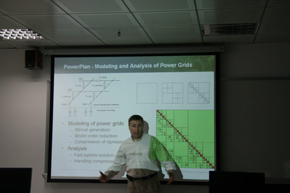 During the talk, Prof. Silveira has summarized some of the recent and ongoing work on modeling and Simulation of Electronic Circuits that is being pursued at the ALGOS group (Algorithms for Optimization and Simulation) at INESC ID, where he has been conducting his research. In particular he has discussed work on model order reduction techniques with applications to interconnect and electromagnetic modeling. An introduction to the topic has been given, followed by a description of recent results. Also recent work on power grid modeling and analysis are also discussed.