14 Oct 2008
Agreement Signing Between Celfinet (Macau) Limited and University of Macau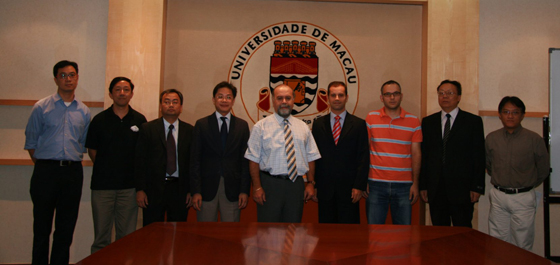 A cooperation agreement among the University of Macau and Celfinet (Macau) Limited was signed on 6th October 2008 at the University of Macau (UM) for promoting further cooperation among the two parties, improving research standards of UM students and in turn fostering more outstanding research experts.
CELFINET (Macau) Limited is the Macao's subsidiary of CELFINET–Consultoria em Telecomunicações, Lda, an international group of companies based in Portugal, with branches in Angola, Brazil, Mozambique and the Netherlands. It mainly provides engineering services to the mobile telecommunications industry, especially in what concerns planning, dimensioning, monitoring, optimizing and auditing radio networks.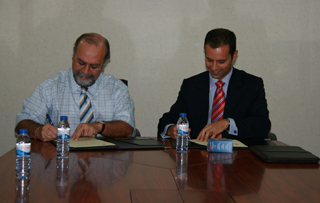 Both parties join in the following agreement on educational and academic cooperation which will endeavor to cooperate in education and research in areas of telecommunications. To the extent feasible, the two parties will encourage contact and cooperation between their staff members and pursue the various forms of cooperation such as supporting joint scientific and technical training about telecommunications for UM undergraduate students and postgraduate research activities from our Faculty, in different countries where CELFINET has ongoing projects and these students are subsidized by CELFINET; it will also offer M.Sc. students in the area of telecommunications of our Faculty in each academic year of the agreement period, and a scholarship will be granted. On the other hand, our Faculty will provide technical support to CELFINET that will recruit, according to its needs, graduates from our faculty. Moreover, the scientific coordination of this agreement will be represented by Eng. Sérgio Pires from CELFINET and Prof. Tam Kam Weng from UM to establish an agreement of the subsidy and scholarship.
This Signing Ceremony was hosted by Professor Prof. Rui Martins , Acting Rector of the University of Macau, Dr. Alexandre Victorino, General Manager of Celfinet (Macau) Limited. The ceremony was also witnessed by Professor Mok Kai Meng and Professor Wu Enhua, Dean and Associate Dean of the Faculty of Science and Technology from the University of Macau respectively, and Dr. Vai Mang I, Head of the Department of Electrical and Electronics Engineering and Dr. Tam Kam Weng.