Application of digital technology in engineering and education: From Game Design to Surveillance system and Visual analysis
Speaker:
Prof. Charu Monga
Assistant Professor
Founder of ARLab
Department of Design
Indian Institute of Technology (IIT)
Guwahati
India
Date & Time:
22 Dec 2016 (Thursday) 11:00 - 12:00
Venue:
E11 – 1043
Organized by:
Department of Civil and Environmental Engineering
Abstract
The utilization of digital techniques (virtual reality, game design, surveillance system, visual analysis) in different sectors such as education, engineering and behavioural sciences has been on rise in last decade. These inter-disciplinary interventions enhances accessibility to certain information especially in remote areas and thus efficiency and sustainability of any particular system (Engineering infrastructure, educational institutes, IT industry etc.). These interventions will be demonstrated using selective projects such as game design for IT sector, surveillance system for monitoring of crowd movement as well as visual techniques for analyzing vegetation growth and soil properties.
Game design for education in both digital and also board form brings many opportunities into learnification. Though, its application has been intense in training managers or employees in different industry sectors, however, the design lacked proper balance of "purpose" and "fun" elements. With that perspective, a new game was designed, developed and evaluated considering balance of both "purpose" and "fun" elements for enhancing decision making skills of project manager in IT industry. In order to achieve that, analogy for hospital based scenario was adopted for the game design. The project was executed jointly by ARLab research group with IT industry. In second project, a low cost in-house surveillance system is developed and evaluated for monitoring crowd movement at venues (festive occasions, shopping malls, metro), where crowd management is required. In third project, application of visual techniques (image analysis) for quantifying spatial heterogeneity among vegetation growth and also estimating soil moisture was explored. Field monitoring of landscape (mixed vegetation cover) was conducted. Spatio-temporal variation in vegetation growth parameters were quantified using image processing and correlated with measured hydraulic conductivity in field. Such quantifications are highly useful for numerical modelers to consider non-uniformity in inputting boundary conditions in their simulations and also opens up alternatives for monitoring of such infrastructures, which are remote. Discussion will be made to explore opportunities of such interventions in various projects.
Biography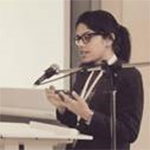 Charu Monga is an experienced researcher, academician and designer. With research interest in cross disciplinary domain and passion towards practice based design. She is an Assistant professor working in the area of designing animations, films, games, communication strategy and social innovations.
Her current research aims to investigate variety of techniques to promote crafts, culture, and tradition to empower educational areas. She uses animation techniques, films, videos, virtual reality, augmented reality, illustration, stories, technology like 3d printing, participatory and ethnographic approaches to express her design concepts.
She has done her dual Masters in Applied Arts from Delhi University and Film making from Film and Television Institute of India. She has also taught at FTII-Pune, Delhi University, NIFT and has nine years of industrial experience as strategist, visualizer, game designer, animator and illustrator in various organizations. She has also executed research projects with World Health Partners, Group Delphoenix, Industrial Design Centre, IIT Bombay, Sumo Digital, Foundation 9 Entertainment and Digikriti Entertainment. Her work has been sponsored by Red-Cross Society, UNIFEM to exhibit in galleries such as Romain Rolland, Habitat Center and Lalit kala Academy to name a few. She was involved in cross-cultural researches on communication, design education paradigms and creativity methods, and has presented it in across the globe. She has delivered 21 invited International seminars and workshops at various universities in countries such as Israel, Taiwan, Russia, Thailand and Singapore as a part of her collaborations internationally. In 2014, she has created ARLab, laboratory for fostering multidisciplinary ideas and approaches at Department of Design, Indian Institute of Technology Guwahati. She is also associated with Centre of Rural Technology at IIT itself. She received Microsoft Faculty Research Grant 2015, Ministry of Human Resource and Development research grant with industrial partners from Microsoft and TCS. Also awarded Film Heritage Foundation fellowship by Film Division in association with Martin Scorsese's Film Foundation & Cineteca di Bologna, L'Immagine Ritrovata. With this she has also extensively published and presented in International journals also conferences.