Recent Progress and Global Trends of Biomedical Engineering - Especially the New Achievements of Electronics and Computer Technology in Medicine
Speaker:
Prof. J. Nagel
Professor and Chair
Department of Biomedical Engineering, University of Stuttgart, Germany
Date & Time:
04 Dec 2007 (Tuesday) 14:30 - 16:00
Venue:
B601, Macau University of Science and Technology
Organized by:
Faculty of Science and Technology, University of Macau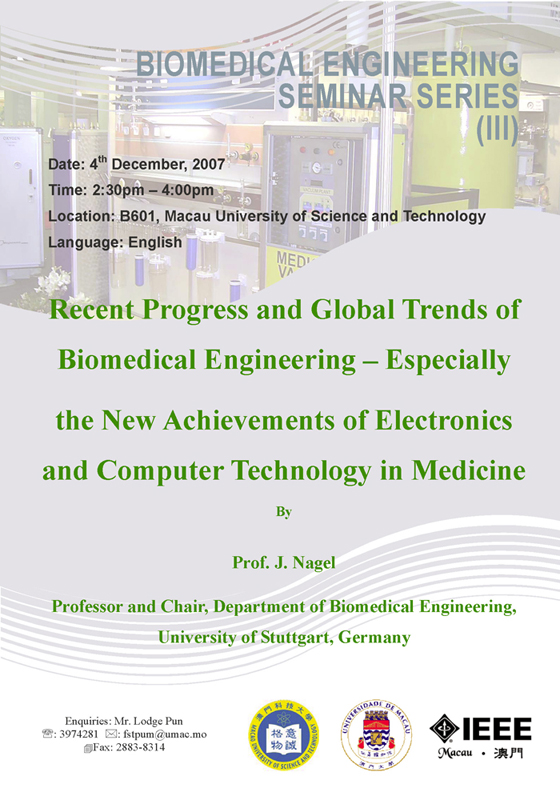 Biography
Prof. Nagel is Professor and Chairman of the Department of Biomedical Engineering at the University of Stuttgart since 1996. He received his MS degree in Physics & Electronics at the University of Saarbruecken in 1973, and his DSc at the University of Erlangen-Nuremberg, Germany in 1979. Following appointments in industry and as a faculty member at the Department of Biomedical Engineering of the University of Erlangen-Nuremberg, Prof. Nagel joined the University of Miami, Florida, USA, in 1986, where he served as a Professor of Biomedical Engineering (1986-96), Radiology (1990-96), and Clinical Psychophysiology (1988-1996). He also served as the Director of the Medical Imaging & Instrumentation Lab (1986-1996), and Director of Biomedical Engineering at the Behavioral Medicine Research Center (1986-1996).
Prof. Nagel is currently the President of the International Union for Physical and Engineering Sciences in Medicine (IUPESM) and the immediate Past-President of the International Federation for Medical and Biological Engineering (IFMBE). He is a co-founder of the European Alliance for Medical and Biological Engineering and Science and served as the founding Chairman of its Division of Academic Programs and Research Institutes. Joachim Nagel is a member of the Scientific Council of the International Centre for Bio-Cybernetics of the Polish Academy of Sciences, a Fellow of the Institute of Physics, a Fellow of AIMBE and BMES, and an Academician Member of the UNESCO/UATI World Academy of Biomedical Technologies. He is an honorary member of the Romanian and the Czech Societies for Biomedical Engineering. Prof. Nagel is the leader of the European project BIOMEDEA ?Biomedical Engineering Preparing for the European Higher Education Area, the leader of the IFMBE participation in the WHO World Alliances on Patient Safety and the Health Workforce and co-chair of the IUPESM Health Technology and Training Task Force which is supporting developing countries with regard to health technologies.
Joachim Nagel is the series editor of the Springer/IFMBE Book Series on Biomedical Engineering and a series editor for the IFMBE Proceedings. He was an editor of the IOPP Book Series in Medical Physics and Biomedical Engineering (2001-05), he has served as an editor for the BMES journal Annals of Biomedical Engineering (1989-94), the IOPP journal Physiological Measurement (1994-98), and he was a member of numerous Editorial and Review Boards. He served as a consultant to NIH, NHLBI, the Scientists' Institute for Public Information, the American Cancer Society - ACS/NASA Subcommittee, and numerous companies. He has been funded by NIH and the DFG, and he has taken part in European Union funded projects.
His main research interests are in the fields of cardiovascular monitoring, instrumentation and physiology, medical image acquisition and image processing, physiological signals, Bio-MEMS, neurosciences, and biological effects as well as therapeutic applications of ultrasound.
Prof. Nagel has published more than 250 scientific papers, books, book chapters, patents and conference papers.