Earthquake Science Promotion Workshop
Speaker:
Professor Lok Man Hoi and Professor Yuen Ka Veng
Faculty of Science and Technology, University of Macau
Date & Time:
08 Jul 2008 (Tuesday) 15:00 - 16:15
Venue:
Auditorium II, International Library, UM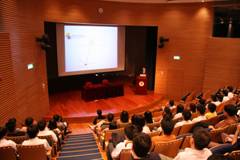 An "Earthquake Science Promotion Workshop" organized by Department of Civil And Environmental Engineering in Faculty of Science and Technology of the University of Macau (UM) was held at the STDM Auditorium of the International Library on 8th July 2008.
This workshop had two sections: "From the Viewpoint of Geotechnical Engineering" and "Earthquake and Structures - Research of University of Macau" delivered by Professor Lok Man Hoi and Professor Yuen Ka Veng respectively.
Professor Lok Man Hoi, whose research interest focus on soil structure interaction of pile foundations and retaining structures, computational geo-mechanics and constitutive modeling, consolidation and shear behavior of marine clay, geotechnical seismic analysis. His lecture covered several topics such as the effects of land liquefaction on the degree of destruction during earthquakes and introduction of different types of seismometer in both ancient and modern times.
| | | |
| --- | --- | --- |
| Professor Lok Man Hoi | Professor Yuen Ka Veng | Students from Different High Schools |
Professor Yuen Ka Veng, whose research interest focus on structural dynamics and random vibrations, earthquake and wind engineering, structural health monitoring and control, reliability and probabilistic methods. His presentation covered the behavior of longitudinal wave and transverse wave during earthquakes. Besides, different types of earthquake forecasts, from prophecies and animals?mass actions up to underground dynamic monitoring were reviewed and analyzed. He has also explained the fundamental idea of structural behavior under earthquake and wind. Some related research of his group was also introduced.
This Earthquake Workshop aimed to provide information and knowledge for our new generations to understand the Sichuan Earthquake on 12th May 2008 that led to such a large number of deaths. It has attracted participations of more than 50 teachers and students from different high schools in Macao. It stimulated students?interest and encouraged critical thinking on the Sichuan earthquake. There was interaction between speakers and audience during the question and answer section as teachers and students were active in asking questions and providing their concerns about earthquakes and Macao??geographic and geological conditions.
由澳門大學科技學院土木及環境工程系舉辦的地震科普講座於2008年7月8日在STDM演講廳舉行。講座設有兩場,包括從岩土工程看地震,地震與建築結構-澳大的相關研究,分別由土木及環境工程系陸萬海博士及阮家榮博士主講。
陸萬海博士講題主要剖析土壤液化對地震破壞的影響,並介紹古代與現今不同種類的地震儀。阮家榮博士的演講主要包括地震期間橫波與縱波的表現,同時探討及分析不同種類的地震預報,由預言、動物反應以至地下力學監測等。除此之外,還說明風與地震的結構反應,以及介紹一些澳門大學的有關研究。
是次地震科普講座主要為新一代提供更深入資訊與知識以便了解5月12日造成如此重大傷亡的四川大地震。參與講座的50多名師生來自澳門不同的中學,各中學老師與學生對澳門的地質以及地理環境與地震均表示關注並勇躍發問。