Wireless Communications via Satellite and Its Services and Applications
Speaker:
Prof. Jozef Modelski
Professor, IEEE Fellow
Warsaw University of Technology, Institute of Radioelectronics
Date & Time:
30 Jan 2013 (Wednesday) 14:00 - 17:30
Venue:
JM16
Organized by:
Department of Electrical and Computer Engineering
Abstract
The seminar presents a fundamental description of satellite communication systems. Detailed overview of the system structure and architecture is given: satellite orbits, space and ground segments, link budget analysis, methods of signal transmission and multiple access techniques (FDMA, TDMA, CDMA). Services delivered by satellite systems are discussed: fixed and mobile systems, radio and TV transmissions, data transmission systems, internet via satellite, wideband multimedia systems, radionavigation systems.
Biography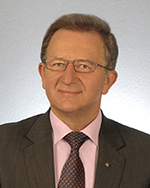 Józef Modelski received M.Sc. in 1973, Ph.D. in 1978 and D.Sc. in 1987, respectively, all in electronics, at the Warsaw University of Technology. He received State Professor's title in technical sciences in 1994. Since 1973 Professor Modelski has been with the Institute of Radioelectronics, Warsaw University of Technology, and since 1996 its Director. In 1976/77 he spent one year in the USA as a Fulbright grantee. In 1986 for two years he joined the Braunschweig Technical University (Germany) as a senior scientist. His research interests include the area of: microwave modulators and shifters with semiconductor and ferrite elements, dielectric resonators and their applications, ferroelectric and smart antennas for communication systems. He is the author of 4 monographs, over 300 technical papers. He acts as a consultant to industry and Polish government agencies. He is a Member of the Polish Academy of Sciences and President of the URSI National Committee.
Prof. Modelski has been Senior Member of IEEE since 1990 and Fellow Member since 2001. He was elected 2008 President of the IEEE Microwave Theory and Techniques Society; 2009-2010 Director of IEEE Region 8 and 2012 Director-Elect of IEEE Division IV.