The 7th Macau Industrial Products Show has come to its end. In order to cooperate with Macau government in promoting the diversified development of industries and scientific research and education, the Faculty of Science and Technology (FST) of the University of Macau (UM) participated and exhibited its research products to the general public. The exhibits include an intelligent system for detecting the novel coronavirus pneumonia; a generation of high-speed volatility surface and the asset movement and a system for wireless charging, etc. The development of new existing technologies has attracted much attention in recent years. This Industrial Products Show not only provides valuable exchange opportunities for universities and the general public, but also enhances the cohesion of the industry which assists to find the best way for technological development and industrial diversification in Macau.
One of the exhibits is the intelligent system for detecting the novel coronavirus pneumonia, which can successfully distinguish between the novel coronavirus pneumonia and other common pneumonias with limited training data. Its diagnostic ability is equivalent to experienced radiologists, and the speed is nearly 60 times faster than doctors, it offers a new option for pneumonia detection.
Another exhibit is the high-speed volatility surface generation and asset movement prediction system, which is responsible for supporting high-frequency trading and financial product pricing. At present, the speed of calculating the implied volatility has reached 1 million options per second, which is very important for high-frequency trading. In the near future, the research team at FST plans to increase the calculation speed to 100,000 options every 0.01 second, and generate a new volatility surface and related indicators to estimate the trend of different assets more accurately.
In addition, the wireless charging system developed by FST for charging was dynamic batteries was also displayed in the Show. A mini electric vehicle was charged effectively even through there was 40% misalignment between the vehicle and the charger. Nowadays, many large factories use robots to assist with sorting and transporting goods 24 hours a day. The wireless charging system allows the robots to be charged while working, which greatly increases the work efficiency.
The Industrial Products Shows attracted thousands of visitors in these four days. This FST booth successfully showcased the research efforts of FST to the public, the Faculty wishes to keep working on the edge-cutting research for Macau and the Greater Bay Area, so as to make real and sustained contributions to country.
「第七屆澳門工展會」早前已圓滿落下帷幕,為配合特區政府推動產業多元發展及科研教育,澳大科技學院也積極參與並展出其研究成果,期望透過展會向業界及市民展示澳大科研情況。展出內容包括檢測肺炎智能系統、高速波動率曲面生成以及資產走勢預測系統和無線充電系統等重要成果。近年科技發展備受重視,是次展出不僅為大學及大眾提供寶貴的交流機會,同時也增強業界凝聚力,為澳門科技創新及產業多元化共謀發展。
展出內容之一是檢測肺炎智能系統,可在有限的訓練數據下,成功區分新型冠狀病毒肺炎和其他常見的肺炎,其診斷能力與經驗豐富的放射科醫生相當,速度更比醫生快近60倍,為肺炎檢測帶來新的可行方案。
其次是高速波動率曲面生成以及資產走勢預測系統,負責支持高頻交易及金融產品定價。目前計算引申波動率速度已達每秒100萬個期權,這對高頻交易十分重要。未來目標是增加計算速度到每0.01秒計算10萬個期權的引申波動率,並產生一個新的波動率曲面及相關指標來更精確估算不同資產走勢。
此外,工展會也展示了由學院研發的可為動態電池充電的無線充電系統。現場設有一部迷你電動車,顯示即使與充電器有近40%偏移的情況下,仍然能夠有效充電。目前很多大型工廠都需要機械人24小時協助整理及運輸貨物。無線充電系統可以令機械人可以一邊工作一邊充電,大大增加了工作效率。
會展一連四天吸引數萬人次觀眾蒞臨參觀,場面熱鬧。此次展會成功向大眾闡釋科技學院的研究成果,期望不久將來能為本地乃至大灣區提供更多高質的研究,為建設科技強國貢獻力量。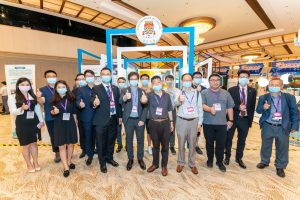 A group photo of guests, professors and students
at the 7th Industrial Products Show
一眾嘉賓、教授及工作人員在展會會場合影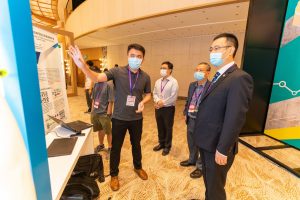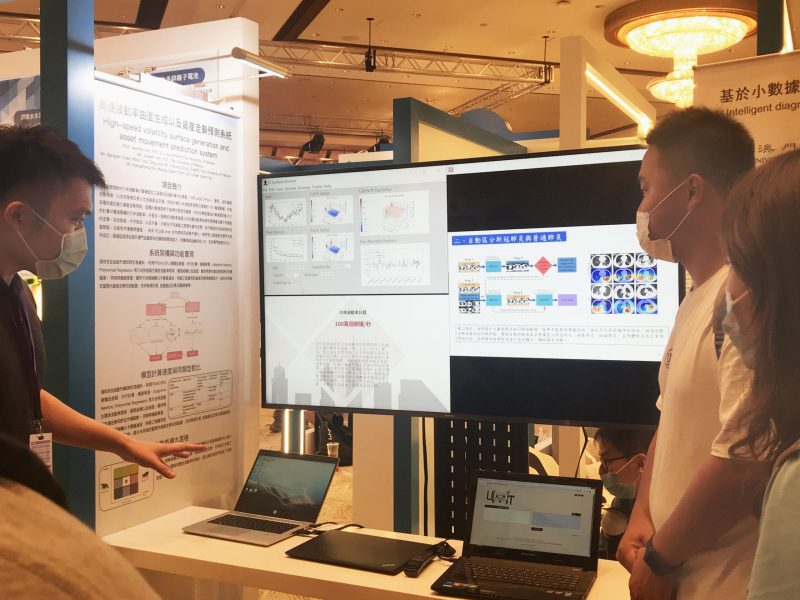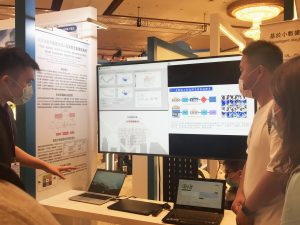 FST student was introducing the scientific
products to guests and visitors
工作人員向嘉賓及市民介紹科技學院研究成果