Zeng Wenliang, a doctoral student in the University of Macau's (UM) Faculty of Science and Technology received the 2020 Young Researcher Award from the International Institute of Macau (IIM) in the categories of applied sciences.
Zeng is a doctoral student in the university's State Key Laboratory of Analog and Mixed-Signal VLSI, Institute of Microelectronics, and Department of Electrical and Computer Engineering. His PhD thesis, titled 'Design, Control, and Analysis of Integrated DC-DC Converters for Low-Power Applications', is the sole winner of the first prize in the applied sciences category this year. He is also the second young scholar to receive an award in this category since 2016. Zeng has developed four new high-performance integrated DC-DC converter chips and has published seven papers in SCI-indexed journals and two papers at international conferences. The ultra-low quiescent current DC buck converter chip, which he developed in collaboration with Allwinner Technology, is suitable for electronic products based on internet of things technology, and its performance is comparable to that of products developed by Texas Instruments and Analog Devices.
Established by the IIM in 2001, the Young Researcher Award aims to encourage young students, teachers, graduates of higher education institutions, and professionals in creative industries in Macao to conduct in-depth study of the development path of the Macao Special Administrative Region, focusing on areas such as economy and diversified industries, heritage and identity, as well as applied sciences and Macao's history. 
澳門大學科技學院博士生曾文良於澳門國際研究所舉辦的"2020年青年研究者獎"獲評判一致肯定,獲得應用科學範疇的冠軍。
澳大模擬與混合信號超大規模集成電路國家重點實驗室、微電子研究院、科技學院電機及電腦工程系博士生曾文良以博士論文《設計、控制和分析適用於低功耗應用的集成直流—直流轉換器》獲得應用科學範疇冠軍,是今屆應用科學範疇的唯一獲獎者,亦是繼2016年後再有青年學者於該範疇獲獎。曾文良的博士論文研發了四款新型高性能集成直流—直流轉換器芯片,共發表了7篇SCI期刊論文和2篇國際會議論文。其中一款是與全志科技公司合作研發的"超低靜態電流直流降壓轉換器"芯片。該芯片適用於物聯網電子産品中,測試性能可比於德州儀器(TI)和亞德諾半導體(ADI)的産品,爲中國企業提供了"超低靜態電流直流降壓轉換器"芯片自主知識産權的核心技術。
曾文良師從澳大模擬與混合信號超大規模集成電路國家重點實驗室、微電子研究院、科技學院副教授林智聲及冼世榮;曾獲澳門特區頒發研究生科技研發獎以及中國研究生電子設計大賽(華南地區)二等獎,現於珠海澳大科技研究院微電子研究中心擔任博士後研究員。
"青年研究者獎"由澳門國際研究所於2001年起設立,旨在鼓勵澳門青年學生、教師、大專畢業生和創意人士研究及深入探求澳門特別行政區的發展路向,研究的主要方向聚焦在經濟和多元化產業、遺產和身份認同、應用科學和澳門歷史等領域;奬項的設立同時希望鼓勵澳門新一代青年人積極參與社會,並提供機會以擴大其知識範圍。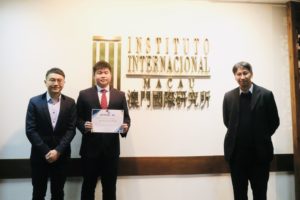 (From left) Prof Lam Chi Seng, Zeng
Wenliang and Prof Sin Sai Weng
(左起)林智聲、曾文良及冼世榮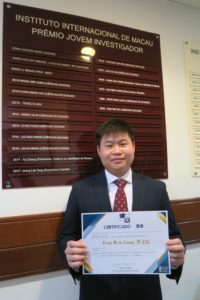 Zeng Wenliang
曾文良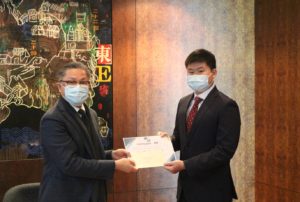 Zeng Wenliang won the award
獲頒授青年研究者獎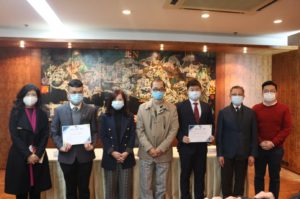 Group Photo大合照