為增強校園的學術氛圍,澳大定期舉辦 "大學講壇" 系列講座,邀請世界知名學者、不同行業的傑出領導進行演講。我們很榮幸邀請了方濱興院士擔任六月份 "大學講壇" 主講嘉賓,以 "網絡空間新技術安全" 為題發表演說。方院士是網絡空間安全專家,中國工程院院士、中國中文信息學會理事長、中國標準化協會網絡與信息安全技術委員會主席。
屆時方院士將親臨澳大開講,探討人工智能、量子技術、區塊鏈、網聯車、工業互聯網、雲計算平台、大數據系統、芯片安全、物聯網、5G網絡等的安全問題。現誠邀本校教職員、學生及全澳市民參與。講座詳情如下:
日期:

2022

年6月23日(星期四)




時間:下午

 4 

時 至 

5 

時 30 分




地點:澳門

大學

聚賢樓多功能廳

 (N1-G008)



語言:普通話
講題簡介Topic Outline; 講者簡介Speaker Profile
To make UM a better place to learn and to study, we have been inviting world-renowned scholars and prominent leaders from different fields to speak at the University Lecture Series (ULS). We are honored to have Academician Binxing FANG be our keynote speaker of the forthcoming ULS. Academician Fang is an expert in the field of cyberspace security. He is a member of the Chinese Academy of Engineering, the president of the Chinese Information Processing Society of China, and the chair of the Committee of Cyberspace and Information Security Technology of the China Association for Standardization.
In this lecture, Academician Fang will speak on the topic "Cyberspace Security in Relation to New Technology". He will discuss security issues related to artificial intelligence, quantum technology, blockchains, intelligent connected vehicles, industrial Internet, cloud computing platform, Big Data system, chipset security, Internet of Things, and 5G networks.
All members of the UM community and the general public are cordially invited to this splendid event. Details of the event are as below:
Date: 23 June 2022 (Thursday)
Time: 4:00 p.m. – 5:30 p.m.
Venue: Multi-function Hall, UM Guest House (N1-G008), University of Macau
Language: Putonghua
Kindly be reminded to observe all pandemic preventive measures.
有興趣參與實體講座者,請登入以下網頁登記:
For registration of the physical lecture, please access the link below:
https://isw.um.edu.mo/evm/register/uls_fang


成功登記並出席實體講座者,具資格獲取至叻星或研究生宿舍積分。
Registered participants of the physical lecture are eligible for either the Smart Point or the PGH Point.
Zoom 線上講座登記,請登入以下網頁:
For Zoom registration, please access the link below: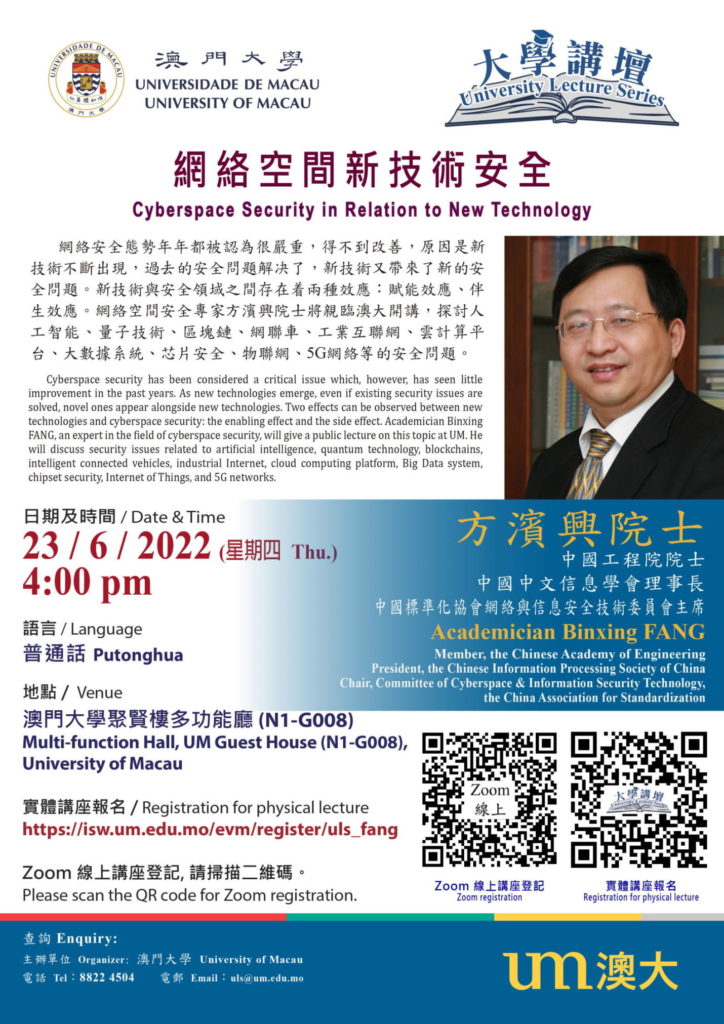 如蒙垂詢,請致電 8822 4504,或電郵 uls@um.edu.mo