The impression towards UM
Li Qianyun (Jasmine) is one of the outstanding students of Department of Computer and Information Science in academic year 2019/2020. She is a self-disciplined person who will read reference books on holiday to enrich her knowledge and add value to herself. She mentioned about her impression of UM, 'UM is an international university that could link up with the world. The teaching here is in English, the academic background, published papers and research of professors are more cutting-edge.' Meanwhile, Jasmine also mentioned the culture in UM. 'Here, I can really feel the multi-culture. I get along with the friends and feel that every classmate has their unique personalities.'she says. For Jasmine, the biggest treasure in UM in the past 4 years is to be able to learn independently. 'I was used to be supervised by teachers in high school, but in university, it is necessary to learn on your own initiative and well manage your time.' In regards of choosing Computer and Information Science as her subject, 'Computer Science seems very professional, and personally I am interested in Science.' Jasmine says. 'I also discovered that Computer Science is a sizeable subject when I get started with it. There are many branches, and it is difficult to learn all the knowledge.' Spending 4 years in UM, She is given a comprehensive understanding of Computer Science. Having a solid foundation, Jasmine will continue to study for a master degree in the university in Europe.
Making good use of image segmentation to estimate the number of E.coli bacteria
Jasmine's final year project is a collaborative research with Lin Guangze, another outstanding classmate of Computer and Information Science, it is about using image segmentation to estimate the numbers of of E.coli bacteria. The supervisor of two of them is Prof. Chen Long, his research interest is intelligent computing and its applications. Before Jasmine and Guangze decided their project's topic, they had taken many courses of Prof. Chen Long. They believed that many biological experiments and time for testing could be saved if intelligent computing and image segmentation could be adopted in calculating the numbers of E.coli bacteria. They had 9 pictures of E. coli bacteria, firstly, they turned the original color photos into black and white, and then cut the image piece by piece, afterwards, they used an application to calculate the numbers of bacteria in each image. It took only a few seconds to calculate the result by using the application program they designed, and it took only 20-30 seconds if for a more accurate result. However, many difficulties were occurred during the whole research process, such as the background was incorrectly segmented, the edges of the pictures were uneven, the graphics were stuck together which made the calculation process even more difficult. However, if people could adjust the medicine if they know the numbers of E. coli bacteria. The increase or decrease in the numbers of E.coli bacteria can also help to adjust the potency of the drug which can bring a valuable contribution to the industry.
Continuing the learning journey of computer science
Jasmine who performed well in class has won several scholarships in the past four years. She would like to thank Prof. Chen for his guidance. Together with Lin Guangze, three of them own a WeChat group for the purpose of doing final project. Jasmine shared that Prof. Chen is a conscientious person who will respond quickly every time when they encountered research related questions. His recommendations usually inspire them and give them a clearer direction. Jasmine also shared her personal experiences to other underclassmen, 'They could make a good use of use their summer break by assisting professor in their laboratories so as to accumulate more scientific research experiences.' she says. 'Because the knowledge in textbook will be outdated sooner or later, but professor's research is generally more cutting-edge, and the experiences can also become an advantage to apply for a master degree in the future.' Jasmine will study in Europe for a master degree in the coming year, she wishes that she could carry out the experiences in UM and continue her learning  journey of Computer Science in the near future.
對澳大的印象
黎倩雲(Jasmine)是本學年電腦及資訊科學系的優異生之一。自律好學的倩雲即使在放假的日子,也會閱讀科目相關的參考書,補充課堂外的知識同時也增值自己。來自江西的她談及自己對澳門大學的印象時很讚賞地說:「澳大是一所能夠與世界接軌而且十分國際化的大學,除了採用英語教學外,就連教授的學術背景、發表的論文和研究都比較前沿。」同時倩雲也提到這裡的文化:「在這裡,我真的可以感受到多元文化,這些日子,我和身邊的朋友相處,感覺到每個同學都有自己個性化及獨特的一面。」對於倩雲來說,澳大四年最大收穫就是學會獨立自主的學習方式,「從前中學都有老師監督,但在大學裡就要靠自己主動學習,怎樣好好管理時間。」提到最初選擇修讀計算機科學的原因,倩雲解釋說:「因為感覺很專業,加上本身對理科有興趣,深入了解後發現原來計算機科學是一門很大的學科,也有很多分支,很難把所有知識都學會。」但大學四年的學習卻為她提供了較全面的了解,有了穩健的基礎,倩雲表示未來將遠赴歐洲繼續修讀碩士。
善用圖像分割,估算大腸桿菌數量
倩雲的畢業設計項目是與另一位電腦及資訊科學系的優秀同學林光澤一同合作研究,內容是有關大腸桿菌細菌圖像分割。兩人的指導老師是陳龍教授,他擅長研究智能計算及其應用,在決定項目的題目前,他們曾上過不少陳龍教授的課,認為如若畢業設計項目能夠把智能計算及圖像分割應用在大腸桿菌圖像分割中,則可以免去很多生物實驗,也省卻很多化驗的時間。他們手上有9張大腸桿菌的圖片,先把原本彩色的相片變成黑白,再把圖像一小片一小片地割下來,再用程式估算每張圖像細菌的數量範圍。採用他們設計的應用程式計算的話只需要幾秒便可得知結果,若採用準確度更高的方式也只需要20-30秒。雖然過程中也遇到過不少困難,例如背景被錯誤地分割、圖片邊緣不整齊、圖形黏在一起,難以判斷等等。但若知道大腸桿菌數量範圍便可以調整用藥,而大腸桿菌數量增加或減少也可以令人知道藥效的強弱,這個研究十分具參考價值。
延續計算機科學的學習之路
表現優秀的倩雲在大學數年裡多次獲得獎學金,四年來,見證自己不斷成長,倩雲表示最想要感謝的是指導老師陳龍教授。聯同林光澤同學,三人還擁有自己的微信群,每次有疑問陳教授都會很認真及迅速地回應,教授的建議讓他們有了更清晰的思路。對於自己的學弟學妹,倩雲也分享了個人讀書的經驗:「盡量珍惜暑假的時間,可以去老師們的實驗室幫忙以累積多點科研經驗。因為課本上的知識總會過時,但老師們的研究一般都比較前沿,以後也能夠成為申請研究生的優勢。」未來,倩雲即將前往歐洲,期望自己能乘載著澳大的經歷,繼續計算機科學的學習之路。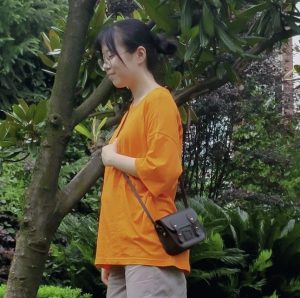 The outstanding student of CIS – Jasmine Li
電腦及資訊科學系的優秀學生 – 黎倩雲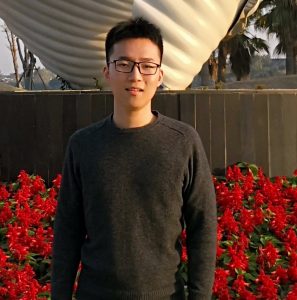 Another outstanding student of CIS – Lin Guangze
另一位電腦及資訊科學系的優秀學生- 林光澤

Image segmentation to estimate the number of E. Coli Bacteria
估算大腸桿菌數量的圖像應用程式