The University of Macau (UM) today (13 December) held a Doctor honoris causa Lecture to celebrate the 40th anniversary of the University of Macau (UM). Chio Fai Aglaia Kong, recipient of an honorary doctorate from UM, gave a talk titled 'Billions of Innovations' to analyse innovation opportunities in today's world under various global factors. The event attracted UM faculty members and students, teachers and students from local secondary schools, industry practitioners, and prominent members of the community.
According to Prof. Yonghua Song, rector of UM and chair professor of the Faculty of Science and Technology (FST), Dr. Kong spares no effort in promoting the development of science and technology across the globe. She is innovative and forward-thinking, often translating anticipated needs into applications. Her work and achievements in scientific research are of leading international standard and her contributions have been affirmed and appreciated by all sectors of the society.
During the talk, Dr. Kong shared her personal entrepreneurial philosophy, explaining how she identified opportunities for innovation to create products that are now used by a billion people and how to remain at the forefront of technology in an ever-changing era. She also discussed her key to success from her experiences as an executive of companies ranked among the top ten in the world, a founder of more than a dozen companies, and a developer of more than 20 products working with the world's best technical experts. She also encouraged aspiring young people to seize the opportunity and dare to try.
In addition, Dr. Kong analysed how entrepreneurs in Macao can ride the new wave and explore innovation opportunities under various global factors, including global warming, COVID-19, anti-globalisation, and artificial intelligence, in order to create favourable conditions for industrial diversification of Macao. She also put forward suggestions on the talent development policies of Macao, including how to simultaneously attract top talent and provide training for local professionals.
The Q&A and exchange session was chaired by Prof Jerome Yen, Distinguished Professor of the FST and the Institute of Collaborative Innovation.
The full video of the talk can be accessed here: https://youtu.be/2NJ1oUBddXs
澳門大學今(13)日舉行"澳門大學40週年校慶——澳門大學榮譽博士講座" ,由榮譽博士江朝暉以"億萬創新"為題發表演說,分析全球多重變革下的創新與機遇,吸引澳大和中學師生、業界人士及社會賢達到場聆聽。
澳大校長、科技學院講座教授宋永華致歡迎辭時表示,江朝暉博士在推動全球科技事業的發展上不遺餘力、積極進取、開拓創新、高瞻遠矚,往往能把預測需求轉變為應用。科研成果和項目工作皆具有國際領先水平,其貢獻深受社會各界人士的肯定和讚賞。
講座上,江朝暉分享其個人創業理念,解說她如何找尋創新機會,從而創造被10億人所用的產品,並在瞬息萬變的時代中保持技術領先地位;透露她在全球前10名企業擔任高管和創辦10多間公司,並與全球頂尖技術專家合作推出超過20多款產品的成功關鍵。江朝暉也勉勵有抱負的年青人抓緊機遇、敢於嘗試。
此外,她分析了在全球暖化、新冠病毒、反全球化及人工智能等多重變革下,澳門企業家應如何駕駛全球新浪潮並從中發掘創新機會,為澳門產業多元發展創造條件;同時分享了如何利用目前急劇增長的中國人工智能市場,運用澳門獨特的定位及優勢,促進交流貿易與全球化。她還關注澳門人才引進和本土人才培養的同步發展,積極對澳門人才發展的政策提出建言。
問答及交流環節由澳大科技學院及協同創新研究院特聘教授顏至宏主持;與會者與講者交流互動,討論氣氛熱烈。
講座的全部內容可於此連結重溫: https://youtu.be/2NJ1oUBddXs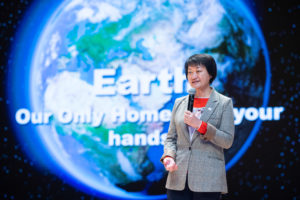 Dr Chio Fai Aglaia Kong 江朝暉博士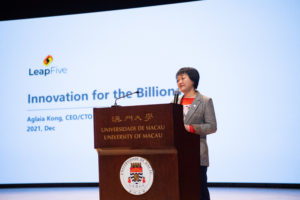 Dr Chio Fai Aglaia Kong gave a talk at UM
江朝暉博士在澳大演講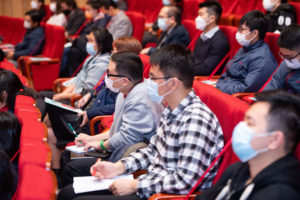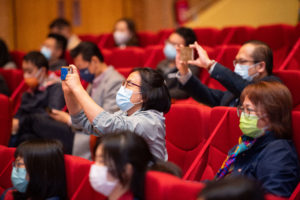 The talk attracted students and professors to attend
講座吸引師生到場