The University of Macau's (UM) Faculty of Science and Technology (FST) held the Dean's Final Year Project List Presentation Ceremony and Project Exhibition 2022 on 27 May, 2022. There are 25 projects were being exhibited which attracted many enterprises management, government officiers, industry practitioners, professors and students to celebrate the scientific achievements of FST graduates. Through this event, University hoped to create a platform for academia-industry exchange, enhance academia-industry collaboration, and promote technology transfer.
According to Prof. Xu Cheng-Zhong, Dean of Faculty of Science and Technology, FST insists to hold final year project exhibition every year is because it hopes to apply the research results to the industry, strengthen the competitiveness of Macao and contribute to the diversified development of Macao. The purpose of the exhibition is not only to recognize outstanding students, but also to enhance communication between local enterprises and institutions for promoting industry-university-research cooperation.
After a selection by FST, a total of 34 outstanding students and 25 projects from the Department of Civil and Environmental Engineering, Computer and Information Science, Electrical and Computer Engineering, Electromechanical Engineering and Mathematics were awarded, covering different fields including ocean studies, heritage conservation, computer graphics and visual computing, health monitoring, architectural design, wireless charging, and artificial intelligence, etc. Hundreds of student projects had been exhibited since the exhibition was first launched in 2012. Dean Xu added that FST would continue to promote technological advances through similar activities, and listen to the feedback from the industry to make continuous progress, so that the community could better understand the technological achievements and creative projects of students.
Co-officiating participants at the opening ceremony included Prof. Xu Cheng-Zhong, Dean of FST, Prof. Cai Xiao-Chuan and Prof. Wong Pak Kin, Associate Deans of FST, Mr. Jose Maria de Fonseca Tavares, Chairman of Administration Committee on Municipal Affairs, Municipal Affairs Bureau, Mr. Wong Kin Mou, Head of Department of Educational Research and Planning, Education and Youth Development Bureau, Ms. Ip Chong Wa, Member of the Board of Directors of Macao Post and Telecommunications Bureau, Ms. Victoria Kuan, Director General of Macau Productivity and Technology Transfer Center, Mr. Benjamin, Yue Zongbin, Principal Advisor to the Executive Committee of Companhia de Electricidade de Macau – CEM, S.A., Mr. Edmond Leong, Assistant Chief Engineer of MEP and Plant Operations, Sands China Ltd., Mr. Vivas Lo, Vice President, Engineering, Galaxy Entertainment Group, Mr. Chan Kuong In, Deputy General Manager of China Construction Engineering (Macau) Company Limited and Ms. Ada Hoi, Assistant Director of BWZ Department, BoardWare Information System Limited. 
澳門大學科技學院舉行2022年畢業設計項目展覽及頒獎禮,展出25組應屆畢業生的科研作品及成果,吸引眾多業界代表、企業管理層、政府人員、教授及學生參觀。澳大透過展覽為學界與業界構建交流平台,促進新一代產學研合作,推動科技成果產業化。
澳大科技學院院長須成忠致辭時表示,科技學院多年來一直堅持舉辦畢業作品展,把課堂上的研究成果應用至產業中,加強澳門乃至整個地區的競爭力,為促進澳門多元化發展作出貢獻。展覽的目的除了嘉許表現優秀的學生外,更為擴大企業與澳門院校的交流和提升產學研合作的效益,創造良好互動與共同合作的機會。
經過嚴格遴選,共25件作品入圍,並有34名來自土木及環境工程系、電腦及資訊科學系、電機及電腦工程系、機電工程系和數學系的優秀學生獲嘉許。作品的內容涵蓋各種領域,包括海洋監測、文物保育、電腦圖學與視覺計算、健康監測、建築設計、無線充電及人工智能等。展覽自2012年開辦至今,已展出數百件作品。未來將繼續透過此類活動推廣創新科技,汲取業界意見不斷進步,讓學生們能盡顯所學,為大眾設計便利生活及應對新常態的作品。
出席活動的嘉賓包括:澳大科技學院院長須成忠、副院長蔡小川和王百鍵,市政署市政管理委員會主席戴祖義,教育及青年發展局教育研究及規劃廳廳長黃健武,郵電局行政委員會委員葉頌華,澳門生產力暨科技轉移中心理事長關治平,澳門電力股份有限公司執行委員會首席顧問岳宗斌, 金沙中國有限公司機電設備營運部副總工程師梁偉文,銀河娛樂集團工程事務副總裁羅榮生,中國建築工程(澳門)有限公司副總經理陳廣賢及博維資訊系統有限公司創新業務發展部助理總監許月嬋。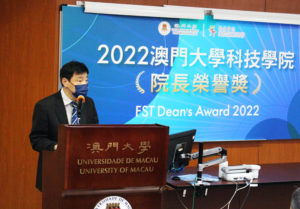 澳大科技學院院長須成忠教授致辭
Prof. Xu Cheng-Zhong, Dean of FST delivered an opening speech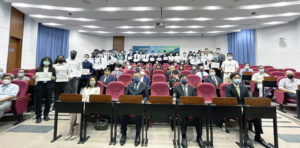 大合照Group Photo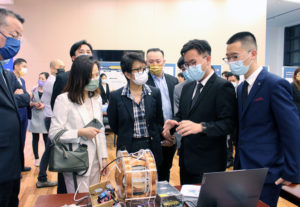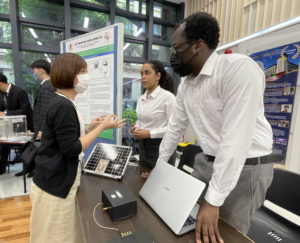 Graduates show their graduation results to guests
畢業生向嘉賓展示畢業成果