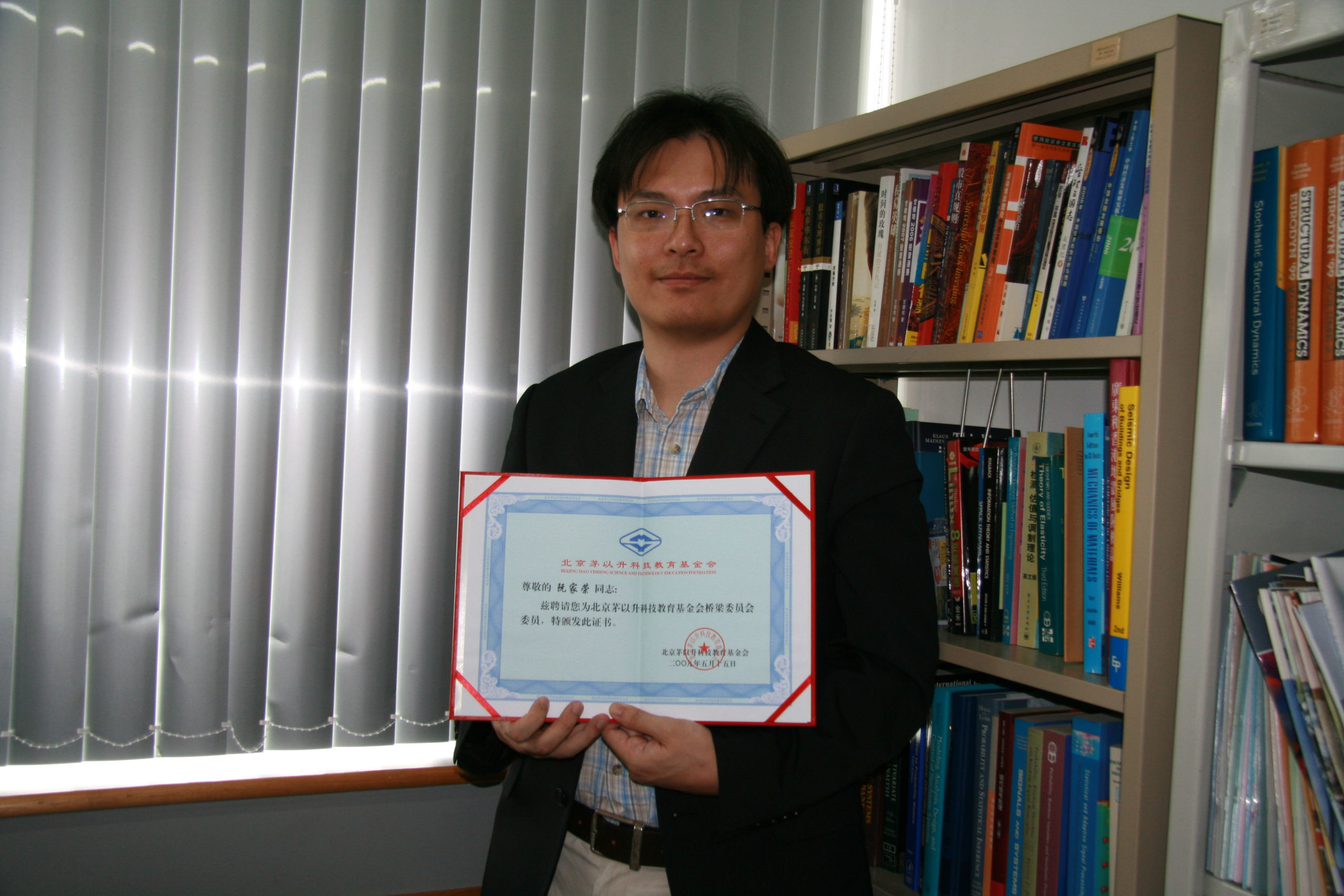 Prof. Yuen Ka-Veng of the Department of Civil and Environmental Engineering receives the Letter of Appointment
澳大科技學院土木及環境工程系主任阮家榮副教授獲聘書
Yuen Ka-Veng, associate professor and head of the Department of Civil and Environmental Engineering, Faculty of Science and Technology, University of Macau (UM), has been invited to serve as a member on the Bridge Committee of the Mao Yi-sheng Science and Technology Education Foundation. Professor Yuen's appointment was based on the recommendation by Professor Xu Gongyi, Deputy Director of China Zhongtie Major Bridge Reconnaissance & Design Institute Co., Ltd., and the vote by members of the Foundation. Professor Yuen's research areas include structural health monitoring, reliability analysis and Bayesian methodologies. He has been serving on many national and international organizations, including the Computational Stochastic Mechanics Committee and System Identification and Structural Control Committee of the International Association for Structural Safety and Reliability, the Dynamics Committee and Probability Methods Committee of the American Society of Mechanical Engineers, and the Financial Analysis and Computation Committee of the Chinese Association for New Cross Technology in Mathematics, Mechanics and Physics.
Mao Yi-sheng Science and Technology Education Foundation was jointly established by the Chinese People's Political Consultative Meeting (CPPCC) and the United Front Work Department (UFWD) of the Communist Party of China (CPC) Central Committee in 1991 in commemoration of Mr. Mao Yi-sheng, a distinguished scientist, educationist, social activist and founder of the modern bridge theory. The Foundation's purpose is to support talents development, academic exchange and scientific knowledge dissemination as well as to reward individuals with distinguished achievements. Its mission is to promote China's scientific, technological and educational development as well as the nurture of future scientific and technological talents. The Foundation offers 11 awards, including Bridge Award, Soil Mechanics Award and Geotechnical Engineering Award. Ever since its establishment, it has granted awards to over 1300 engineering technicians, teachers and students with outstanding achievements. The Mao Yi-sheng Bridge Award and Soil Mechanics Award are considered as the highest awards in China in recognition of individual achievements in the field of Civil Engineering. Organizational members of the Bridge Committee include dozens of ministries, commissions and departments such as CPPCC, UFWD of CPC Central Committee, the Jiu San Society, Ministry of Railways, Ministry of Communications, Ministry of Construction, and CAST. Individual members include many famous domestic and overseas engineering academicians such as Tang Man-chung, Xiang Haifan and Zeng Qingyuan, etc.
澳門大學(澳大)科技學院土木及環境工程系主任阮家榮副教授獲邀成為北京茅以升科技教育基金會橋樑委員會委員。阮主任由中鐵大橋勘測設計院有限公司副主任徐恭義教授推薦,再經基金會委員投票通過委任。阮主任主要從事結構健康監測、可靠度分析及貝葉氏方法等研究,歷任多個國內外組織的委員,包括國際結構安全及可靠度學會計算隨機力學委員會、系統識別與結構控制委員會、美國工程師學會動力學委員會、概率方法委員會及中國數學力學物理學高新技術交叉研究學會金融量化分析與計算專業委員會。
茅以升科技教育基金會是由全國政協、中央統戰部等部分聯合發起,為紀念中國橋梁工程奠基人、傑出的科學家、教育家和社會活動家茅以升先生在一九九一年設立的。其宗旨是支持人才培養、學術交流、科普教育、成果獎勵等,促進我國科技教育事業的繁榮及培育科技後備人才。基金會設立橋梁大獎、土力學及岩土工程大獎等十一個獎項,自設立以來共獎勵了一千三百餘名取得傑出成就的工程技術人員、教育工作者和優秀學生。其中,茅以升橋梁大獎和土力學大獎是當今中國土木工程界最高個人成就獎。橋樑委員會委員單位包括全國政協、中央統戰部、九三學社中央、鐵道部、交通部、建設部、中國科協等幾十個部委和單位。委員包括鄧文中、項海帆及曾慶元等多位國內外著名工程院士。