Studying marine environmental ecology, multi-scale circulation and dynamics
Professor Cai Zhongya has joined UM in 2020 as an Assistant Professor in the Department of Civil and Environmental Engineering (CEE). He is also one of the research members of State Key Laboratory of Internet of Things for Smart City (SKL-IoTSC) and the Centre for Regional Oceans. Prof Cai obtained his bachelor's and master's degrees in Ocean University of China, which is a university well-known for studying marine and aquatic subjects. Afterwards, he completed his Ph.D. degree in marine environmental sciences at the Hong Kong University of Science and Technology. His research areas include seawater flow, marine environmental ecology, and multi-scale circulation and dynamics in the South China Sea. Among them, Prof Cai is better at numerical simulation, inputting data into the designed model, observing and analyzing the results. Since the mid-December of 2015, the sea area of ​​Macao has been clearly defined as 85 square kilometers. The protection and sustainable use of marine resources is more urgent than ever. Prof Cai's research can help Macao better use marine resources and provide reference for reasonable utilization of the ocean.
Experiences on the research journey
Prof Cai, who has been studying seawater circulation since his undergraduate degree, said that the journey of research is difficult, because marine research expedition and sampling are required for studying this subject. With the rolling waves and swaying boats, Prof Cai felt seasick and nauseous at first, but slowly he loves to explore the sea and go out for marine research. He also shared his unforgettable experiences during the expedition, he says, 'once we were having an expedition in Hong Kong, the boat hit the reef and turned on its side, and it was almost 90 degrees to the surface of the sea. For a moment, all the research members were very frightened. Fortunately, there was a fishing ship nearby and they came to rescue us immediately. But the bottom of the boat fell into the water after being pierced, we also needed to assist to pump out the water.' Although the expedition was very thrilling, it did not hinder Prof Cai's enthusiasm of the ocean research. For the first time to teach at UM, online and offline teaching will be launched due to the COVID-19. Prof Cai said that although he must take care of students from both sides, he is willing to accept challenges. As for the current situation that Macau has less marine research, Professor Cai hopes that in the future, he will be able to provide more meaningful research and data for Macau as reference.
研究海洋運動及環境
蔡忠亞教授剛於2020年加入澳大並在科技學院土木及環境工程系擔任助理教授,同時也作為智慧城市物聯網國家重點實驗室及海洋區域研究中心的研究成員之一。蔡教授過去在中國海洋大學獲得本科和碩士學位,這是一所以研究海洋和水產學科聞名的大學。及後,他在香港科技大學完成海洋環境科學博士學位,研究領域包括海水流動、海洋環境生態、南海的多尺度環流與動力學。其中蔡教授更善長數值模擬,在設計好的模型中輸入數據,觀察並分析結果。自2015年12月中旬,澳門特區海域面積已明確為85平方公里,對於海洋資源的保護與可持續利用,比過往有更迫切的需要,蔡教授的工作可以幫助澳門運用海洋資源,為澳門水域未來的科學合理利用及管理保護提供參考。
研究經歷分享
自本科以來一直研究海水環流的蔡教授坦言,研究之路其實也相當艱辛,皆因研究海洋需要經常出海考察及採樣。隨著滾滾波濤的海浪及搖晃顛簸的船隻出海,蔡教授從最初會暈船噁心,到後來慢慢熱愛出海。曾經一次考察更遇到驚險事跡令他十分難忘:「當時在香港水域考察,船隻因船底撞到礁石而反側,與水面幾乎成90度。一瞬間,所有研究成員都十分驚恐,大家只能小心翼翼扶著船邊。幸好附近有漁船在作業,馬上前來拯救我們。事後船底因為被撞穿而入水,我們還需要協助抽水。」該次考察雖十分驚險,卻無阻蔡教授對研究海洋的熱誠。對於初到澳大任教便因疫情問題而要展開線上及線下授課,蔡教授表示雖然要兼顧兩邊的學生,但也樂於接受挑戰,如同在學術之路上要堅韌不拔。對於澳門擁有較少的海洋研究資料,蔡教授期望未來能夠為澳門海洋利用及保護工作提供更多研究以作參考。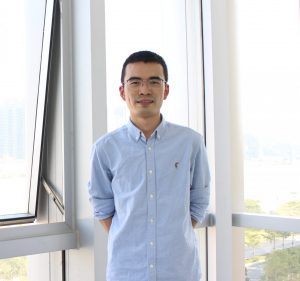 Prof Cai's research are about sea water flow,
marine environment, multiple-scale circulation
and dynamics in South China Sea, etc.
蔡教授研究海水流動、海洋環境生態、
南海的多尺度環流與動力學等