Since the start of 'Macao's first Autonomous Driving Bus Testing Platform' in 2020, the project shows its impact on research, talent cultivation, social services, and science popularization. Although there was an outbreak of pandemic in Macao in June and July, certain breakthroughs in software, hardware and technology of the autonomous bus have been achieved.
Leading by Prof. Xu Cheng-Zhong, Dean of the Faculty of Science and Technology (FST) of the University of Macau (UM) and the research member of State Key Laboratory of Internet of Things for Smart City (SKL-IoTSC), the research team carried out functional upgrade for the bus in Guangdong-Macao In-Depth Cooperation Zone in Hengqin based on the testing results at UM. Since there was no car factory with transformation experiences for autonomous vehicle in Macao, the research team decided to cooperate with the management committee at the cooperation zone to start a two-month bus trial and upgrade in June 2022 to enhance the automatic driving functions and fulfill the research and testing needs.
During the two-month period, the research team carried out the upgrade and testing of the autonomous driving functions of the bus. In terms of hardware upgrade, laser radar and millimeter-wave radar of the bus mainly used to perceive and detect low obstacles, as well as to perform accurate three-dimensional map reconstruction and autonomous vehicle positioning are upgraded. At the same time, the hardware of the computing platform is enhanced, and a GPU with stronger computing power is equipped for inference of deep learning.
Regarding the algorithm software, the team developed the high-precision map drawing (SLAM algorithm) and map-based high-precision positioning algorithm software based on the new radar sensor. Therefore, the bus is able to have high-precision autonomous positioning and local path planning even if the GPS signal loss or interference. In addition, in regards of scene semantic segmentation and obstacle detection, an efficient segmentation detection algorithm software based on multi-line lidar has also been developed, which enables the bus to conduct accurate environmental perception of high dynamic scenes.
Kou Hoi In, the Chairman of the Legislative Council of the Macao, led more than 30 members, accompanied by Lei Wai Nong, the Secretary for Economy and Finance, and Su Kun, the Deputy Director of Executive Committee, visited the Zhuhai UM Science & Technology Research Institute on 31 August. Prof. Xu Cheng-Zhong introduced the progress of UM's autonomous driving research and invited guests to take a ride to experience the collaborations among industry-university and research.
The research project is one of the "Key R&D Projects" of the Macao Science and Technology Development Fund (File No.: 0015/2019/AKP). It is developed by the University of Macau, in cooperation with several pioneering institutions in Mainland, including the Shenzhen Institute of Advanced Technology of the Chinese Academy of Sciences, Baidu, and Hailiang Technology.
"澳門自動駕駛巴士測試平臺"自2020年10月23日啟動以來,不斷在人才培養、重點示範、學術影響、社會服務、科普推廣等產生影響力。不畏疫情,迎難以上,於相關軟硬體和技術上尋求突破。
由澳門大學科技學院和智慧城市物聯網國家重點實驗室須成忠教授帶領,研究團隊結合於澳大校園的測試情況及最新研究成果,對巴士進行功能性和可靠性方面的升級改造,澳門暫無具有相關改造經驗的車廠,項目團隊經與深合區管委會深度協調,於今年6月在深合區開展為期2個月的巴士升級及測試,以完善自動駕駛功能,適應項目團隊的科研和測試需要。
這兩個月期間,團隊開展巴士自動駕駛功能升級及測試。硬件升級方面,巴士更新了激光雷逹和毫米波雷達,主要用来感知檢測低矮的障礙物,以及以進行精確的三維地圖重建和車輛的自主定位。同時升級計算平台硬件,增加了運算能力更强的GPU来進行深度學習的推理。
算法軟件方面,依據新的雷達傳感器,團隊研發的高精度地圖繪製(SLAM算法)以及基於地圖的高精度定位算法軟件,使巴士可以在GPS信號丢失或者受干擾的情况下實現高精度自主定位和局部路徑規劃。另外,在場景語義分割和障礙物檢測方面,團隊研發了基於多線激光雷達的高效分割檢測算法軟件,使得巴士實現精確的高動態場景的環境感知。
適逢澳門特別行政區立法會高開賢主席率領30多位議員,在經濟財政司李偉農司長和深合區執行委員會蘇崑副主任等陪同下,於8月31日上午調研珠海澳大科技研究院,須成忠教授藉此介紹了澳大無人駕駛研究進展並邀請各領導和嘉賓試乘巴士,體驗澳門與深合區產學研合作創新的力量。
研究專案是澳門科學技術發展基金"重點研發專項計畫"(檔案編號:0015/2019/AKP)之一,由澳大科技學院及智慧城市物聯網國家重點實驗室聯合內地多間自動駕駛先驅機構如中科院深圳先進技術研究院、百度、海梁科技等研發。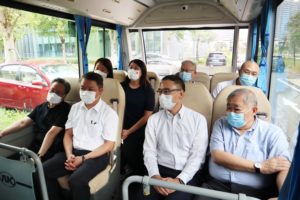 嘉賓試乘巴士Guests are invited to take a ride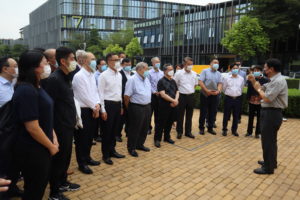 須成忠教授介紹澳大無人駕駛研究進展
Xu Cheng-Zhong introduced the progress of the autonomous driving research