With the rapid development of artificial intelligence, the growth of the total amount of data and the needs of continuous improvements and innovation of industries, the market's demand for computer computing power has increased sharply. Emerging industries such as autonomous driving, smart finance and smart health have higher standards for computing power and speed. The Super Intelligent Computing Centre (SICC) built and put into use by the University of Macau last year which is the largest intelligent supercomputing center in Macau. With a maximum computing rate of 2.2 trillion operations per second in a single cluster. DGX series, GPU computing platform and Huawei Cloud, provide key equipment and powerful computing power support for technology enterprises and many scientific research projects which assists Macau and the Guangdong-Hong Kong-Macao Greater Bay Area to grow as a smart city.
Powerful computing power supports multiple research fields
The establishment of the Super Intelligent Computing Centre has provided efficient computing support for many scientific research projects, including traffic data analysis, road data generation and deep learning of artificial intelligence in the project of "Autonomous Driving Bus Test Platform"; Robot data training and scene simulation in the project of "Robot Intelligent Operating System". The center also meets the computing needs of different fields, such as data perception analysis, interconnection and intelligent decision-making services in Smart Finance; patient trajectory tracking in epidemic prevention and control, epidemic dynamic monitoring and analysis, and public health monitoring and evaluation; medical imaging Intelligent analysis of image data to improve the speed and accuracy of doctors' judgement; segmentation of malignant regions in pathological pictures to calculate the number of malignant cells; severe weather simulation and analysis in storm surge research to understand the resilience of cities to natural disasters, etc.
The total computing speed reaches 220 billion per second
The Intelligent Supercomputing Center is equipped with multiple sets of advanced computing platforms, which are mainly composed of three parts:
1) DGX series: It consists of 4 DGX-A100, 1 DGX-2 and fast storage equipment NetApp 210TB SSD and 2.16PB HDD. There are a total of 16 NVIDIA V100 GPU cards and 32 NVIDIA A100 GPU cards in the five DGX series supercomputers. Each DGX can surpass the level of traditional large-scale supercomputing centers in terms of deep learning computing power, with a total computing speed of 22 PFLOPS (22X1015), it can perform 2.2 trillion floating-point operations per second. The center is equipped with a high-speed flash storage system NetApp 210TB SSD and a super large storage system 2.16PB HDD to support various types of data analysis. All systems are connected to a high-speed network, the speeds of read and write are up to 200Gb per/s. On the other hand, the system adopts a scalable architecture, and the complexity and scale of the model will not be limited by the traditional architecture, which can solve more complicated AI problems in the future.
Complete cloud service architecture, which can be used by multiple users at the same time
2) HUAWEI CLOUD: HUAWEI CLOUD, an intelligent supercomputing center, provides more than 5,000 computing cores, 48 ​​servers and 16 graphics processing units (GPUs), and is equipped with a 10TB computing server with large memory and a 600TB capacity. Provide virtual data center (VDC), elastic cloud server (ECS), cloud hard disk (EVS), etc. Resources can be allocated to multiple research groups, and users can also build customized platforms.
3) GPU computing platform: the computing power of the traditional central processing unit (CPU) is difficult to meet the increasing development of artificial intelligence. The Cambrian graphics processing unit (GPU) computing platform currently used by the center is suitable for artificial intelligence training Load, speed can be increased. This computing platform is built by 12 GPU servers and 48 GPUs. The center is equipped with automatic temperature and humidity adjustment system, backup power supply, backup system, automatic alarm system to provide users with a stable and reliable environment.
Bringing new impetus to the development of "industry-university-research"
The Super Intelligent Computing Centre (SICC) of UM was jointly established by he Faculty of Science and Technology (FST), the Centre for Artificial Intelligence and Robotics and the State Key Laboratory of Smart City Internet of Things (SKL-IoTSC). In addition to supporting scientific research, the service has been extended to teaching and talent training, and is currently used by many teachers and students in SKL-IoTSC, the Institute of Collaborative Innovation, the Institute of Microelectronics, and FST. FST students used the central equipment to compete with 1,534 teams around the world in the "Security AI Challenger Tournament" hosted by Tsinghua University and Alibaba few months ago. They eventually won the first and the third prizes. In the future, the center will continue to provide important technical support for local scientific research and teaching. It is expected to accelerate the development of "industry-university-research", promote the diversified development of the local economy through technological innovation, and strengthen Macao's level in artificial intelligence, health care, environmental science and other fields. Inject new impetus into the construction of smart Macau and the Greater Bay Area.
隨著人工智能迅速發展、數據總量的增長以及新興產業發展需求,市場對計算機運算能力的需求急劇增加。新興產業如自動駕駛、智慧金融及智慧健康等對運算能力及速度的要求則更高。澳門大學去年建成及投入使用的智能超算中心 (Super Intelligent Computing Centre, SICC) 是澳門迄今最大型的智能超算中心,單一集群最高運算率可達每秒2萬2千億次。內含DGX系列、GPU計算平台及華為雲多套計算平台,為科創企業及眾多科研項目提供設備及强大的算力支撐,協助澳門乃至粵港澳大灣區發展成為智慧城市。
强大算力支撐多個研究領域
智能超算中心的落成為眾多科研項目提供高效運算支援,當中包括重點研究項目,如「自動駕駛巴士測試平台」中的交通數據分析、路面數據生成和人工智能的深度學習;「機器人智能作業系統研發」中的機器人數據訓練及場景模擬。中心也滿足了不同領域的運算需求,如智慧金融中的數據感知分析、互聯互通及智能化決策服務;疫情防控中的患者軌跡追蹤、疫情動態監測分析及公共衛生監測評估;醫學影像中的影像數據智能分析以提高醫生閱片的速度和準確度;病理圖片中惡性區域分割以計算惡性细胞數量;風暴潮研究中的惡劣天氣模擬和分析,以了解城市對自然災害的韌性。
 總運算速度達每秒2萬2千億
智能超算中心配備多套先進計算平台,主要由三個部份組成:
1) DGX系列: 由4台DGX-A100、1台 DGX-2及快速存儲設備NetApp 210TB SSD及2.16PB HDD等組成。五台DGX系列超級電腦共有16張NVIDIA V100 GPU卡以及32張NVIDIA A100 GPU卡,每台DGX在深度學習算力上能超越傳統大型超算中心水平,運算速度共達22 PFLOPS (22X1015) ,即每秒可作2萬2千億次的浮點運算,中心具備高速快閃儲存系統NetApp 210TB SSD及超大存儲系統2.16PB HDD以支援各類型的數據分析,所有系統皆連上高速可用性的網路交換機,讀寫速度達每秒達200Gb,可快速地完成運算任務。另一方面,系統採用可擴展的架構,模型的複雜度和規模將不受傳統架構限制,可解決未來更複雜的人工智能難題。
 完整的雲服務架構,可供多個用戶同時使用
2) 華為雲: 智能超算中心的華為雲提供超過 5,000 個計算核心、48 台伺服器及 16 個圖形處理器 (GPU),並配備超大記憶體 10TB 的計算伺服器及600TB容量。提供虛擬數據中心(VDC)、彈性雲服務器(ECS)、雲硬盤(EVS)等,資源能分配到多個研究小組上,亦可讓用戶搭建客製化平台。
3) GPU計算平台: 在算力領域上,傳統中央處理器(CPU)的計算能力難以滿足日益發展的人工智能,現時中心採用的寒武紀圖形處理器 (GPU) 計算平台適用於人工智能的訓練負載,可提升速度。此計算平台由12台GPU 服務器及48個GPU搭建。中心具備溫度濕度自動調節系統、後備電源、備份系統、自動警報系統等,為用戶提供穩定可靠的環境。
為「產學研」發展帶來新動力
澳大智能超算中心由科技學院、人工智能與機器人研究中心及智慧城市物聯網國家重點實驗室共同成立。除支持科研外,服務已擴展至教學及人才培養,目前已供澳大智慧城市物聯網國家重點實驗室、協同創新研究院、微電子研究院及科技學院多位師生使用。早前澳大學生代表運用中心設備,在清華大學和阿里巴巴主辦的 "安全AI挑戰者賽"中,與全球1,534個團隊相互切磋,最終獲冠軍及季軍的佳績,印證中心對教學水平的提升。未來中心將繼續為本地科研及教學提供重要技術支撐,期望能加速「產學研」發展,以科技創新推動本地經濟多元化發展,加強澳門在人工智能、健康醫療、環境科學等領域的水平,為智慧澳門及大灣區注入新動力。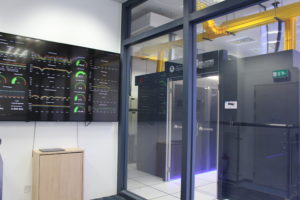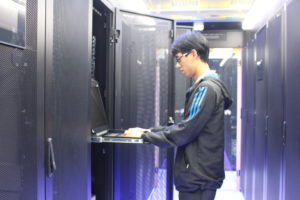 Super Intelligent Computing
澳大智能超算中心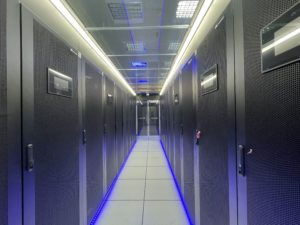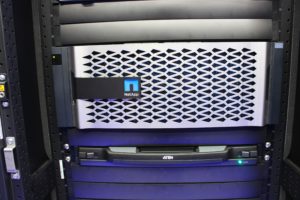 DGX系列具備4台DGX-A100、1台 DGX-2、
NetApp 210TB SSD及2.16PB HDD運算速度達每秒2萬2千億
The computing speed reaches 220 billion per second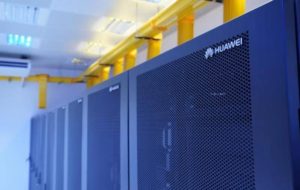 華為雲
HUAWEI Cloud