The UM Team members
澳門大學團隊
Luo Sai, Liu Bing and Duan Yajuan, Civil Engineering undergraduates of the University of Macau, took part in the "National competition of Structural Design 2009, China" hosted by Tongji University in Shanghai from 24 to 29 November 2009. The UM team was led by Prof. Kun Pang Kou and Dr. Chi Chiu Lam to compete with 59 teams from 58 universities in China which included the Tongji University, the Tsinghua University, the Chinese University of Hong Kong, the Hong Kong University etc.
The aim of the competition is to develop friendship and to enhance better understanding among civil engineering students with different cultures from different regions of China. It is also expected that, through this competition, closer ties and improved relationships can be established between the departments of civil engineering of the universities. The first competition was held in Zhejiang University in 2005. The University of Macau was invited to join the second competition which was hold by Dalian University of Technology in 2008.
澳門大學科技學院土木及環境工程系本科學生羅賽、劉冰及段雅娟於二○○九年十一月二十四日至二十九日期間,由高冠鹏副教授和林智超博士帶領參加由上海同濟大學主辦之『第三屆全國大學生結構設計競賽』。是次賽事共有五十九支來自全國各省之大學的隊伍參加,包括北京清華大學、上海同濟大學、香港中文大學、香港大學等。
「第三屆全國大學生結構設計競賽」旨為透過設計和製作結構模型,讓學生能夠互相交流學識及建立友誼,以及發揮學生的組織及合作能力。該競賽被國家教育部確定為各學科大學生七大正式競賽活動之一,由國家教育部、住房和城鄉建設部和中國土木工程學會聯合舉辦。首屆比賽在二○○○五年由浙江大學舉辦,而澳門大學亦於去年(二○○八年)參加了由大連理工大學主辦之第二屆比賽並獲得優秀組織獎。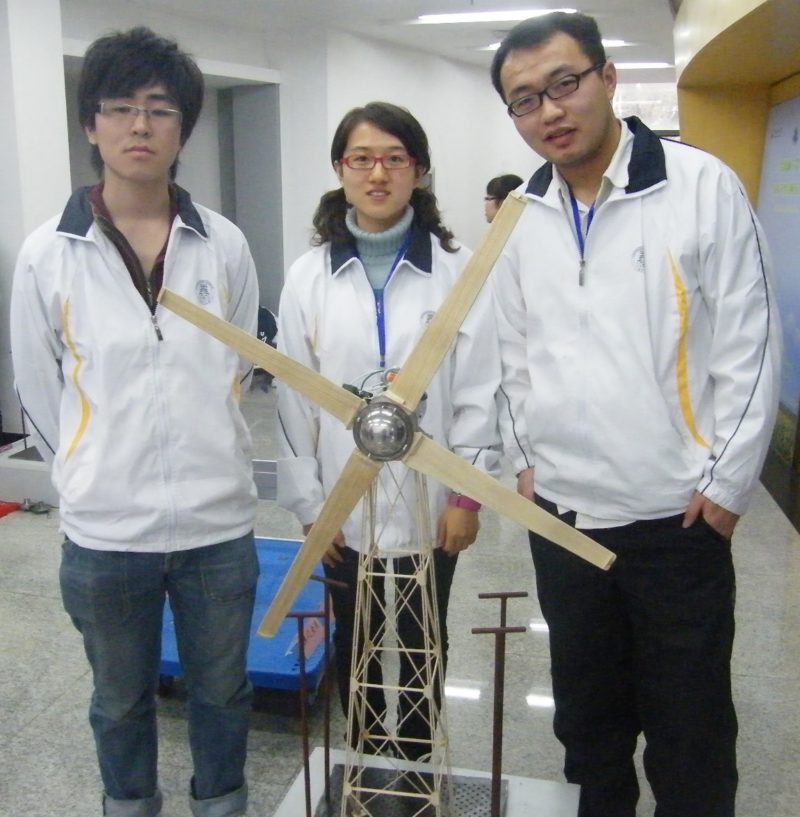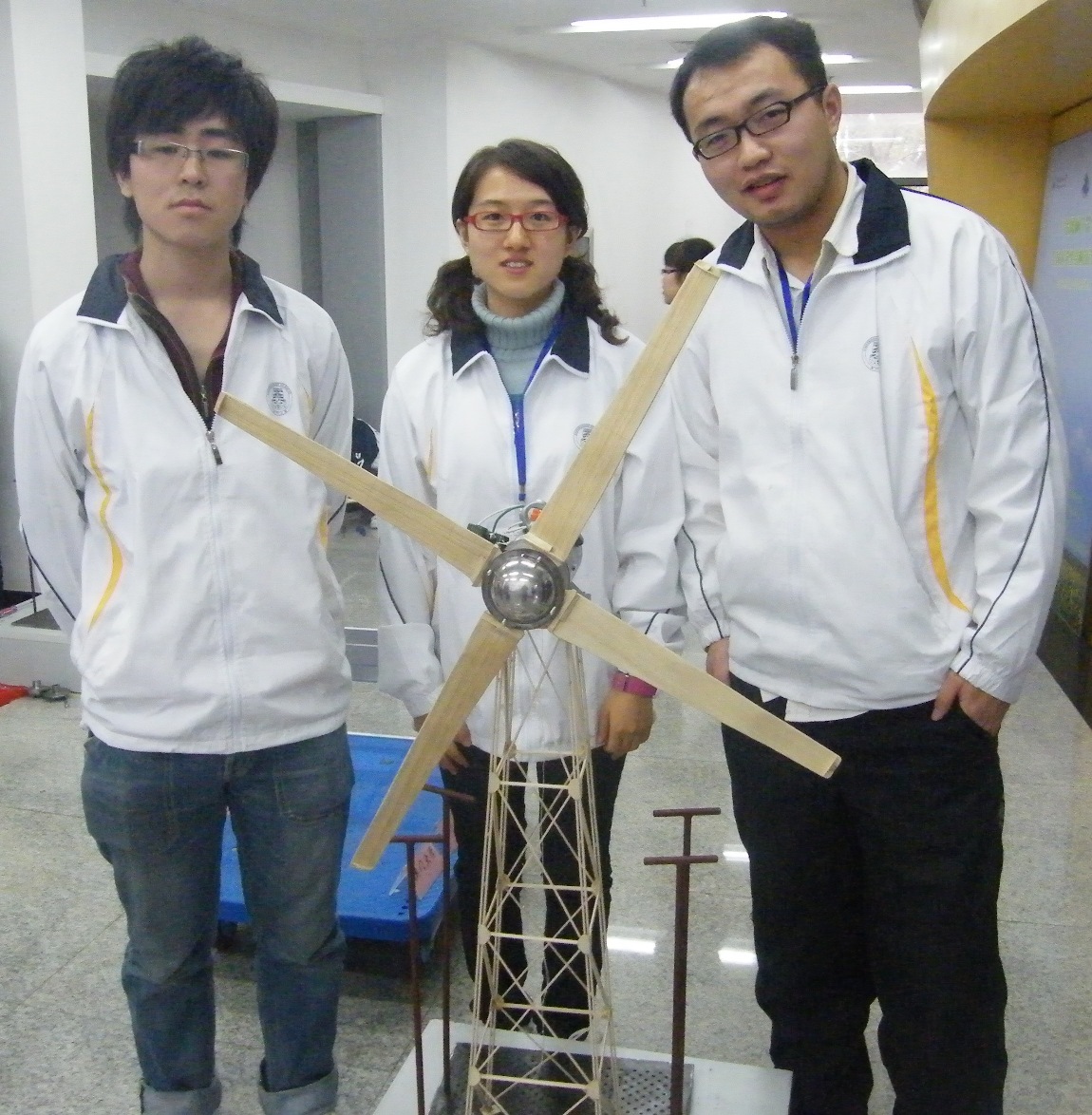 The UM wind turbine model
澳大風力發電塔和發電機葉片模型
The title of this year competition is "Goldwind cup". The theme of the competition was to design and fabricate a wind turbine and the supporting tower to withstand different level of wind loading. The main materials for fabrication were balsa wood and glue. In the competition, each team was required to submit a report of their structural design first, and then finish the fabrication of their designed model within three days. Then, the wind turbine model and tower were tested by applying wind with three different speeds. The corresponding power generated by the wind turbine model was recorded and the deformation of the tower must be within a design limit. The prize ranking of the qualified model was then decided based on the amount of generated power by the wind turbine and the total weight of the turbine and tower. The lightest model which also produced the largest power received the highest ranking.
Through this competition, not only did the students have the opportunity to meet with students and professors from other universities, it also provided opportunities for students and professors from other universities to get to know more about the University of Macau. The next competition will be held in the Harbin Engineering University of China in 2010.
是屆比賽命名為『金風杯』,主題為製作一個定向木結構風力發電塔和發電機葉片以承受三段不同速度之風荷載。製作模型之材料為木材及膠水。所有通過荷載測試之模型均評為合格作品。而獲獎名次則按照模型之發電功率、重量及變形排名,發電功率最大、重量最輕和變形符合大會要求之模型名次最高。在比賽開始之前,每一參賽隊伍需要向主辦單位提交一份設計報告,然後開始為期三天的現場模型製作。
透過參加是次比賽,學生不但可與來自全國各地的大學生交流,還可讓各地大學的師生對澳門大學有更深入的認識。
下屆賽事將於二○一○年在哈爾濱工程大學舉行。