CTM hosted the "Launching Ceremony of Digital Macau Collaboration Intention" and "5G‧Smart Solutions Design Competition Award Ceremony" on 5 February, 2021 and signed the 1st Autonomous Driving System and Application Colloboration Agreement with UM.
Under the witness of guests of honor, Eunice Cheang, Vice President of Strategic Programs of CTM and Prof. Shaodan Ma, Assistant Director of State Key Laboratory of Internet of Things for Smart City (University of Macau) co-signed the Autonomous Driving System and Application Collaboration Agreement, signifying the deeper collaboration between both parties on promoting application development riding on 5G and IoT technology. Both parties will study the use of 5G leveraging the characteristic of high-speed, low-latency, and massive connections that will further stimulate the revolutionary development for autonomous driving and the Internet of Vehicles to establish in Macau.
As early as 2019, CTM and the University of Macau signed the "5G Mobile Communication Technology Cooperation Agreement", and set up a 5G trial network for the "Smart City IoT State Key Laboratory" at the University of Macau, to facilitate 5G-based communications technology research. The ceremony was jointly officiated by Li Wei, Deputy Division Chief of Economics Department of the Liaison Office of the Central People's Government in the Macao SAR; Ip Chong Wa, Member of the Administrative Committee of CTT; Legislator Mak Soi Kun; Legislator Wong Kit Cheng; Shuen Ka Hung, Director-General of CPTTM; Prof. XU Cheng-Zhong, Dean of Faculty of Science and Technology, University of Macau; Chan Hong, Vice Principal of Hou Kong Middle School; Chan Ka Leong, Chairman of UGAMM; Paulina Che, Assistant Vice President of Convention & Exhibition of Sands China; Wong Kam Man, Deputy General Manager of Macau Pass; Vandy Poon, Chief Executive Officer of CTM; Ebel Cham, Vice President of Commercial of CTM; and Declan Leong, Vice President of Network Services of CTM.
澳門電訊於2021年2月5日成功 舉行「數碼澳門伙伴合作意向啟動儀式」暨 「5G‧智慧應用設計比賽頒獎儀式」,並正式簽署自動駕駛應用合作協議。早在2019年,澳門電訊與澳門大學簽署了"5G流動通訊技術合作協議",並為澳門大學"智慧城市物聯網國家重點實驗室"提供全方位5G網絡測試環境,展開雙方基於5G通訊技術的研發。
在一眾嘉賓的見證下,澳門電訊策略方案副總裁鄭玉平與澳門大學智慧城市物聯網國家重點實驗室助理主任馬少丹,簽署了「澳門自動駕駛應用合作協議」,標誌著雙方深化合作,進一步推動澳門基於5G及物聯網技術的應用發展。澳門電訊和澳門大學將研究利用5G高速、低時延及海量連接的特性,進一步為自動駕駛和車聯網落戶澳門帶來革命性的發展。
活動嘉賓包括: 澳門中聯辦經濟部副處長李偉、郵電局行政委員會委員葉頌華、議員麥瑞權、議員黃潔貞、澳門生產力暨科技專業中心理事長孫家雄、澳門大學科技學院院長須成忠、澳門濠江中學副校長陳虹、澳門街坊會聯合總會理事長陳家良、金沙中國會議及展覽統籌部助理副總裁車洝錤、澳門通副總經理黃錦汶、澳門電訊行政總裁潘福禧、商務副總裁湛寶儀、網絡服務副總裁梁沛雄。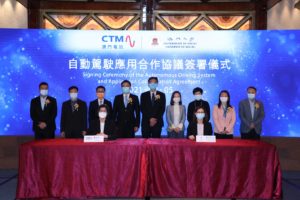 澳門電訊鄭玉平副總裁與
澳大智慧城市物聯網國家重點實驗室助理主任馬少丹
簽署合作協議
 CTM and UM signed an agreement