The University of Macau (UM) and Shenzhen Institute of Advanced Technology (SIAT) of the Chinese Academy of Sciences (CAS) recently held their first forum, showing that the partnership has reached a new level. During the forum, both parties had in-depth discussions on launching joint training programmes, information technology, life sciences, and other related topics. Both parties expressed hope to combine their strengths to deepen cooperation between Guangdong and Macao, in order to develop the Guangdong-Hong Kong-Macao Greater Bay Area into a leading international centre for technology transfer.
The two-day forum was hosted by UM's Institute of Collaborative Innovation (ICI) and co-organised by the Faculty of Science and Technology (FST) and the Faculty of Health Sciences (FHS). According to Prof Xu Chengzhong, dean of the FST and interim dean of the ICI, the collaboration between UM and SIAT began in 2019 with the signing of an agreement on the launch of a joint training programme for doctoral students. Both parties have also established a joint laboratory of artificial intelligence and robotics. So far, the joint programme has attracted many doctoral students. In scientific research, UM has collaborated with SIAT in a number of key research projects in recent years (such as the autonomous driving testing platform) to jointly promote innovative collaborative research.
Prof Li Ye, assistant to the dean of the SIAT and director of the Scientific Research Office, recognised UM's contributions to education and achievements in scientific research. He expressed hope that both parties would combine their advantages, strengthen exchange and collaboration, and explore new areas of collaboration. Witnessed by guests from both parties, Dean Xu and Prof Li unveiled the Joint Laboratory of Human-Machine Intelligent Collaboration System in the Guangdong-Hong Kong-Macao Greater Bay Area, marking a new chapter in the partnership between UM and SIAT. The doctoral students jointly trained by both parties also shared their learning experiences at the forum.
Other guests who attended the forum include Hu Jinxing, senior researcher and director assistant; Ou Yongsheng, researcher of the Institute of Intelligent and Biomimetic Systems; Cai Lintao, researcher and director of the Institute of Medicine and director of the Nanomedical Technology Centre; Li Ming, deputy director of the Education Office; Yang Zhixin, director of UM's Research Services and Knowledge Transfer Office; Cai Xiaochuan, associate dean for research and graduate studies of the FST; Xu Renhe, associate dean for research of the FHS; Zhou Jiantao, interim head of UM's Centre for Artificial Intelligence and Robotics; and Ryan U, interim head of UM's Centre for Data Science.
SIAT was jointly established in Shenzhen by the CAS, Shenzhen government, and the Chinese University of Hong Kong. Integrating scientific research, education, industry, and capital, SIAT strives to enhance independent innovation capabilities of the Guangdong-Hong Kong region and advanced manufacturing and modern service industries in China.
Shenzhen Institutes of Advanced Technology was jointly established by the CAS and the Shenzhen government. It focuses on six key areas, namely synthetic biology, brain science, robotics and artificial intelligence, biomedical engineering, materials science and engineering, and biomedicine.
澳門大學與中國科學院深圳先進技術研究院 (中國科學院深圳理工大學(籌))首次舉辦雙邊研討會並進行粤港澳人機智能協同系统聯合實驗室揭牌儀式,標誌著雙方合作關係邁向新高度。會上,雙方於就聯合培養人才、資訊技術及生命科學等議題展開深入討論,期望依託彼此優勢力量,深化粵澳合作,將粵港澳大灣區建設成為具有國際競爭力的科技成果轉化基地。
為期兩天的研討會由澳大協同創新研究院主辦、澳大科技學院及健康科學學院協辦。澳大科技學院院長及協同創新研究院代院長須成忠表示,澳大與先進院在人才培養及科研方面的合作早在2019年拉開序幕。當時雙方已簽署聯合培養博士生協議,並建立人工智能與機器人聯合實驗室,聯培計劃開始至今吸引不少博士生參加。科研上,澳大近年多個重點研發計劃皆與先進院合作,如澳大自動駕駛巴士測試平台項目,共同促進更多創新性合作研究。
深圳先進院院長助理、科研處處長李燁在會上高度認可及讚賞澳大在教育領域的貢獻和科研成就,期望雙方能夠整合各自優勢,加強交流合作,開拓更多合作領域。在眾多嘉賓見證下,須成忠及李燁一同為粤港澳人機智能協同系统聯合實驗室揭牌,為雙方合作關係寫下新篇章。此外,雙方聯合培養的博士生也在研討會上分享學習感受,展示共同培養科研人才的成果。
是次與會者還有中科院深圳先進院及深理工的成員:數字所正高級工程師及所長助理胡金星、集成所研究員及智能仿生中心副主任歐勇盛、醫藥所研究員及所長及納米醫療技術中心主任蔡林濤、教育處副處長李明;澳大研究服務及知識轉移辦公室主任楊志新、科技學院副院長蔡小川、健康科學學院副院長徐仁和、人工智能與機器人研究中心代主任周建濤、數據科學研究中心代主任余亮豪等。
中科院深圳先進院由中國科學院、深圳市政府及香港中文大學協商在深圳市共同建立。以科研為主的集科研、教育、產業、資本為一體,致力提升粵港地區及中國先進製造業和現代服務業的自主創新能力。中科院深理工大學(籌)則由中科院與深圳市政府依託先進院合作共建。重點佈局合成生物學、腦科學、機器人與人工智能、生物醫學工程、材料科學與工程、生物醫藥等六大優勢學科領域。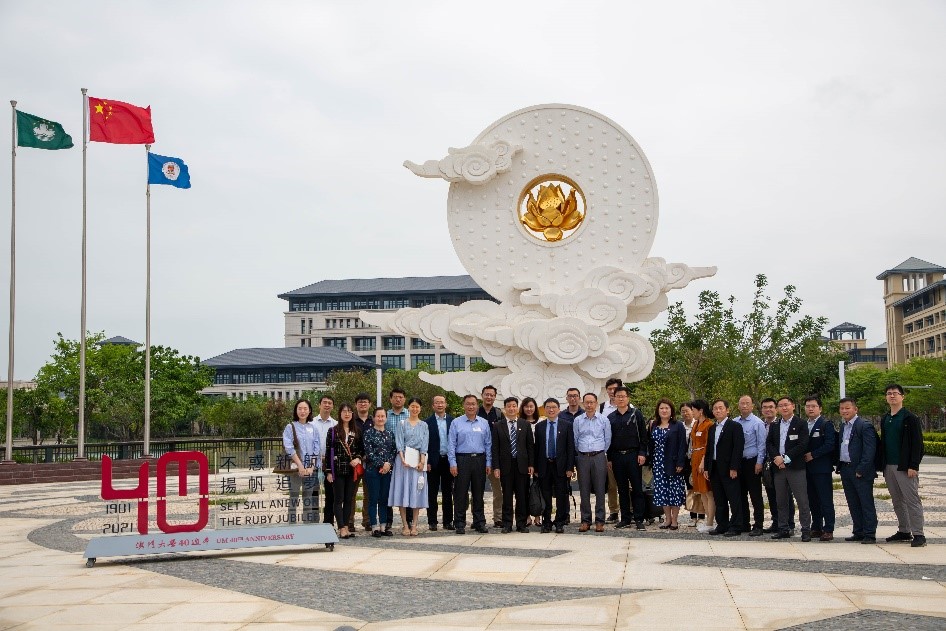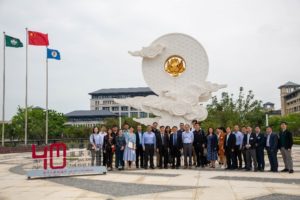 雙方在博雅之璧合影
Group photo of UM and SIAT representatives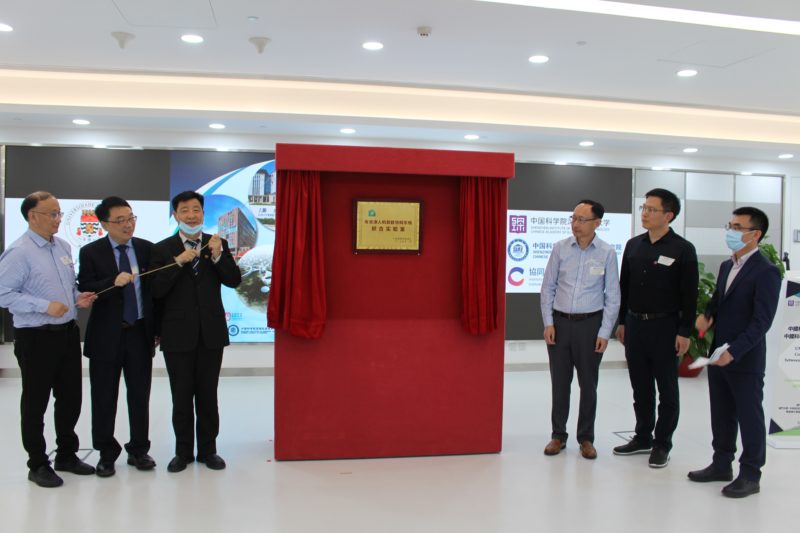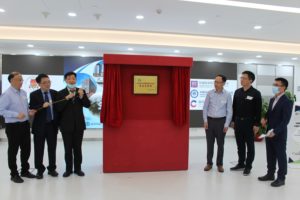 雙方為聯合粤港澳人機智能協同系统聯合實驗室揭牌
Both parties unveiled the joint laboratory of Guangdong-
Hong Kong-Macao human-machine intelligent collaboration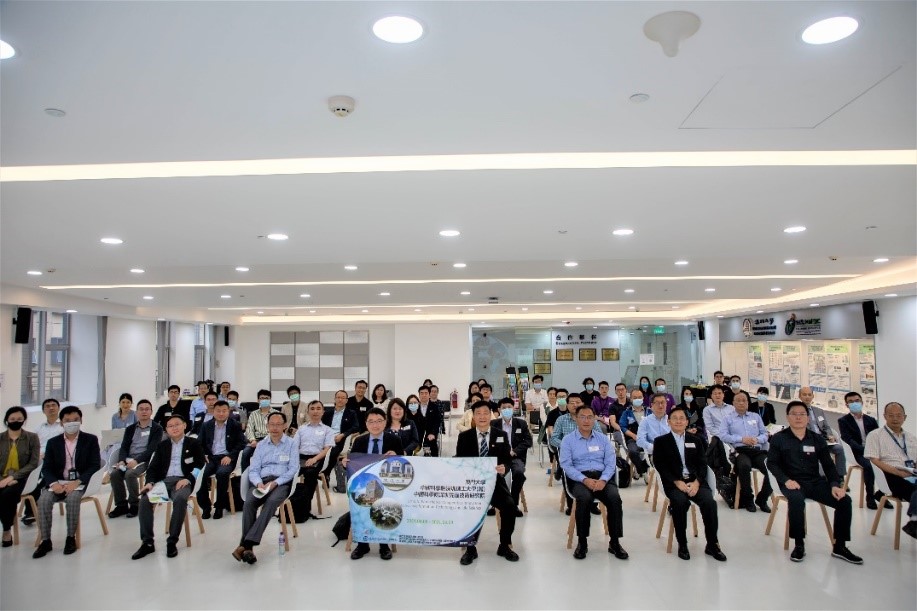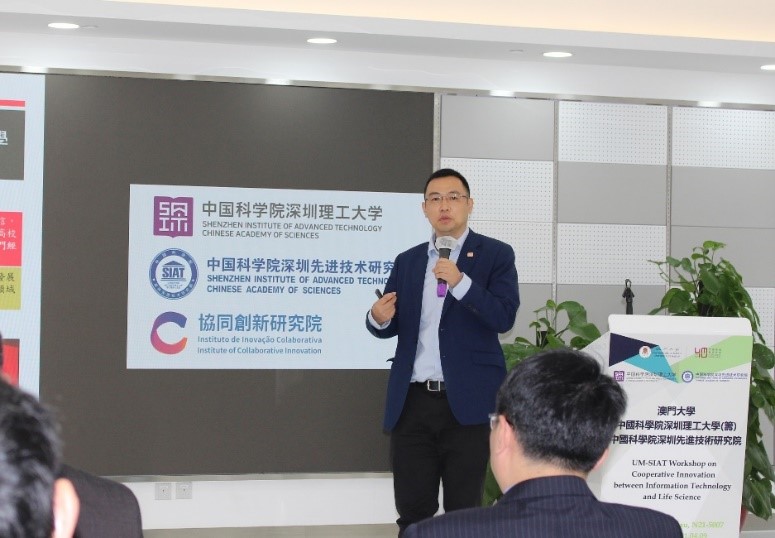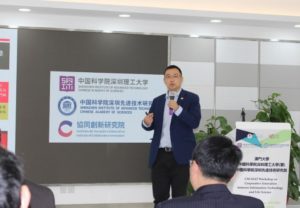 研究服務及知識轉移辦公室主任楊志新介紹澳大及其發展
Prof. Yang Zhixin, Director of RSKTO introduce UM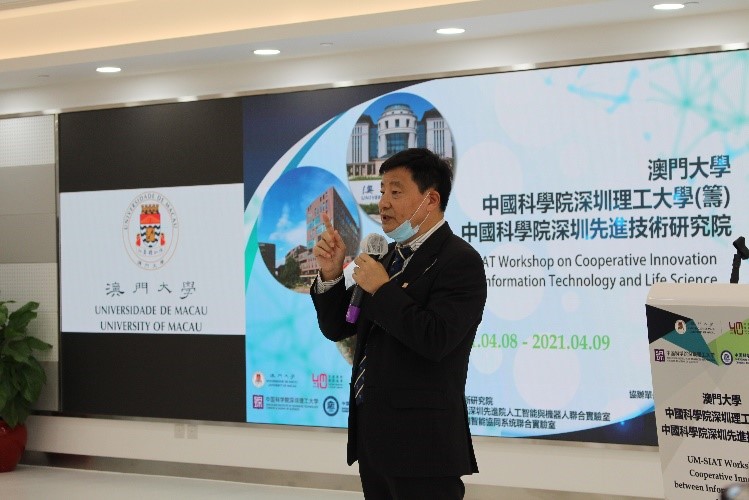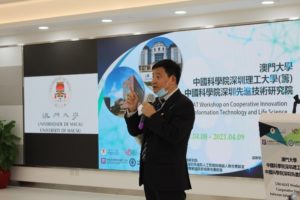 科技學院院長及協同創新研究院代院長
須成忠表示雙方將繼續深化合作關係
Prof. Xu Cheng-Zhong, Dean of FST and Interim Director of ICI shared that both parties should deepen the cooperation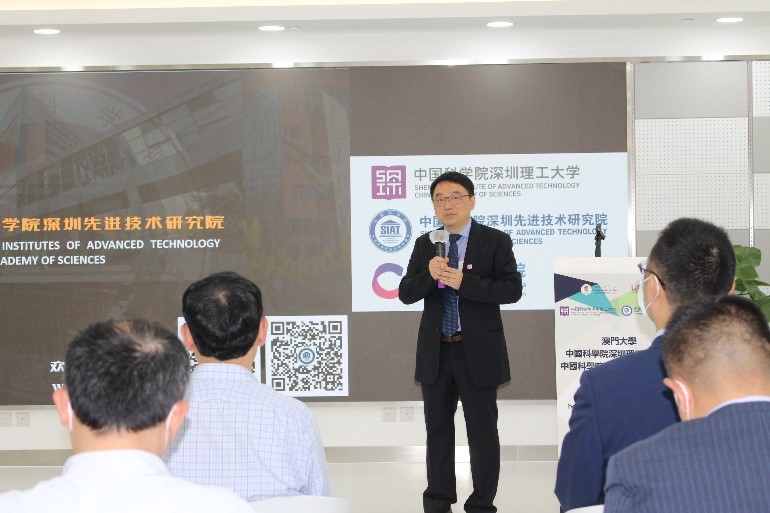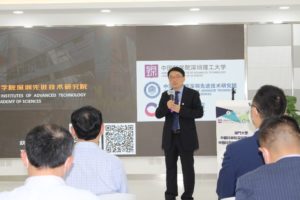 先進院院長助理、科研處處長李燁介紹先進院
Prof. Li Ye, Assistant to the Dean of SIAT introduced SIAT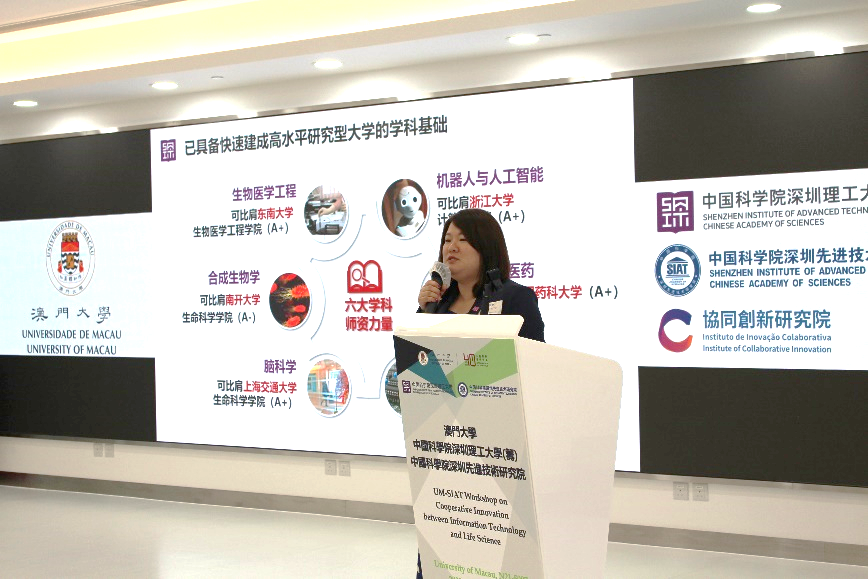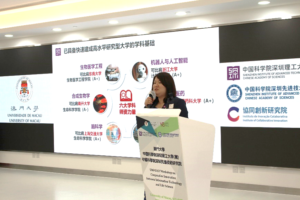 先進院教育處錢振斐介紹中科院深理工的現況
Qian Zhenfei introduced the SIAT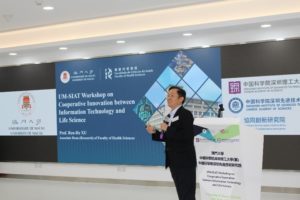 健康科學學院副院長(研究)徐仁和
介紹健康科學學院
Xu Renhe, Associate Dean of FHS (Research)