According to the Times Higher Education (THE) World University Rankings 2018 by Subject recently released, the engineering and technology of Faculty of Science and Technology (FST) at the University of Macau (UM) is ranked at 151-175 while the computer science is ranked at 176-200 among the world universities. These rankings are much better than the University of Macau overall ranking which is at 351-400.
This is the first time that the subjects of the University of Macau are ranked in the world's top 200 by THE. The University of Macau is the only higher education institution from Macao to make the list. This result highlights that FST is leading across electrical, mechanical, civil, chemical and general engineering subjects as well as computer science subjects and the referred categories are internationally recognized.
The THE rankings are recognized as one of the most influential university rankings in the world. The 2018 World University Rankings' table for computer science, engineering and technology subjects employs 13 performance indicators, brought together with scores provided under five categories, namely teaching, research, citations, industry income, and international outlook. These two subjects of UM scored high in several areas, including citations and international outlook, which indicates the effort UM and FST has made on developing research achievements and international collaborations, and highlights its increasing impact and attractiveness on students, faculty and universities from all over the world.
For Engineering and Technology ranking, please refer to:
https://www.timeshighereducation.com/world-university-rankings/2018/subject-ranking/engineering-and-IT#!/page/0/length/-1/sort_by/rank/sort_order/asc/cols/stats
For Computer Science ranking, please refer to:
https://www.timeshighereducation.com/world-university-rankings/2018/subject-ranking/computer-science#!/page/0/length/-1/sort_by/rank/sort_order/asc/cols/stats
根據泰晤士高等教育THE(Times Higher Education)近期公佈有關2018年世界大學學科排名,澳門大學科技學院的工程與科技學科於世界大學中排名第151–175 位、而計算機科學學科則排名第176–200位,這兩學科的排名比澳門大學的總體排名 (第351–400位)還要高。
這是首次有澳大學科能入選《泰晤士高等教育》世界大學學科排名首200位,澳大亦是澳門唯一入榜的高等院校。這顯示澳門大學科技學院在電子及機電工程、土木工程、化學、通用工程及計算機科學範疇具領導地位及國際認可。
英國《泰晤士高等教育》是世界公認最具影響力的高校排行榜之一,是次按13項指標評核2018年世界大學學科表現而排列出2018年世界大學學科排名榜。指標包括五大範疇,如教學質素、學術研究、論文影響力、國際化程度及行業收入。澳大在論文影響力、國際化程度等方面均取得較佳成績,這證明了澳大和科技學院在推動科研成果及國際性合作上的付出和努力,同時也對來自世界各地的學校和師生有著愈來愈高的影響和吸引力。
有關工程與科技排名,請瀏覽以下網址:
https://www.timeshighereducation.com/world-university-rankings/2018/subject-ranking/engineering-and-IT#!/page/0/length/-1/sort_by/rank/sort_order/asc/cols/stats
有關計算機科學排名,請瀏覽以下網址:
https://www.timeshighereducation.com/world-university-rankings/2018/subject-ranking/computer-science#!/page/0/length/-1/sort_by/rank/sort_order/asc/cols/stats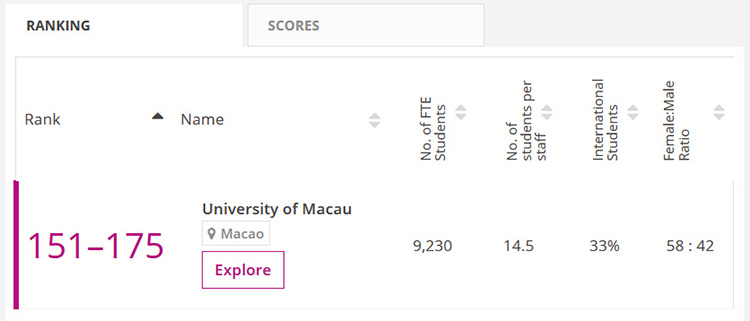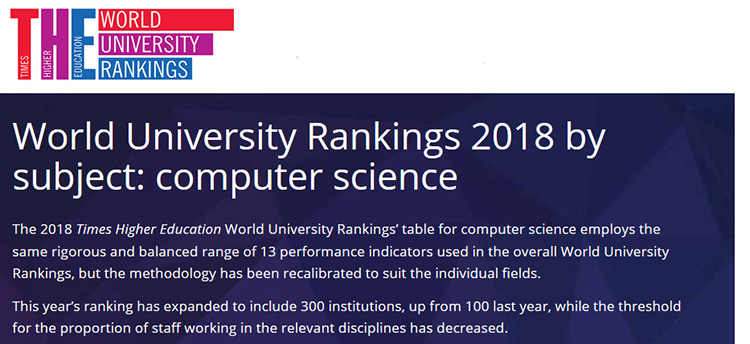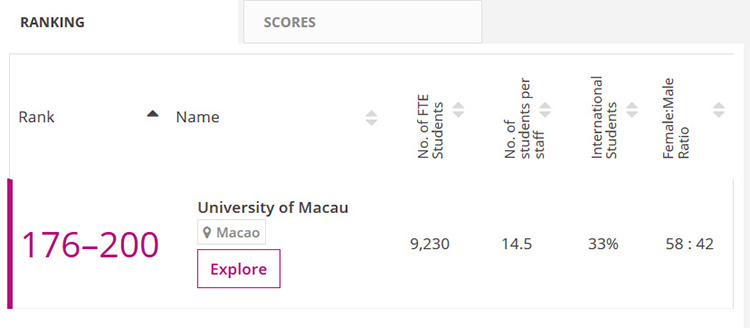 UM Engineering and Technology, Computer Science named among Top 200 in the 2018 THE World University Rankings by Subject
THE全球學科排名2018澳大工程與科技及計算機科學學科入選首200位