The University of Macau's (UM) Faculty of Science and Technology (FST) recently held the Dean's Final Year Project List Presentation Ceremony and Project Exhibition 2021. The event exhibited 25 selected projects to showcase the students' learning achievements. Through this event, the university hoped to create a platform for academia-industry exchange, enhance academia-industry collaboration, and promote technology transfer.
According to Wong Pak Kin, associate dean (academic affairs) of the FST, in order to promote the diversification of Macao's industries, the FST attaches great importance to the training of scientists and researchers. In addition to commending outstanding students, this exhibition aimed to provide a platform for interactions between companies and local institutions of higher education in order to increase opportunities for collaboration and enhance the effectiveness of academia-industry collaboration. Hundreds of student projects have been exhibited since the exhibition was first launched in 2012. Wong added that the FST would continue to promote technological advances through similar activities, and would continue to listen to the feedback from industry to make continuous progress, so that the community could better understand the technological achievements and creative projects of its students.
Following a rigorous selection process, a total of 40 outstanding students from various departments in the faculty, namely the Department of Civil and Environmental Engineering, the Department of Computer and Information Science, the Department of Electrical and Computer Engineering, the Department of Electromechanical Engineering, and the Department of Mathematics, were awarded for a total of 25 projects that covered a wide range of fields, including water quality, cultural heritage conservation, environmental and hydraulic engineering, computer graphics and visual computing, software engineering, machine learning, architectural design, power engineering, and artificial intelligence. Nearly 100 corporate management team members, government officials, industry practitioners, professors, and students attended the event to celebrate the scientific achievements of FST graduates.
Guests attending the opening ceremony included Lam Hin San, director of the Transport Bureau; Leong Weng Kun, director of the Meteorological and Geophysics Bureau; Lei Kuong Leong, Head of the Division of Information Technology of CTT; Chan Chou Weng, head of the Technology Application and Support Division of the Economic and Technological Development Bureau; Sam Hio Tong, head of the Division of Quality Assurance of the Education and Youth Development Bureau; Lei Chi Man, chief executive officer of InfoMacro Information Technology Limited; Ao Ieong Chi Wai, chief technology officer of eRS Information Technology Ltd; Lei Kam Kim, director of the Center of Informatics of Civil Engineering Laboratory of Macau; Chan Chee Pong, senior vice president of facilities management of Galaxy Entertainment Group; Candy Ng, associate director of human resources of Sands China Limited; Benjamin Yue, principal advisor of Companhia de Electricidade de Macau; and Liem Tao, senior manager of the Information System and Technology Department of the Macau Productivity and Technology Transfer Center.
澳門大學舉辦"2021年澳門大學科技學院畢業設計院長榮譽榜頒獎典禮暨項目展覽",展出25件不同領域的入圍作品,多元呈現學生的學習成果。澳大希望透過此活動為學界與業界創造交流平台,促進新一代產學研合作,推動科技成果產業化。
澳大科技學院學術事務副院長王百鍵致辭時表示,為促進本澳多元發展,科技學院一直致力科研人才的培養。是次展覽的目的除了嘉許表現優秀的學生外,更為擴大企業與本地院校的交流創造良好互動,增加雙方共同合作機會,提升產學研合作的效益。展覽自2012年開辦至今,已展出數百件作品。未來將繼續透過此類活動推廣創新科技,汲取業界意見不斷進步,讓社會各界更了解學生的科技與創意成果。
經過學院嚴格遴選,共40位來自土木及環境工程系、電腦及資訊科學系、電機及電腦工程系、機電工程系和數學系的優秀學生獲嘉許,共25件作品入圍,內容橫跨不同領域包括水質研究、文物保育、環境及水力工程、電腦圖學與視覺計算、軟件工程、機器學習、建築設計、電力工程及人工智能等。近百名企業管理層、政府人員、業內人士、教授及學生聚首一堂,共同見證科技學院畢業生4年來的科研成果。
出席展覽的嘉賓包括:交通事務局局長林衍新、地球物理暨氣象局局長梁永權、郵電局資訊科技發展處處長李廣亮、經濟及科技發展局科技應用及支援處處長陳祖榮、教育及青年發展局素質保證處處長岑曉東、萬高信息科技有限公司行政總裁李志文、易研信息科技有限公司技術總監歐陽志威、澳門土木工程實驗室資訊中心主任李錦堅、銀河娛樂集團設備管理高級副總裁陳志邦、金沙中國有限公司人力資源副總監伍家愉、澳門電力股份有限公司執行委員會首席顧問岳宗斌及澳門生產力暨科技轉移中心高級經理林濤。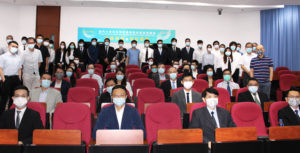 大合照 Group Photo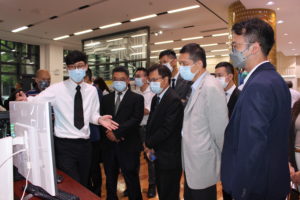 畢業生向嘉賓介紹畢業成果
Graduates show the Final Year Projects to guests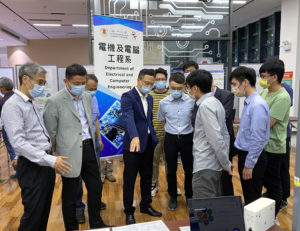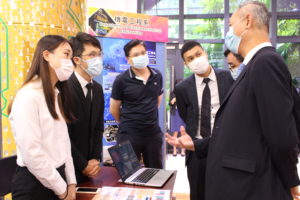 嘉賓向學生了解畢業成果
Guests know about the project details from the graduates