An intelligent milk tea vending machine developed by University of Macau (UM) students stood out from 1,210 shortlisted entries at the 16th 'Challenge Cup' National College Students' Science Project Competition and won the first prize. The UM team was the only team from Macao to win the first prize at this competition.
The smart vending machine was jointly developed by three UM students in the Department of Electromechanical Engineering and the State Key Laboratory of Internet of Things for Smart City, namely Hu Zhiyuan, Ouyang Mingcong, and Ding Ziqin, under the guidance of Associate Professor Yang Zhixin in the same department. They used infrared sensors on the key points of the robotic arm to ensure that the robotic arm can be accurately docked in various spatial positions. In terms of smart control, they used temperature and volume sensors to remotely monitor multiple liquid containers on an IoT platform. In addition to automatic brewing of milk tea, customers also have the option of adding tapioca pearls, coconut gel, brown sugar, and other ingredients according to their preferences. Alternatively, they can choose other beverages. The smart vending machine accepts a variety of payment options, such as WeChat Pay, Macao Pass, and Mpay.
Hu says that the smart vending machine was very well received during the trial period, and received unanimous praise and recognition from the judges at the competition. He expressed gratitude to the Science and Technology Development Fund, Macau SAR for its (file no. 194/2017/A3, 0018/2019/AKP). Hu adds that they are in the process of developing a second-generation version of the machine, which will have more functions, such as face recognition. The machine is expected to be available in the Faculty of Science and Technology building soon to allow more students to enjoy milk tea on campus at any time of the day.
Hailed as the 'Olympics' of college science project competitions, the 'Challenge Cup' is a highly influential national competition among college students in China. It is jointly organised by the Communist Youth League, the China Association for Science and Technology, the Ministry of Education, the All-China Federation of Students, and local governments. It provides a platform for Chinese universities to showcase their talented students, serves as a catalyst for technology transfer, and creates an opportunity for businesses to find talented college students and their innovative projects.
澳門大學學生共同研發的"全智能無人售賣奶茶飲料機器人"於第十六屆"挑戰杯"全國大學生課外學術科技作品競賽中,從全國二千多所高校共1210件優秀入圍作品中脫穎而出獲得一等獎,成為澳門地區唯一一支獲一等獎的隊伍。
澳大機電工程系及智慧城市物聯網國家重點實驗室三位學生:胡致遠、歐陽銘聰和丁子欽在機電工程系及智慧城市物聯網國家重點實驗室副教授楊志新的指導下合作研發了"全智能無人售賣奶茶飲料機器人"。他們利用機械手臂關節點上的紅外感測器,確保機械手可準確地停靠在各個空間位置上;在智慧控制方面,採用了溫度和容量傳感器,實現多個液體容器在物聯網平台上的遠程監控。為配合城市智慧化,設備除了可以自動冲製奶茶外,顧客可隨意選擇加入珍珠、椰果、黑糖等配料,也可選擇其他飲料。此外,機器人還配備了如微信、澳門通、澳門錢包等電子支付。
胡致遠表示,售賣機在試行階段已深受同學歡迎,比賽上亦獲得評審的一致好評及認可,感謝澳門特別行政區科學技術發展基金資助支持(檔案編號:194/2017/A3, 0018/2019/AKP)。胡致遠指智能奶茶機現正處於研發第二代階段,將來會加入如人面識別等技術,令其功能更加全面。奶茶機將設於科技學院,讓更多學生在校園隨時隨地享受奶茶的滋味。
"挑戰杯"被譽為當代大學生科技創新的"奧林匹克"盛會,是中國大學生關注度最高的全國性競賽。由共青團中央、中國科協、教育部、全國學聯和地方政府共同主辦,展示了全國各高校的育人成果,有效促進高校科技成果轉化,也是企業界接觸和物色優秀科技英才、引進科技成果的重要途徑。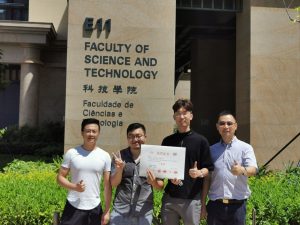 (From left) Ding Ziqin, Hu Zhiyuan,
Ouyang Mingcong, and Yang Zhixin
(左起)丁子欽、胡致遠、歐陽銘聰與楊志新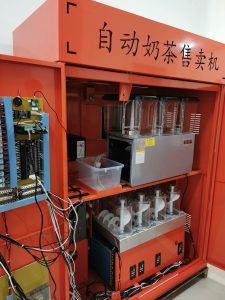 The smart milk tea vending machine
全智能無人售賣奶茶飲料機器人