The Faculty of Science and Technology (FST) of the University of Macau (UM) successfully held a Symposium on Frontiers of Science and Technology on 26 May 2022, attracting more than 100 scholars from different fields to discuss cutting-edge technology issues and applications. The symposium also exhibited numerous scientific research of UM postdoctoral fellows, joint doctoral students and doctoral candidates.
The one-day symposium is held at the Faculty of Science and Technology of UM. According to Cheng-Zhong Xu, Dean of FST, FST attaches great importance to innovation and technology and interdisciplinary research. It aims to establish a better exchange platform, foster interdisciplinary research and explore more opportunities for interdisciplinary cooperation through the symposium. It also hopes to inspire innovative thinking, analyse major challenges and create influential research results to Macao and the global society in response to the development of a knowledge-based society.
A number of scholars from Computer and Information Science, Civil and Environmental Engineering, Electrical and Computer engineering, and Electromechanical Engineering were invited as speakers to share their research, including Prof. Cheng-Zhong Xu, the awardees of "Research Excellence Award", Prof. Wanhuan Zhou, Professor of Civil and Environmental Engineering, Prof. Fai Wong, Associate Professor of Computer and Information Sciences and also Prof. Junwen Zhong, Assistant Professor of Electromechanical Engineering, representatives from the Shenzhen Institute of Advanced Technology, Chinese Academy of Sciences (SIAT), Dr Joel Reis, postdoctoral fellow and Hongfei Zhan and Shuyu He, FST PhD students, attended as speakers. In addition, 5 students namely Feifei Chen, Xiangyu Chen, Yingzhi Liu, Junjie Zeng and Jing Zhao received the Best Poster Awards, FST also took this opportunity to discuss the joint doctoral program with the representatives of SIAT. FST professors and students, the State Key Laboratory of Internet of Things for Smart City and the Institute of Collaborative Innovation also attended the symposium.
澳大科技學院今日(5月26日)成功舉辦首屆前沿科技研討會,吸引過百名不同領域的學者及學生參與,一同探討前沿科技議題及跨學科應用。研討會上海報形式展出澳大博士後、聯合博士生和在讀博士生的眾多科研成果,內容豐富,涵蓋自動駕駛、隧道沉降預測、機器翻譯及柔性機器人等多項領域。
為期一天的研討會於澳大科技學院舉行。科技學院院長須成忠致辭時表示學院十分重視創新科技及跨學科研究,期望能透過研討會建立一個更全面的交流平台,發掘更多共同合作機會以進行跨學科的研究,同時啟發創新思維,共同應對重大挑戰並為澳門乃至全球社會帶來具影響力的研究成果,以配合知識型社會發展。
多名計算機科學、土木及環境工程、電機及電腦工程及機電工程的學者獲邀擔任演講嘉賓,其中包括科技學院院長須成忠、兩位本學年「卓越研究獎」得主土木及環境工程系教授周萬歡及電腦及資訊科學系副教授黃輝、機電工程系助理教授鍾俊文、中國科學院深圳先進技術研究院的學術代表、博士後研究員Joel Reis及兩位博士生何書玉及詹泓飛。研討會上,5名學生獲頒發最佳海報獎,分別為陳飛飛、陳翔宇、 劉穎智、曾俊杰及趙晶。科技學院更借此機會與中國科學院深圳先進技術研究院的代表討論未來聯合培養博士計劃。是次會議吸引澳大科技學院、智慧城市物聯網國家重點實驗室及協同創新研究院的師生參與。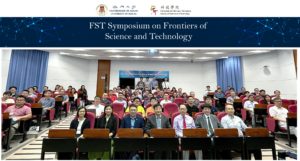 大合照Group Photo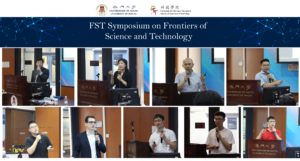 所有演講嘉賓 All Speakers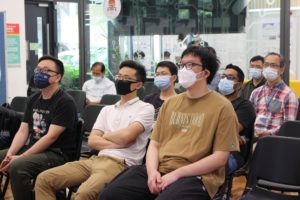 研討會吸引一眾師生參與
Event attracted many students and professors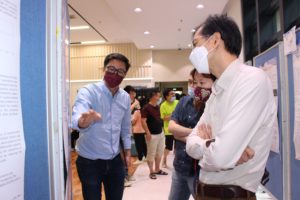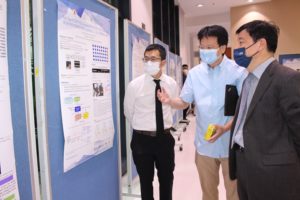 介紹不同領域的科研成果
Research in different fields are shown in the symposium