The University of Macau (UM) today (19 June) held the Congregation 2021. Secretary for Social Affairs and Culture Ao Ieong U, representing the chief executive and UM chancellor at this year's ceremony, expressed hope that the university would continue to produce outstanding research results and nurture talent who love China and Macao to facilitate moderate economic diversification of Macao.
Ao Ieong U officiated at the ceremony in the company of UM University Council Chair Lam Kam Seng, UM Rector Yonghua Song, and Vice Rectors Michael Hui, Rui Martins, Ge Wei, and Billy So. Representatives of the University Assembly, University Council, and Senate, as well as government officials, prominent members of the community, UM faculty and staff, and student representatives also witnessed the ceremony. Companions of graduates attending the ceremony watched the live streaming of the event at three locations on campus, while graduates and their families and friends who were unable to attend the ceremony in person participated in the event online.
In her speech, Ao Ieong U said: 'The SAR government attaches great importance to the development of higher education. At the end of last year, the Medium and Long Term Outline Development Plan for Macao Higher Education (2021-2030) was officially announced, setting the objectives and directions for the overall development of higher education in Macao in the next decade. By adequately expanding the student body, promoting academia-industry collaboration, as well as broadening and deepening external co-operation, among other measures, the continuous improvement of Macao's higher education will be ensured.' She added that UM, as a high-level local higher education institution committed to research, is striving to meet the needs of Macao's socio-economic development by optimising its curriculum and teaching, promoting academia-industry collaboration, and actively participating in collaborative projects of the Guangdong-Hong Kong-Macao Greater Bay Area. She also expressed hope that UM would continue to produce outstanding research results and nurture talent who love China and Macao to facilitate moderate economic diversification of Macao.
In his speech, Rector Song said: 'The year 2021 marks the 40th anniversary of the University of Macau. Therefore, graduating in this year is of special significance. Even though we have not yet fully recovered from the Covid-19 pandemic, things are moving in a good direction. Before its return to the motherland, Macao found itself in an economic depression with poor law and order. Graduating in that era, our alumni were faced with a future full of challenges and uncertainties. However, with a positive attitude and a strong will, they have made it to where they are today through unremitting hard work and struggle. Some of them have become important figures in their fields and pillars of the society. Some have also been recognised by the society and decorated by the SAR government for their outstanding contributions and achievements. They are all role models for us.' Rector Song also shared three ideas with the fresh graduates to encourage them to press ahead fearlessly, aim high with the feet firmly on the ground, and seize opportunities.
Wan Yingjia, representative of this year's graduates, said in her speech: 'I hold sincere gratitude towards our faculties and residential colleges that provided us with endless opportunities for development and achievements, including exchange programmes, research internships, workshops, and so on.' She added that she would never forget the valuable opportunities given to her by her alma mater, and thanked her instructors for their patience and guidance. According to Wan, during the Covid-19 outbreak last year, she was in the middle of an exchange trip in the United States and had to lock herself in the dorm room to stay safe. 'It was the long-distance calls from parents and emails from our faculties and the Honours College office offering support that strengthened my sense of security, knowing that they are always there to back me up no matter what,' she said.
This year, more than 1,500 students of bachelor's degree programmes, from the Faculty of Arts and Humanities, Faculty of Business Administration, Faculty of Education, Faculty of Health Sciences, Faculty of Law, Faculty of Science and Technology, and Faculty of Social Sciences, received their graduation certificates. Among these students, 117 have completed the Honours Programme offered by the Honours College.
In addition, the UM National Flag Team held a flag-raising ceremony at 8:00am on the day of the graduation ceremony in the Lotus Square to convey good wishes to all fresh graduates. The ceremony was attended by representatives of graduates from all residential colleges as well as their families and friends.
澳門大學今(19)日舉行2021年畢業典禮。行政長官兼澳大校監代表、社會文化司司長歐陽瑜期盼澳大在未來繼續創造更多優秀科研成果,培養更多愛國愛澳人才,助力澳門經濟適度多元發展。
歐陽瑜在澳大校董會主席林金城、校長宋永華,副校長許敬文、馬許願、葛偉、蘇基朗等陪同下主持典禮。大學議庭成員、校董會成員、教務委員會成員、政府官員、社會賢達、教職員、學生代表出席見證;同時還有親友於大學校園的三個直播區觀禮,未能親臨現場的畢業生和親友亦透過線上直播參與。
歐陽瑜致辭時表示,特區政府一直高度重視高等教育的發展。去年底,《澳門高等教育中長期發展綱要(2021-2030)》已正式公佈,訂定了未來十年澳門高等教育整體發展的目標和方向,並將透過適度擴大學生規模、推動產學研發展、拓展和深化對外合作等措施,推動澳門高等教育的水平持續提升。澳大作為本澳一所高水準的研究型大學,正大力配合本澳經濟和社會發展所需,不斷完善課程與教學,推動產學研發展,並積極參與粵港澳大灣區的合作,期盼在未來繼續創造更多優秀科研成果,培養更多愛國愛澳人才,助力澳門經濟適度多元發展。
宋永華致辭時指,2021年是澳大40週年校慶,學子們適逢在這一時間節點畢業,具有特殊意義。儘管目前還沒有徹底走出新冠肺炎疫情的陰霾,但是一切都正在往好的方向發展。澳門在回歸祖國之前,經濟蕭條、社會治安不靖。當時畢業的校友儘管面對充滿迷茫和困惑的前景,但他們以積極的心態和堅定的意志,不懈努力和奮鬥,一步一腳印走到了現在,當中不少人已在社會獨當一面,成為棟樑之才,甚至憑著卓越的貢獻和成就獲得社會認可、榮獲特區授勛,他們都是我們的好榜樣。此外,宋永華分享了三點想法勉勵學生:第一,不畏困難、砥礪前行;第二,志存高遠、腳踏實地;第三,把握機遇,謀求發展。
畢業生代表萬穎佳感謝學院和書院為他們所提供的交流項目、研究實習、工作坊等數不清的發展機會。她表示,永遠不會忘記母校給自己成長的寶貴機會;同時也感謝老師們的付出耐心、悉心教導。去年疫情爆發時,萬穎佳正在美國交流,在那段關在宿舍的黑暗日子裡,來自父母的長途電話、學院以及榮譽學院辦公室的電郵增加了她的安全感。"我知道,無論發生什麼,他們都會在背後支持著我。"
應屆學士學位課程的畢業生有1500多名,分別來自人文學院、工商管理學院、教育學院、健康科學學院、法學院、科技學院及社會科學學院,當中有117名來自不同學院的優秀學生完成榮譽學院的榮譽課程。
此外,澳大國旗儀仗隊於畢業禮當天上午八時在澳大蓮花廣場進行升旗儀式,為全體畢業生獻上祝福。各書院畢業生代表及其親友共同參與了儀式。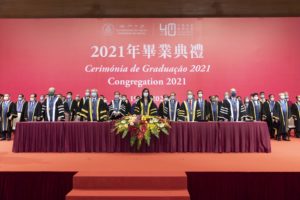 澳大2021年畢業典禮UM's Congregation 2021
Rector Yonghua Song宋永華校長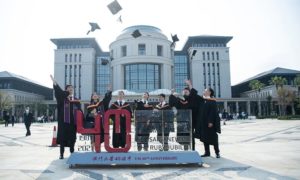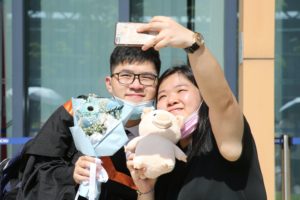 科技學院畢業生拍照留念
Graduates capture the precious moments on cameras