To enable students, parents, and friends from Macao and around the world to gain a better understanding of the University of Macau (UM), the university held its first online Open Day today (16 January). Many people participated in the online activities, including virtual campus tours, to learn more about the latest admission information, educational features, and research results of the university.
During the online opening ceremony, UM Rector Yonghua Song said that because of the epidemic, this year's Open Day was held online for the first time, and he welcomed everyone to explore the university together through online activities. According to Rector Song, with the support of the central and Macao SAR governments, the university has developed into a comprehensive international university with distinctive characteristics and a growing international reputation in recent years. Last December, the university released its latest Five-Year Development Plan. In the next five years, the university will continue to position itself as a university of and for Macao, actively participate in the development of the Greater Bay Area, integrate with the rest of the country, and strive to become more international. The university aspires to be an internationally recognised university of excellence through quality student-centred education, internationally influential research, and high-quality community service.
During the event, students, parents, and friends from home and abroad 'walked' through the faculties, colleges, laboratories, and the library, and participated in the online opening ceremony, talks, course consultation, exhibitions, games, and more. These activities provided an insight into the university's cutting-edge research, showcased its achievements in teaching and research, and gave the public a peek into the educational features and campus facilities. During the admission talks, students and parents were able to interact directly with UM staff to acquire firsthand information about academic programmes and admission, and received instantaneous answers to their questions.
In addition, a variety of science talks were held to stimulate students' interest in discovering science knowledge. To revisit activities on the Open Day, please visit the following website: https://openday.um.edu.mo/en/
為讓澳門和世界各地的學生、家長和朋友加深對澳門大學的認識,澳大今(16)日首次通過線上形式舉辦開放日,吸引不少有興趣人士在線參與各項活動、雲端暢遊澳大校園,了解澳大最新的入學資訊、教學特色、研究成果等。
啟動儀式上,澳大校長宋永華致辭表示,因應疫情,今年的澳大開放日首次採用線上形式進行,各地朋友可以通過線上活動和講座一起探索澳大。他表示,澳大在教學研究領域一直積極探索、尋求突破,近年在中央和特區政府的大力支持下,已發展成為一所富有特色和實力的國際化綜合性大學,國際聲譽不斷提升。為推動大學再上新的台階,在剛過去的12月,澳大公佈了最新的五年發展規劃。未來五年,澳大會以立足澳門,共建灣區,融入國家,走向世界為發展定位,通過以學生為本的優質教育、具國際影響力的重點研究,以及高水平的社會服務,致力發展成為一所國際公認的卓越大學。
活動期間,來自海內外的學生、家長和朋友"走進"澳大的學院、書院、實驗室、圖書館等,參與線上啟動儀式、講座、課程諮詢、展覽、遊戲……藉此了解澳大的科研和教學成果,教學特色和校園設施。入學講座上,還有專員與學生和家長直接交流互動,提供"第一手"的課程和入讀澳大的資訊,並即時解答有關問題,助力學子圓夢澳大。
此外,還有各類型科普講座,激發學生發掘科普知識的興趣。如欲重温澳大線上開放日活動,可瀏覽以下網址:https://openday.um.edu.mo/
澳大舉行首個線上開放日
UM holds its 1st online open day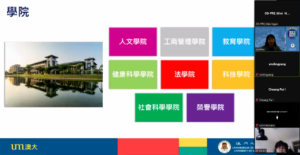 專員線上解答入學問題
An online admission consultation