Fintech is a new and multidisciplinary industry where information technology, mathematics, statistics, financial innovation, law and supervision are integrated. While creating new businesses and technologies for the rapidly changing world, it brings revolutionary impact to traditional financial and non-financial services, including the industries of supply chain management, logistics, and tourism industries. In order to meet the development trend in the Guangdong-Hong Kong-Macao Greater Bay Area and cultivate local diverse talents, the Faculty of Science and Technology (FST) of the University of Macau (UM) will launch its first Master of Science in Financial Technology (FinTech) programme in the academic year 2021-2022. The program aims to develop Fintech leaders with comprehensive knowledge about structure and technology in Macao and Greater Bay Area. The program lasts for 2 years and student is required to complete 30 credits, project reports or internship reports. There are a total of 25 admissions places for this year, undergraduates or people who are interested in the financial technology industry are welcome for application.
The new program covers a wide range of fields, including Artificial Intelligence, Blockchain, Digital Currency and Electronic Payment, Big Data Processing and Analysis, Portfolio Management, Quantitative Trading and High-Frequency Trading, Financial Risk Management, Legal Supervision, etc. It offers various directions for students with different interests. Students with engineering or scientific backgrounds can take elective courses in Economics and Finance to achieve more comprehensive understanding of Finance. Program is taught by professors from the FST, Faculty of Law, Faculty of Business Administration, together with the financial technology professionals within the industry. On the other hand, in order to enable students to participate in cutting-edge technology and application development, the program will provide students with internship opportunities in large-scale multinational financial technology companies, such as Tencent, Ant Group, and WeBank. At the same time, UM has established partnerships with leading universities such as Tsinghua University and Zhejiang University. The program will provide opportunities for exchanges and joint research. Extracurricular activities such as salons, roundtable forums, and dialogues with senior industry professionals will be held regularly to enhance students' soft power.
Professor Jerome Yen, a Distinguished Professor from the Department of Computer and Information Science of FST and the Director of the Centre for Innovation and Entrepreneurship says, "Fintech is an emerging trend of financial services. Consumers can pay online, or download app to use financial services anytime, anywhere. It undoubtedly promotes the development and innovation of various industries. In the future, Macau and the Greater Bay Area will have an increasing demand for financial technology talents, in the industry of finance, entertainment and tourism. The curriculum of this program is also suitable for students with different backgrounds, which can help them to understand the potential impact of financial technology on the economic development of Macau and the Greater Bay Area, know about the future trends and build up the necessary knowledge and skills."
As the only international comprehensive public university in Macao, UM will cooperate with the national strategy in promoting the development of Guangdong-Hong Kong-Macao Greater Bay Area and diversification of local economy. More professionals will be developed to support the growth of new digital financial technology through this new program, so as to cope with the emerging digital economy era and lead the new development of technological innovation in Macao.
Application period: Until 31 March 2021
Click here to apply: https://grs.um.edu.mo/index.php/prospective-students/master-postgraduate-certificate-diploma-programmes/
金融科技是一個跨專業的新興重要產業,柔合信息技術、數學、統計、金融創新、法律和監管的元素,為傳統金融與非金融行業帶來革命性影響,如供應鏈管理、物流、娛樂和旅遊等行業,同時也為瞬息萬變的世界創造新的業務與技術。爲配合目前粵港澳大灣區發展趨勢及培育本地多元人才,澳門大學科技學院將於2021-2022學年推出首屆理學碩士學位(金融科技)課程,期望為澳門和粵港澳大灣區培養未來具有全面平衡知識結構與科技能力的金融科技領袖。課程為期2年,學生需完成30個學分、項目報告或實習報告。首屆收生名額共25個,歡迎應屆畢業生或有志于金融科技行業發展的人士報讀。
新課程內容豐富並廣泛涵蓋多重領域,包括人工智能、區塊鏈、數字貨幣與電子支付、大數據處理與分析、投資組合管理、量化交易與高頻交易、金融風險管理、法律監管等以配合學生不同的興趣和發展方向。即使是工程和科學背景的學生可修讀經濟及金融方面的選修課程令知識結構更加完整。課程由澳大科技學院、法律學院、工商管理學院的資深教授以及金融科技業內人士授課。另一方面,為了令學生能親身參與前沿技術和應用開發,課程將提供學生在具規模的跨國金融科技企業實習機會,如騰訊、螞蟻金服、微眾銀行等。同時,澳大與清華大學、浙江大學等一流大學已建立合作夥伴關係,課程將提供學生交流和聯合研發的機會,並將舉辦沙龍、圓桌論壇、資深業界人士對話等課外活動,提升學生軟實力,幫助拓展人脈。
創新創業中心主任及科技學院電腦及資訊科學系特聘教授顔至宏表示:「金融科技是目前炙手可熱的產業,消費者可以利用電子支付消費,也可利用互聯網或應用程式隨時隨地使用金融服務,這無疑促進了各個行業發展和創新。未來,澳門及大灣區對金融科技人才需求將日益增加,其中包括來自金融業、娛樂業和旅遊業。而課程設置也適合不同背景的學生,可以幫助他們瞭解金融科技對澳門及大灣區經濟發展的潜在影響,未來前途的選擇,以及自己需要學習的知識和技能。」
澳大作為澳門唯一一所國際化綜合性公立大學,將配合國家戰略,努力建設粵港澳大灣區及促進本地經濟多元化。期望透過首屆金融科技碩士課程可以輸出更多優秀的金融科技專才,從而協助本地新型產業發展和轉化,以配合新興的數碼經濟時代,引領澳門科技創新發展新局面。
申請期限: 即日起至2021年3月31日
點擊申請: https://grs.um.edu.mo/index.php/prospective-students/master-postgraduate-certificate-diploma-programmes/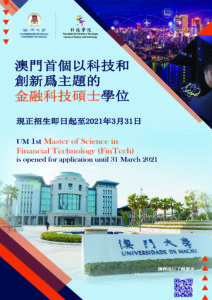 金融科技碩士學位招生即日起到3月31日
Master of Science in Financial Technology
is opened for application until 31 March 2021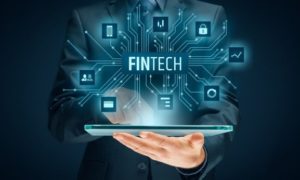 金融科技是目前新興及炙手可熱的產業
Fintech is an emerging trend of financial services